2020 Bundeschampionate Qualifier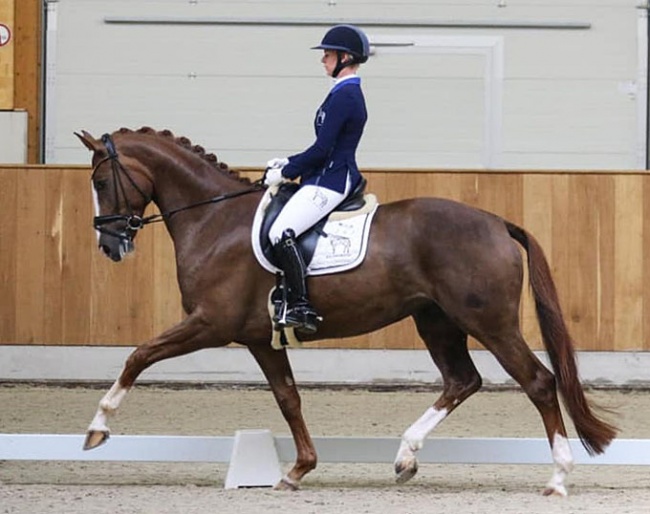 The 5-year old Scarlett O'Hara and the 6-year old Dantana became the winners of the two Bundeschampionate qualification classes that were held in Rhede, Germany, on 19 June 2020. 
No less than 31 combinations were entered for the L-level dressage horse tests for 5-year olds. The top score was achieved by Kira Wegmann aboard the Westfalian mare Scarlett O'Hara (by Scuderia x Laurentianer). Judges Uwe Fährenkämper, Ulrike Böckler, and Arndt Wiebus awarded the pair 8.5. points for the victory. The runner up was Beatrice Buchwald on the Oldenburg mare Royale Karina (by For Romance x San Amour). They scored 8.4 points. Eva Möller and Andreas Helgstrand's Rhinelander stallion So Unique (by Sezuan x Donnerhall) slotted in third with 8.3 points. 
Twenty-five pairs contested the M-level dressage horse test for 6-year olds and Lisa Marie Koch aced the division. Aboard the Oldenburg mare Dantana (by Dante Weltino x Donnerschwee) she totaled 8.5 points for the victory, after receiving 8.5 for walk, 9 for trot, 8 for canter, 9 for submission and 8 for general impression. Kira Soddemann and the Westfalian gelding Senor Charming (by Stanford x Furst Piccolo) placed second with 8.3. The liver chestnut earned 7.5 for walk, 9 for trot, 8 for canter, 8.5 for submission and general impression. Two pairs landed third place with 8.2.: Annika Korte on the Oldenburg mare Geniale (by Grey Flanell x Sir Donnerhall) and Eva Möller on Caty OLD (by Sir Donnerhall x Furst Heinrich). 
Results - 2020 Bundeschampionate Qualifier - Rhede
5-year olds
1 Kira Wegmann - Scarlett O'Hara (by Scuderia / Laurentianer) - 8.5
2 Beatrice Buchwald -  Royale Karina (by For Romance I / San Amour) - 8.4
3 Eva Möller - So Unique (by Sezuan / Donnerhall) - 8.3
4 Annika Quint - Royal Touch (by Royal Classic II / Westernhagen) - 8.2
4 Lena Carolina Grünerwald -  Gremlin (by Grey Flanell / Donnerschwee) - 8.2
6 Beata Stremler - For Magic Equesta (by For Romance I / A Jungle Prince) - 8.1
7 Annabel Frenzen -  FürstenLiebe (by Fürst Fohlenhof / Aquilino) - 8
8 Frederic Wandres  -  Vom Feinsten OLD (by Vivaldi / Sandro Hit) - 7.8
8 Thomas Schulze - Forever Valentine (by Franziskus / Laurentio) - 7.8
10 Kira Laura Soddemann -  Jetset (by Johnson / Beltoni) - 7.7
10 Annika Korte -  Tara (by Tomahawk / Hotline) - 7.7
10 Ninya Wingender - El Corazon (by Escolar / Fürstenball) - 7.7
13 Dries van Dyck- Saint­Etienne (by St. Schufro / Sarkozy) - 7.6
14 Lars Schulze Sutthoff - Einstein G (by Escolar / Di Versace) - 7.5
14 Bettina Kappelhoff - Dancing Dream K (by Dancing World / Stedinger) - 7.5
14 Johanna Klippert -  Fashion in Black (by For Romance I / Lauries Crusador xx) - 7.5
17 Wibke HartmannStommel - Dark Diamond HM (by Dante Weltino / Londonderry) - 7.4
17 Kira Laura Soddemann  -  Rocks (by Royal Classic II / Prince) - 7.4
17 Lars Schulze Sutthoff - For Fiesta (by Foundation / Sir Donnerhall) - 7.4
17 Jill Dahlhaus - Francino (by Florenciano / Ferragamo) - 7.4
21 Lena Backes - Millenniums Little Lady (by Millennium / Rubinstein) - 7.3
21 Johanna Klippert -  Despacita (by Download / Ehrenmarsch) - 7.3
21 Maike Mende - Sir Girovanni T (by Sir Donnerhall I / Don Girovanni ) - 7.3
24 Andreas Voß - R­Design (by Rock for Me / Hochadel) - 7.2
24 Madita Zurheide - Van Primero (by Van Vivaldi / Stedinger) - 7.2
24 Stefanie Wittmann -  Blickfang (by Bordeaux (NLD) / San Schufro) - 7.2
27 Andrea Müller­Kersten - Expression (by Ehrenstolz / Basic) - 7
27 Carolin van der Linde - Famous Grouse (by Floriscount / Lauries Crusador xx) - 7
29 Kevin Lensky- Libero (by Livaldon / Worldly) - 6.7
29 Laurien Hawerkamp - Montblanc (by Millennium / De Niro) - 6.7
31 Roxanne Feller - Bellanera (by Santo Domingo / Jazz Time) - 6.5
6-year olds
1. Lisa Marie Koch  - Dantana (by Dante Weltino / Donnerschwee) - 8.5
2 Kira Laura Soddemann -  Señor Charming (by Stanford / Fürst Piccolo) - 8.3
3 Jerome Schneiders - Boateng (by Bon Bravour / Diamond Hit) - 8.2
3 Eva Möller - Caty OLD (by Sir Donnerhall I / Fürst Heinrich) - 8.2
5 Annika Korte - Geniale (by Grey Flanell / Sir Donnerhall) - 8.1
6 Anna Magdalena Muster -  Decastel FH (by Don Olymbrio L / De Niro) - 7.8
7 Annika Korte - Cartoon (by Totilas / Don Frederico) - 7.7
7 Friederike Kampmeyer -  Dana del Ray (by Don Index / Contendro) - 7.7
7 Lisa Marie Koch - Tomahawk's Girl (by Tomahawk / Rubinstein) - 7.7
10 Eva Niklova - Dolciario (by Danciano / Don Frederico) - 7.6
11 Beatrice Buchwald - Ascona (by / All at once / Flatley) - 7.5
12 Kira Laura Soddemann- Van Holli (by Van Vivaldi / Show Star) - 7.4
13 Hannah Erbe - Amelio (by Abercrombie / Florenciano) - 7.3
13 Alexa Engel - Baron Bolligru E (by Bordeaux (NLD) / Londonderry) - 7.3
13 Lisa­Marie Marx - Beau Monde (by Bordeaux (NLD) / Weltmeyer) - 7.3
16 Benno Fredebeul -  Donnalucata (by Dressage Royal / Fürst Romancier) - 7.2
16 Beata Stremler - Fürstin Bea (by Fürstenball / San Amour) - 7.2
18 Jennifer Mieves - Simply Red (by Sir Heinrich / Ehrenstolz) - 7.1
18 Lars Schulze Sutthoff - Barrico JK (by Bretton Woods / Florenciano) - 7.1
20 Julia Ruthenbeck -  Schneewittchen (by  Sir Heinrich / Weltmeyer) - 7
20 Hannah Wießner-  Sieshof's Fürstenrock (by Fürstenball / Rockwell) - 7
20 Alina Röhricht - Zaid (by Zonik / Sir Donnerhall) - 7
23 Julia Knickenberg -  Milos (by Millennium / Rubin­Royal) - 6.9
24 Gabriele Winkmann - Black or White Bordeaux OLD (by Bordeaux (NLD) / Rohdiamant) - 6.8
Robin van Lierop  - Zantana (by Zonik / Sir Donnerhall I) - RET
Related Links
Eurodressage Coverage of the 2020 Bundeschampionate