2020 Bundeschampionate Qualifier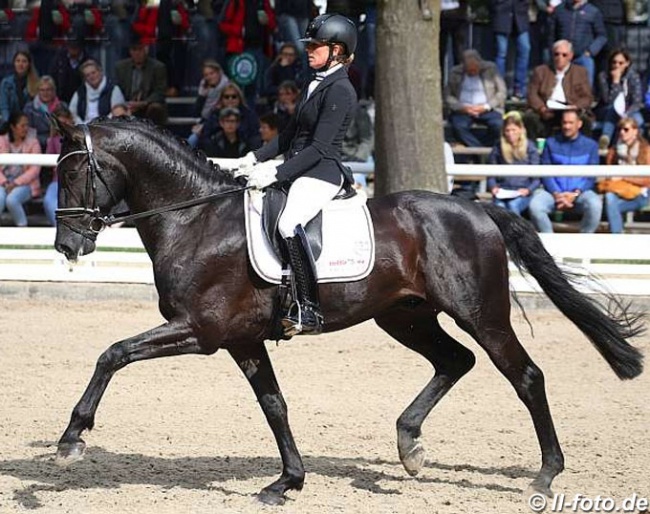 The 5-year old  and the 6-year old Don Mateo became the winners of the two Bundeschampionate qualification classes that were held at the Anakenenhof equestrian centre in Pinneberg, Germany, on 17 June 2020. 
Twenty-three pairs battled it out in the L-level dressage horse test for 5-year olds and Nadine Plaster moved into the winner's circle with the Schmale family's Westfalian mare Shiva S (by Sir Heinrich x Furst Grandios). The pair totaled 8.5. points after earning 8.5s in walk, trot, canter, submission and general impression. Rieke Schnieder and Sportpferde Brune's Bibi Blocksberg (by Barroso x San Amour) were second with 8.4.. The chestnut mare got 8 for walk, and 8.5 for trot, canter, submission and general impression. Eike Bewerungen and Heinz Ahler's Bakarigold (by Belissimo x Bretton Woods) landed third place with 8.3.
Fifteen combinations contested the M-level dressage horse test for 6-year olds and professional Anna-Sophie Fiebelkorn topped the board on the Hanoverian gelding Don Mateo (by Don Juan de Hus x Royal Highness) with a whopping 8.8. total score. The gelding earned 9 for walk, trot, and canter, 8 for submission and 9 for general impression. Finnish Grand Prix team rider Emma Kanerva  steered her sponsor Gert Saborowski's Hanoverian gelding Borderline (by Bordeaux x Hotline) to a second place with 8.6. The gelding earned 8.5 for walk, trot and canter, 9 for submission and 8.5 for general impression. Swedish Jessica Lynn Thomas and Eugene Reesink's Valentino OLD (by Vivaldi x Donnerschwee) were third with 8.5.
Results - 2020 Bundeschampionate Qualifier - Pinneberg
5-year olds
1. Nadine Plaster- Shiva S (by Sir Heinrich / Fürst Grandios) -  8.5
2 Rieke Schnieder - Bibi ­ Blocksberg (by Barroso / San Amour) -  8.4
3 Eike Bewerungen -  Bakarigold OLD (by Belissimo M / Bretton Woods) -  8.3
4 Tanja Lammers -  Florence (by Franziskus / Dauphin) -  8.1
5 David Taylor - Batton Rouge (by Bordeaux (NLD) / Rotspon) -  8
5 Shereena Satzer -  Forty Seven (by Fahrenheit / De Niro) -  8
5 Franziska Haase - Livorno (by Livaldon / Rotspon) -  8
8 Jessica Lynn Thomas -  Greyson (by Grey Flanell / Fürst Romancier) -  7.7
8 Eike Bewerungen -  Alpha Royal (by Antango / Fidertanz) -  7.7
10 Katalin Garrn - Facila (by Fürstenball / Wanderbursch II) -  7.6
11 Anett Müller -  Famous K (by Finest / Londonderry) -  7.5
12 Tassja Janssen - Gucci (by Grey Flanell / Don Frederico) -  7.4
12 Ken­ Christian Horst - Fjara (by Furstenball x Brentano II) -  7.4
14. Rebecca Juana Gerken - Amazing (by Antango x Belissimo M) - 7.3
15. Vanity Laubinger - Dancidro (by Danciano x Sandro Hit) -  7.2
15. Vera Nass - Scala (by St Schufro x Belissimo M)-  7.2
17. Hanna Tomaszewski - High Dream (by Saint Cyr x Summertime)-  7.1
17. Amandine Volland  - Nonino (by Negro x Quaterback) -  7.1
19. Jasmin  Gerdes - First Try G (by Furstenball / Kaiserdom) -   6.9
20. Antonia Voss - First Dance (by Fürstenball / San Amour ) -  6.5
22.  Hella Haase  - Füro Pa von Hellör (by Florenz / Don Larino) -  6.4
22 Lara Nehring - Vivaldi's Hit (by Van Vivaldi / Sandro Hit) - 5.8
Patrick Meyn -  First Finest (by Finest / Dancier) - RET
6-year olds
1. Anna­Sophie Fiebelkorn - Don Mateo (by Don Juan de Hus / Royal Highness) - 8.8
2 Emma Kanerva - Borderline (by Bordeaux  / Hotline) - 8.6
3 Jessica Lynn Thomas - Valentino OLD (by Vivaldi / Donnerschwee) -  8.5
4 Heike Kind - Von Herzen (by Van Vivaldi / De Niro) - 8.4
5 Veronika Steinhof - Friendship (by Follow Me / Statesman) - 8.3
6 Yvonne Reiser - Quarashi (by Quantensprung / Hohenstein) - 8.1
7 Melinda Ignatius- Lacoste (by Don Olymbrio L / Londonderry) - 8
7 Kira Goerens Ripphoff - Chuck Bass (by Cennin / Rosentau) -  8
7 Greta Heemsoth - Anthrazit (by All at once / Weltmeyer) -  8
7 Juliane Brunkhorst -  Elitist (by Escolar / De Niro) - 8
11 Alexandra Bimschas - San Meddox (by San Amour I / Rotspon) - 7.8
12 Tessa Frank - DaVinci G (by Don Juan de Hus / Stedinger) - 7.7
13 Esther Hartenstein - Contaga (by Conen / Scolari) - 7.6
13 Anna­Lena Kracht - Hollywood (by Dante Weltino / Herzensdieb) - 7.6
15 Melinda Ignatius - Quentin (by Quasar de Charry / Münchhausen) - 7.4
Photo © LL-foto
Related Links
Eurodressage Coverage of the 2020 Bundeschampionate