2020 CDN Hagen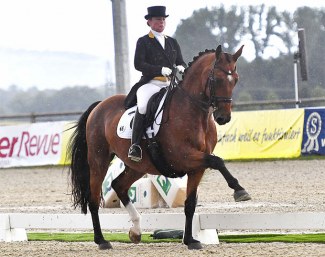 Isabell Werth and her third Grand Prix Emilio proved that routine pays off. In the Grand Prix Special at the national show at Hof Kasselmann in Hagen, they received an easy 79,5% from the judges in the final class of the weekend on Sunday 7 June 2020.  
The Grand Prix Special was sponsored by LVM Insurance, which guaranteed that riders still went home with a nice purse full of money, even though the economy has been hit hard due to Covid-19.
"It"s been a nice start of the competition season for us, even under those special circumstances. Most importantly, we like to thank our partners and sponsors who supported us greatly at this show. Our thanks also go to all officials, riders and grooms who have all responded so well to the regulations," said Ulli Kasselmann about the first post-corona competition at his Hof Kasselmann. "We are looking forward to the next shows!" 
Double Victory for Werth and Emilio
Isabell Werth and Emilio tied in first place in the Grand Prix with 77.567% and continued her winning streak in the Special with 79.542%.
Benjamin Werndl probably made the longest journey to Hagen and brought along his number one, Daily Mirror and rising Grand Prix horse Famoso OLD. Both horses are owned by Flora Keller. Daily Mirror impressed again today and even topped his score from the Grand Prix. He finished second on 78,366% after tying in first place with Werth in the Grand Prix. His stable mate Famoso OLD, struggled in the Grand Prix showing resistance in the left pirouette, but in the Special horse and rider were back on the same wavelength and scored 77,582%. In fourth place were Carina Bachmann and the 13-year-old Toronto offspring Tarantino with 75,327%. Christof Umbach, Katrina Wüst and Ute von Plate all agreed on the placing of the first three horse-and-rider combinations. 
Schmidt Wins Louisdor Cup Qualifier
They came, they saw, they won. The first leg of the Louisdor Prize series and the first of the coveted tickets to the finals in the Frankfurt Festhalle could not be taken from Hubertus Schmidt and his chestnut stallion Denoix PCH. The pair even managed to improve their performance from the warm-up test on Saturday and won with 78,450 percentage points. All three judges, Dr. Dietrich Plewa, Dr. Evi Eisenhardt and Christof Umbach had Schmidt and Denoix in first place, and awarded high marks for the piaffe passage tour in the Short Grand Prix test.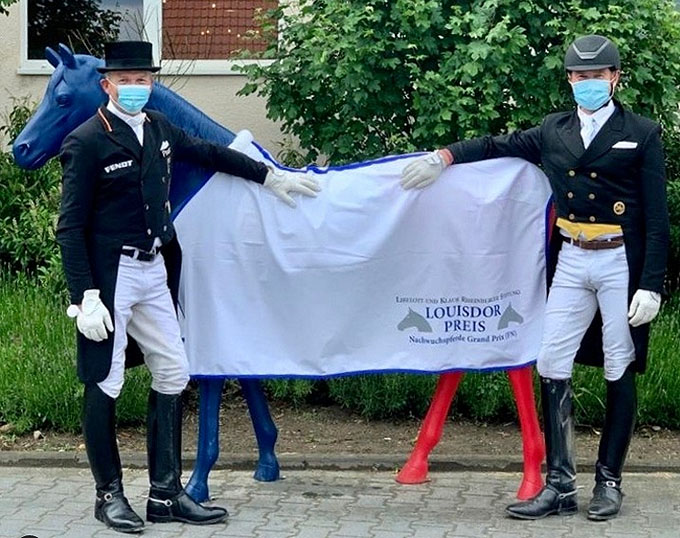 Last year the Oldenburger stallion by Destano - Pik Noir was THE surprise package at Horses & Dreams meets France, when he started his first S dressage competition ever. He completed the 2019 competition season with a fantastic fourth place in the Nürnberger Burg-Pokal Final. Now there is nothing standing in the way of a second start in the Frankfurt Festhalle; Hubertus Schmidt and Denoix showed today, 'they mean business!'
 "It is of course much more fun to ride in front of a large audience, but we made the most of it here. The event was well organised and the conditions for the horses are always perfect. I am just glad that shows are under way again and hope that some other organisers will agree to run events too, "said Hubertus Schmidt.
 The second ticket to Frankfurt went to Holga Finken and Michelle Vaughn's 9-year-old KWPN gelding Gino (by Bretton Woods). This combination also improved their scores from the previous day and finished on a score of 77,364 percent today. Finken likes to call the black-brown gelding 'the best horse I've ever had' and it's easy to see why. Finland's Emma Kanerva and the 9-year-old Gribaldi-Florestan I son Greek Air came third today with 76,279 percent. Annabel Frenzen and her Silbermond son SilberStern only managed fourth place today.
Related Links
Scores: 2020 CDN Hagen
Werndl, Werth, Langehanenberg and Schmidt in First Place in 2020 CDN Hagen
Wandres and Harrods Win Prix St Georges at 2020 CDN Hagen, First Big Post-Corona Show