The Netherlands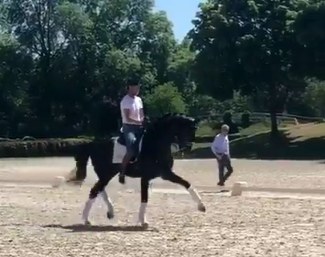 While for some riders the postponement of the 2020 Olympic Games might have closed a door to compete their most experienced and oldest Grand Prix horses in Tokyo, for others a window has opened to give their rising GP stars an extra year to develop and get ready.
One of those riders is Dutch coryphée Edward Gal. Although his top horse Zonik certainly has plenty in the tank for Tokyo, the 2010 World Champion seems to have his eye set on his two rising stars: the 9-year old Hanoverian Toto Jr (by Totilas x Desperados) and the 8-year old Oldenburg Total U.S. (by Totilas x Sir Donnerhall). 
Dutch A-Squad Team Training
On 29 May 2020 the Dutch A-squad Grand Prix riders met for the first time again at the KNHS headquarters in Ermelo, The Netherlands. 
National team trainer Alex van Silfhout had invited all A-squad riders with their top horses as well as rising talents to present themselves in Ermelo for a status update. Riders that attended were Edward Gal (Zonik, Toto Jr), Hans Peter Minderhoud (Dream Boy), and Marlies van Baalen (Ben Johnson), amongst others
"It was the first time that everyone left their home for this training," said Van Silfhout. "They were all super enthusiastic and happy to be able to travel again. I think it was very useful to do it this way. Normally you have show routine and you go to different places to training; you allow the horses to get used to different surroundings. This is very positive for the moment we're allowed to go (compete) again. The way I see it now is that it will be more positive for us that Tokyo got postponed, than if it were held this year. We have a few very good young horses coming along. We still have to wait a bit to see if they are ready for a big Championship. We have the potential and it's looking good."
Edward Gal: "For me it's not that bad that Tokyo got postponed"
Edward Gal not only rode his Dutch EC and WEG team horse Zonik to Ermelo, but had also brought Toto Jr for a training session with Van Silfhout. 
Gal enjoyed the opportunity to take his horses to a new surrounding again since the corona lockdown.
"It's a pity that the shows were canceled, but training continued," Gal said. "I brought Zonik and Toto Jr. I have to say, both went very well. For Toto it was the first time that he was on the road with me since the stallion licensing. He was sometimes a bit distracted because there was also four-in-hand driving going on, so you noticed he was distracted, but he did his best and I'm very happy."
Gal did not leave much to the imagination that he might be eyeing for a Dutch team spot with one of his younger options, instead of Zonik.
"For me it's not that bad that Tokyo got postponed by a year. Zonik can easily go another year and I still have Total U.S. and Toto. I think that Total will be a very good one. He'll be a year older and might also have a chance," Gal added. 
Related Links
Crowd Magnets Gal and Dujardin Debut Total U.S. and Gio at New Level
End-of-The-Year Totilas Teasers: Totilas under Linsenhoff, Total U.S Under Gal
Edward Gal Upclose and Personal about Totilas in Dutch NRC Newspaper