Westfalian Auction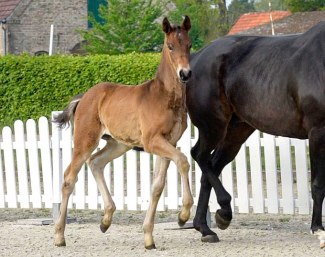 The bay colt Ganz Grosses Kino became the best seller of the 2020 Westfalian online dressage foal auction, which concluded on 25 May 2020. 
Ganz Grosses Kino (by Galaxy x Samarant) sold for 30,000 euro to the German KS Horses. He is bred by ZG Fockenberg.
The second most expensive foal was Veni Vidi Vici (by Vaderland x Fidertanz), which is bred by Angela Butkus. He fetched 22,500 euro and stays in Germany.
The palomino Quite Special (by Qaside MD x Furst Piccolo) drew the attention of the coloured horse lovers and moves to Denmark for 21,000 euro. 
Filly Valena (by Vaderland x Rosario) moves to Great Britain for 16,500 euro, while the biddging for colt Der Neue (by De Niro Gold x Scolari) stopped at 16,000 euro.
Sir Simon (by Secret x Voyageur) sold for 13,000 euro and Le Puissant (by Le Formidablme x Erlando) moves to a new owner for 12,500 euro. 
A collection of 26 foals were offered for sale, one dropped out, and the Westfalian society listed that 23 of them were actually sold. They achieved an average price of 10,761 euro.