Germany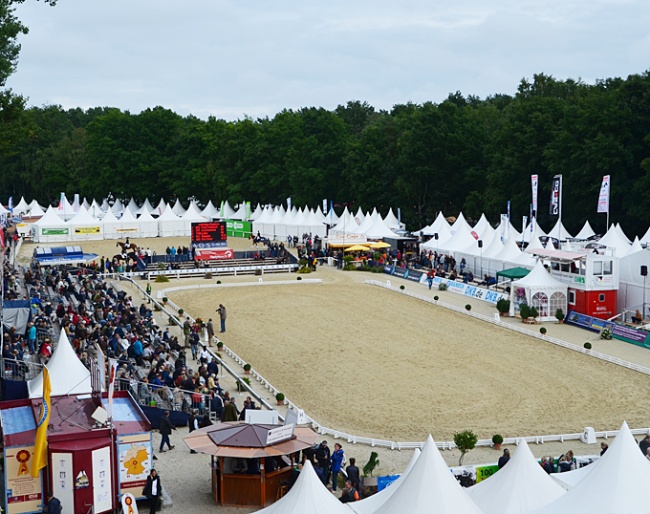 The German equestrian federation has made its decision on the 2020 Bundeschampionate, the German Young Horse Championships, hosted annually in Warendorf the first week of September. 
Due to the corona pandemic and restrictions on competitions, the qualification season for the 2020 Bundeschampionate could not start as planned in April. Furthermore, with mass events being forbidden until the end of August, it was undecided in what format the "BuCha" could actually be held on the first week of September. 
Two Weeks, No Audience
The German FN has now finally decided on all pertinent matters.
- The event will be split up over two weeks: jumping and eventing for horses and ponies on 26 - 30 August 2020; dressage for horses and ponies on 2 - 6 September 2020.
- No spectators and no trade fair will be allowed, the event will be streamed live online to be watched.
- Per participant a limited amount of people can join them on the show grounds (no number indicated yet).  The organisation aims to keep the amount of people on the show grounds below 500 on each weekend. 
How to Qualify?
Normally each federal state in Germany (Bundesland) gets a quotum of how many BuCha qualifiers they are allowed to be organized. This will be dropped and each state can host as many qualifiers as they want. Also the borders will be opened, so qualifiers can invite riders from other states. 
The last qualifier of the year has to be held 15-16 August and in case of extraordinary measures, this cut off date can be extended to 22 - 23 August. 
Judges are asked to take the lack of experience into consideration in their assessment this year.
Currently some states in Germany have allowed competitions to start again, while others are still totally closed. 
Markus Scharmann, show director for the Bundeschampionate, told St. Georg that "at the moment the conditions are not level in each state. Unfortunately we can't change that. We will see how the situation with the qualifiers will develop and when we notice there are difficulties, we'll discuss how was can solve them so that the situation is fair for all in the end."
Scharmann is aware that many horses will lack proper show routine coming into the National Championships and therefore the qualification conditions (for show jumpers) have been altered. "This is good for now, but we have to be careful that the sportive value of the Bundeschampionate will remain the same," Scharmann added. 
Prize Money
At the beginning of the year, the Bundeschampionate proudly announced that more prize money could be won at the 2020 edition, but this has now been put on hold. 
"The economical damage caused by the corona crisis is immense, and the horse world is not spared from that. I hope that there will be understanding from the riders, that we can't change that this year," Scharmann stated. 
Nevertheless, the prize money will be the same as in 2019.
Source: ST-GEORG
Related Links
No Mass Sport Events in Germany until September 2020 - Verden, Warendorf, Aachen?
German Breed Societies Follow Suit: Untested Colts Allowed to Breed in 2020