Bits 'n Pieces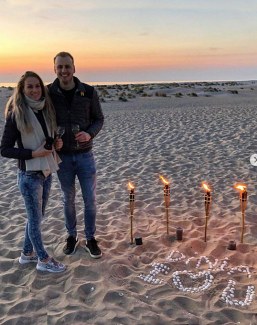 Dutch young horse rider Dinja van Liere got engaged to her boyfriend Robin van der Starre. He proposed to her on the beach and the moment was filmed by a drone, which Dinja shared on Instagram. "Speechless," was her comment. 
Check out the "hidden talent" of British Dressage Olympian Richard Davison in the embedded video on the right (or bottom of the page). It was a fantastic effort and initiative by all involved that raised over £250,000 to support the NHS in this time of need
Former Dutch international pony rider Kim Noordijk had to say goodbye to her Young Riders horse Cees, a Dutch warmblood by Santano x Gabor. The 13-year old injured himself severely and had to be put down. Noordijk explained that she spotted the injury when she put her horse in the field. "He cantered off, stood still and was one three legs," Kim wrote on Facebook. After a vet exam it showed that Cees' pastern was fully splintered." Kim purchased the dark bay gelding as her junior rider's horse and she took him to small tour level. In 2019 they rode at national young riders' level but never competed internationally.
German judge Karl Kenning has passed away on 8 April 2020 at the age of 92. Based in Stadtlohn, Kenning worked his entire life with horses, 17 of them at the Warendorf State Stud. He worked as a trainer and six of his students competed at the German Youth Riders Championships. Kenning also judged national dressage events for 30 years. 
Danish Tania Maria Joensen has been hired as an assistant rider at Agnete Kirk Thinggaard's Julianelyst dressage stable. She will begin her new job on 1 July 2020. The 26-year old Joensen began as a professional rider at the Vilhelmsborg equestrian centre, training under Signe Hansen. She then worked for Kim Andersen  and then returned to Vilhelmsborg to work with Hans Jorgen Norgaard. Joensen has competed at one international in her career, the 2019 CDI Herning, where she rode in the Amateur small tour on the 12-year old Danish bred Carrera (by Carano). 
Hans Roos, grandfather and sponsor of Belgian Grand Prix rider Laurence Roos, has passed away on 1 May 2020. He was 77 years old and succumbed to Covid-19. The Dutch born Roos was founder of NV Ambaro, an infrastructure construction company now run by Laurence's father Etienne, who was also an FEI level rider two decades ago. Hans always joined his granddaughter Laurence at CDI competitions across Europe.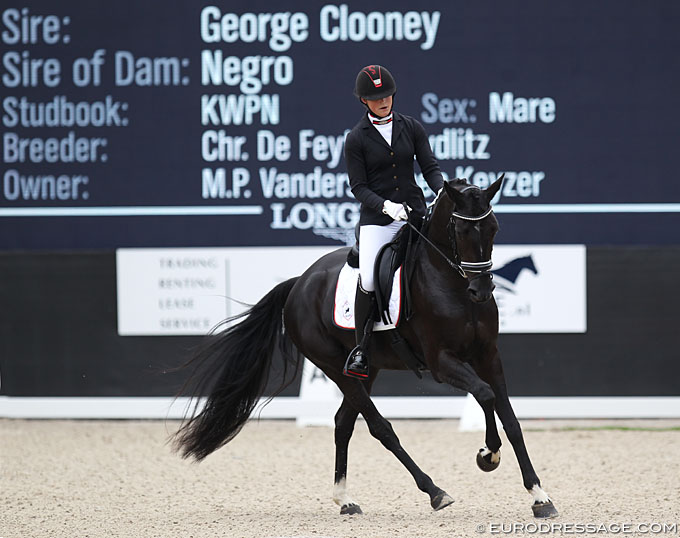 The 23-year old Dutch rider Marijke van Giesen has decided to begin her independent business after working almost five years for Leunis van Lieren at Stable Hexagon. Van Giesen's international show debut was in 2017 CDI Nieuw en St. Joosland at Young Rider's level with Furious. Two years later she returned to the CDI for her second international, also at Joosland, in the Under 25 division with Diva and Esther VSN. She competed at two more internationals, Budapest and Le Mans. Van Giesen has now begon her own business after striking a collaboration with Belgian breeder Christophe Carmeliet. She also got a Grand Prix to ride from Wilco Kats. Van Giesen remains based at Hexagon in Schore, The Netherlands. 
The top Swedish warmblood brood mare De La Reinne VH (by De Niro x Rohdiamant x Amiral) has passed away while giving birth to her 14th foal (by Jovian). Both mare and foal did not survive the delivery. De La Reinne is owned by Tobias Hansson of Vastra Hoby Stuteri. De La Reinne VH is best known as the broodmare that produced the licensed stallions Springbank I and II. Last year she produced a filly, Vive La Reinne VH (by Revolution).  "RIP my breeding queen," said a devastated Hansson. "You gave us 13 absolutely top offspring... You will be remembered forever not only at VH, even as one of the absolutely best SWB mares."
Dixit
Spanish Olympic short listed rider Juan Matute Guimon was interviewed by The Chronicle of the Horse just one week before the rider was struck by a terrible brain bleed, that has left the 22-year old in a coma. Raised in a horsey family with his father Juan Matute Azpitarte being a Spanish team Olympian, Juan junior spent his junior/young rider time with winters in Wellington, Florida, sponsored by Yeguada de Ymas, and summers in Europe. In 2018 Matute went independent and located himself in Madrid.
"I do feel the responsibility that I am, in a way, an ambassador for my generation," said Juan Matute Guimon. "I have a message to share: Hey, it is possible. You can make it. You don't need to be mega-wealthy or a super crazy talented rider with super support to make it. You can be a normal person who works hard and, sure, has a certain financial support and a certain structure around of a team, of horses and people involved, but still I'm relatively normal, I think at least."