FEI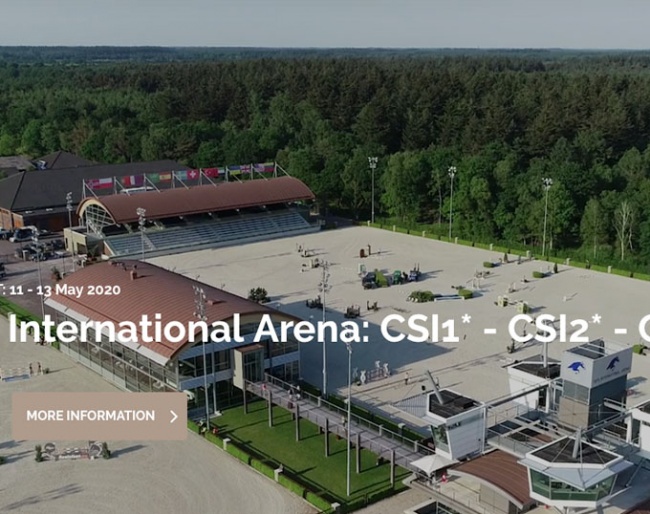 The FEI Dressage Calendar Task Force held its second meeting on 28 April 2020 to review applications received for higher-level events and approve several CDI's which have requested new dates after being postponed due to COVID-19. 
The FEI has updated its calendar and several new shows have been added as well as existing shows which could not be held this spring, but have been pushed to a new date this summer or autumn. 
A quick view on the FEI calendar shows a couple of interesting additions, date changes, and more
June 2020
Seven internationals are listed on the FEI calendar with an "all systems go" status: Sacremento (USA), Sao Paulo (BRA), Riesenbeck (GER), Beloura (POR), Arezzo (ITA), Mariakalnok (HUN), and Fritzens (AUT).
The Swarovski family, however, announced on its website that the CDI Fritzens will not take place because no competitions can take place in Austria until 30 June. 
July 2020
July will kick off with a preparation 3* CDI Hartpury on 3 - 5 July, followed by the European Junior and Young Riders Championships (27 July - 2 August) which are still happening according to the calendar, even though it become difficult for countries to host team selection trials. 
The CDIO Falsterbo  (9 - 12 July - 2020) will go on as planned. Although the Nations Cup season for 2020 has been cancelled, this CDIO is still on the calendar.
Covid Additions for July are CDI Achleiten (2 - 5 July) and the CDI Grote Brogel in Belgium with youth classes (2 - 5 July 2020).
August 2020
Covid Additions are the CDI Segovia (5 - 9 August), CDI 4* Valkenswaard (13 - 16 August), CDI 4* Cappeln (20 - 23 August). 
The European Children and Under 25 Championships in Pilisjászfalu near Budapest (Hungary) are still happening on 18 - 23 August. The organisation has requested from the FEI to host a CDI-W at their Unikornis stable on 25 - 30 August 2020. They are still waiting for approval for this CDI-W.
Although not marked on the calendar, the CDI Crozet has been moved from the beginning of the month to 27 - 30 August. 
September 2020
Covid additions are the CDI 3* Kristiansand (3 - 6 September), a CDI 3* in Wierzbna Bialy Las, Poland on (4 - 6 September), CDI 3* in Brisbane (16 - 20 September).
The 2020 German Championships in Balve will be on 17 - 20 September and will inlcude a CDI-P and CDI-Amateur. 
October 2020
The CDI Keysoe will take place 6 - 11 October, CDI Madrid 22 - 25 October, CDI Tryon on 22 - 25 October
Keep checking the FEI calendar for updates and date changes
Related Links
FEI Board Approves Resolutions Based on Calendar Task Forces Proposals
FEI Dressage Calendar Task Force Meets: Recommendations for Verden, Hartpury/Strzegom, Traverse City, Budapest
Cancelled CDI's due to Corona Virus Clampdown
Dressage Calendar Task Force Agrees Proposals via Video Conference