Training Blog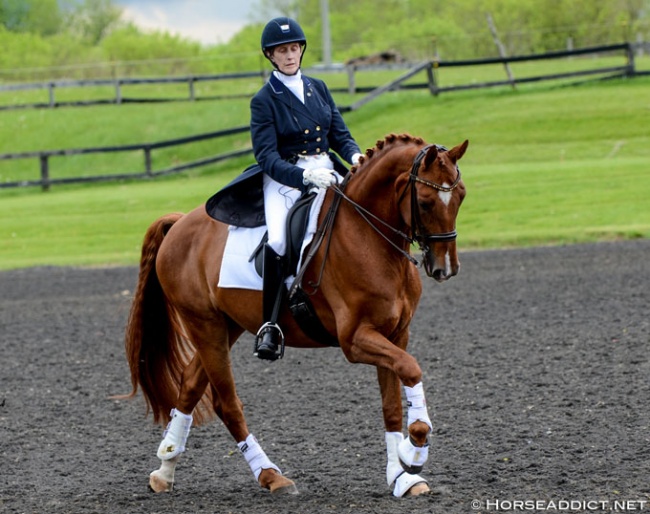 Meet Anne Leueen, our newest blogger, will be writing about her experiences in the saddle. Based in Ontario, Canada, Leueen calls herself a "vintage" dressage rider. Initially she rode in the jumper and eventing world, but stopped while at university. She did not ride for thirty years, other than occasional trail riding, when she was living in England  and took up dressage at age 50. Anne is coached by Belinda Trussell and her current equine partner is Biasini, a Hanoverian gelding who is a dressage expert and often wonders why Anne doesn't just let him make all the decisions about what to do and where to go.
Anne runs her own blog HorseAddict and will be sharing some of her training insights on Eurodressage. After spending the winter in Florida, she returned home to Canada and went straight into lockdown due to the Corona pandemic. Like every other rider in the world she is facing a new reality.
Meet the HorseAddict
Addiction: "the fact or condition of being addicted to a particular substance or activity. " When I chose the name of this blog Horse AddictI understood I was an addict. Horses and riding are my drugs of choice. If I am feeling anxious, or gloomy or upset I know that when I get to the barn I start to feel better. When I am grooming my horse anxiety and gloom start to fall away and after riding, even if it has been a difficult lesson, I feel restored.
But now there is no barn. There is no horse. The barn is closed to the public due to the declaration of a State of Emergency in all provinces in Canada. Staff only are allowed into the barn to care for the horses. My horse Biasini arrived from Florida mid April. I first chose to delay bringing him home and had to  wait to get a shipping date from the transport company. When he got here, I am not be able to go and see him or ride him. There is no end in sight to this situation. But I understand the need for these restrictions and I agree wholeheartedly that they are necessary.
The Denial and Overachiever Phase
At the start of the 14 day self isolation that my husband and I were required to do after returning from Florida I was making the best of it. I have been blogging every day about our walks and activities. We kept ourselves busy. We were lucky to have someone who would get groceries for us. I was going to maintain my fitness level. I was going to blog everyday and let people know that self isolation was do-able. I was the perfect self isolationist!
The Reality Phase and Withdrawal sets in
Last night I watched the National news program on the CBC at 10 pm. The numbers are chilling. Canada is not as bad as some other countries but they are expecting the numbers to go up dramatically. I went to bed and read for a bit. I went to sleep. About half an hour later I woke up. Then the reality hit me. If all events in Toronto have been cancelled till the end of June the State of Emergency was probably going to last that long. It could be July or later before I would be able to ride.
My mind descended into a black hole. Before I knew it, it was 3 am ,and I was still awake. How was I going to deal with it? No horses. No riding. No Biasini. As I twirled down into that black hole with the black dogs nipping at my heels I knew I had to do something. I remembered that I had videos to watch and could relive my riding through those.
The Attitude of Gratitude
I am not a migrant worker in India crouched on the ground while being hosed down with disinfectant. I am not a mother, with small children, in a Syrian refugee camp where CV19 will be the grimmest of grim reapers. I am not the owner of a small business, that I have taken years to build up, and now unable to pay my rent, I am closing the door on my business. I have a roof over my head. I can afford to get groceries. I can pay my bills. Outside my windows I can see fields and trees. I am exceptionally lucky.
I will get back to riding . Biasini will be well cared for and ridden by my Canadian coach Belinda Trussell, who owns Oakcrest Farm, while the lockdown continues. I give thanks for all of this.
- by Anne Leueen