Denmark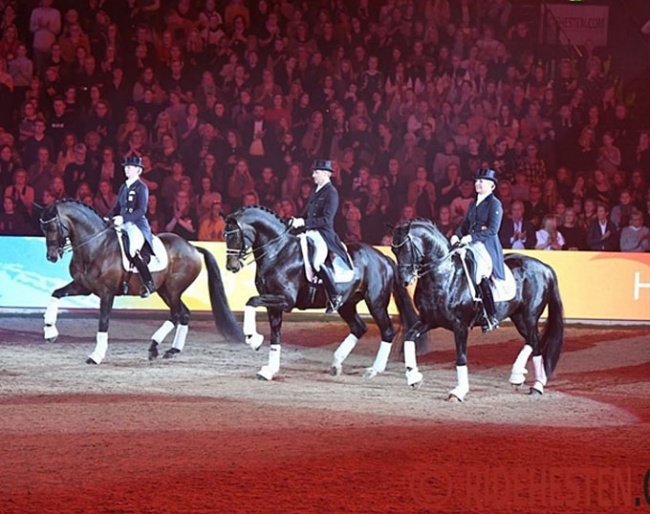 The city of Herning is one of the biggest hotspots of corona virus infection in Denmark. For a while it was speculated that the 2020 Danish Warmblood Stallion Licensing and CDI Herning on 3 - 8 March was the source of mass infection, but research has shown that there are multiple sources.
The DWB Stallion Licensing and its CDI took place at the MCH Exhibition Center in Herning. The event annually welcomes around 67,000 visitors. 
Although the corona virus was spreading around Europe at the end of February and beginning of March, the CDI Herning went on as planned on 3 - 8 March 2020. Five days later, Denmark introduced lockdown measures, starting 13 March. 
Covid-19 in Denmark
The first confirmed case of COVID-19 in Denmark was on 27 February 2020.
Following a period of consistent increase in hospitalisations, the number of people in hospital with COVID-19 has been slowly falling since late March. Starting on 15 April, a very slow and gradual reopening has been initiated.
Denmark has a population of 5.8 million people but has kept the corona spread well under control with 8,210 confirmed cases and 394 COVID-19 related deaths in hospitals. Denmark is not counting care home deaths as it is unsure whether the elderly died of natural causes or Covid-19 as they are not all  tested.
DWB Licensing Not the Hotbed
According to an article posted on DR today, the Licensing is not the "only" source for the corona virus spread in the Herning and Holstebro municipality.
Virologist Allan Randrup Thomsen had initially stated in the newspaper that the Licensing was the probable source of infection, which led to much speculation in newspapers, on radio and television. 
Since 26 March a group of researchers has been investigating why Herning was so badly affected by the corona virus (more than 30 per 100,000 citizens), compared to the rest of the country. Their study has shown that there are several sources of infection. 
"The first data shows that there is a complex and varied picture of infection with trips coming from abroad, participation in events, and especially physical contact with a Covid-19 positive person. They are the likely sources of infection," one of the researchers on the team of lead consultant Annette Haagerup told DR.
The DR article states that the first contamination in Herning took place before the stallion licensing.
'Our study shows that the large group of the earliest patients we received at the beginning of March is very likely to have been infected at the end of February," says Annette Haagerup.
"But you can never completely reject that some people have also become infected later, if you have been to another big social event," she added. "The results indicate that the spread of infection in Denmark happened earlier than previously assumed. Or that the time from infection to the outbreak of the disease is generally shorter than expected."
Source: DR - Photo © Ridehesten
Related Links
Scores: 2020 CDI Herning
Grand Galiano Wins 2020 Danish Warmblood Young Horse Championships
It Sounds Like Denmark Has Its Tokyo Olympic Team! Team Gold in Reach
Seven Premium Colts Named at 2020 Danish Warmblood Stallion Licensing