F.O.C.U.S.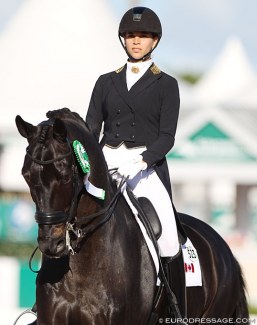 Canada's rising star Naima Moreira Laliberte has definitely being making a name for herself. After helping secure Canada a team gold medal at the 2019 Pan American Games in Peru, the 23-year old is now a hot contender for a Canadian team spot for the 2021 Olympics Games in Tokyo.
Rising Star
Laliberte, who hails from Montreal, Quebec, is no stranger to the international ring as one of the most decorated Junior and Young riders for Canada. Trained by Albrecht Heidemann as a youth rider, she started her international competition career as a junior in 2012 aboard Brittany Fraser's Tolando (by Krack C x Rubinstein), a horse previously competed by Dutch Olympian Hans Peter Minderhoud. It took her to team gold at the 2012 North American Junior Riders Championships.
In 2013 she competed Diamond (by Donnerhall x Werther) at junior level, as well as Windbreaker (by Windspiel As x Feiner Graf), whom she competed at the 2013 North American Junior Riders Championships, where she scored team gold and double silver.
In 2014 she made the move to Young Riders level with Belafonte (by Belissimo M x Wendekreis) and the Lusitano Nao Guimeraie (by Trouvere RBO). The latter was her companion for team silver at her third consecutive North American JR/YR Championships, while in 2015 she partnered with Belafonte to win individual test and kur gold at the 2015 NAYRC.
Naima secured Sancerre (by Sir Donnerhall x Rubinstein) for her string of horses in 2016, and went on to compete successfully at small tour level.
Big Goals with New Trainer
At the end of 2017, Following her illustrious career in the youth division, Naima made the switch to multiple Olympian and Canada's leading trainer at Grand Prix, Ashley Holzer.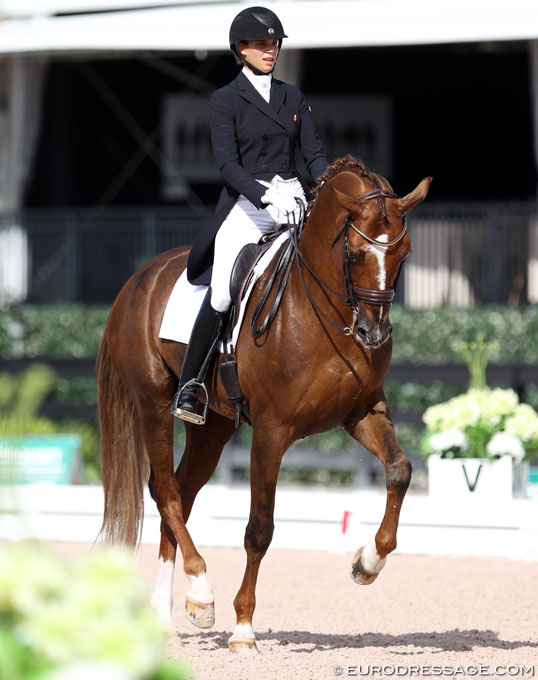 "I have been training with Ashley Holzer now for almost 3 years," Naima told Eurodressage. "She has definitely been an instrumental part in my success moving up the levels from Under 25 to Grand Prix. She has an innate ability to bring out the best in every horse and rider combination that she works with , myself included. She is simply the best and I feel very fortunate to have her guiding and sharing her knowledge with me."
Along with the guidance of Holzer, Naima made the successful transition up to the U25 Grand Prix with I do Kiss in 2018 during the Winter equestrian festival in wellington , florida.
During the summer of 2018, Laliberté tested her mettle on the European circuit with a new partner, Statesman (by Sandro Hit x Brentano II), Jordi Domingo's Spanish team horse for the 2017 European Dressage Championships in Gothenburg. The new duo earned top-10 finishes at the U25 level in Rotterdam, Leudelange and CHIO Aachen.
Now It's Business 
WWith the 2019 Pan American Games in Lima, Peru, as competitive highlight of the season, Naima aimed big and moved Statesman up to the senior divisions while she gained more mileage with I Do Kiss at U25 level.
Her ever improving scores with Statesman the drew the attention of the Canadian selectors and she was nominated for Team Canada for the Pan Ams. In her debut year at Grand Prix the 22-year old team rookie ended up being Canada's best scoring rider at Grand Prix in her first major games appearance. She won both the Grand Prix and the Grand Prix Special and helped Canada secure team gold and a Tokyo Olympic team qualification.
With her eyes on the prize - a Tokyo team spot - Naima and Statesman proved their worth at the 2020 Global Dressage Festival in Wellington by four times scoring 71% GP and GP Special marks as making her one of Canada's top three highest scoring riders on the scene.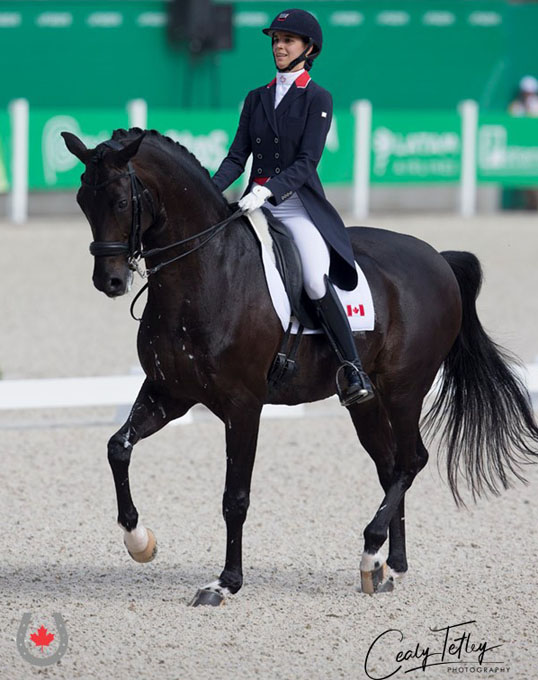 "I am super happy with how well both Statesman and I do Kiss have performed this past season" said Naima. "The 5* week in which we received some of our highest scores this season in both the Grand Prix (71.109%) and Grand Prix Special (71.681%) with Statesman was a real highlight for me. He has been super consistent and the exercises in both tests have been getting better and better every time we go in the ring . I feel like I am only now just tapping into all this amazing power that he has to offer. He Is always giving his best and I couldn't ask for more!"
In February she also began showing I Do Kiss in the senior Grand Prix classes and clocked solid 68-69% scores on the chestnut stallion.
"I Do Kiss has also been stepping up to the plate in his first season at Grand Prix," she added. "In the 4* we had great scores and I know there is so much more he has to offer. I am super pleased with how well I do Kiss has gone this past season. In 2019 we were awarded the 2019 Orion cup, which is a Canadian award for the most successful u25 combination of that season. Since then he has made the transition up to the Open Grand Prix and has been taking everything in stride tremendously well."
In the autumn of 2019 I Do Kiss underwent eye surgery to relieve him from the discomfort he was experiencing due to glaucoma.
"We made the difficult decision to operate his left eye in an attempt to save it after years of battling with glaucoma," Naima explained. "We knew there would be a risk that he would lose his sight fully in that eye, which unfortunately it progressed to. However the surgery allowed to remove any discomfort he was experiencing . I didn't know how he would react, no longer having sight in that eye, but he took everything in stride and showed tremendous trust in me which has allowed me to navigate him in some of our best rides in Florida.".
Team Experience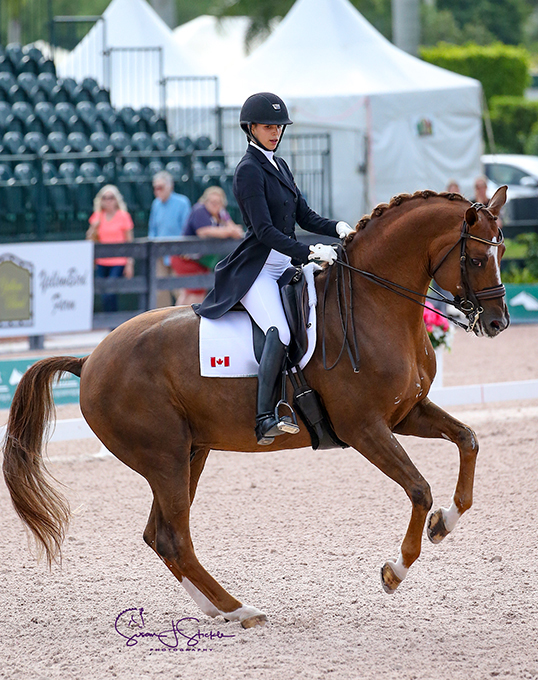 Naima's consistency was rewarded by Equestrian Canada as she was selected to ride on the team for the FEI Nations' Cup in Wellington in March, the last Global Dressage Festival show of the season before the corona pandemic shut down all sport events.
"I was also extremely grateful to have been able to participate in my first Senior nations Cup in wellington with Statesman," she said. "He gave me some of the best feelings in the ring which we were rewarded with some super scores- in the freestyle we got 77.860% and finished with team silver. The last time I competed in a Nations Cup was in the U25 division in Florida last year with I do Kiss and I absolutely loved it."
Naima thrives on team competitions and representing the Maple Leaf gives her a unique feeling.
"The CDIO Nations Cup is a great event as it really sets you up to focus on competing in a similar team environment. It was definitely an exciting season, although cut short unfortunately, but necessarily as a safety precaution during the expanding Coronavirus Pandemic."
"The CDIO Nations Cup is a great event as it really sets you up to focus on competing in a similar team environment. It was definitely an exciting season, although cut short unfortunately, but necessarily as a safety precaution during the expanding Coronavirus Pandemic."
Return to Canada to Prepare for 2021
The corona pandemic has altered the plans of any Olympic contender with the entire spring show season wiped off the calendar and the summer still uncertain.
Naima has returned to her Stables in Canada for the summer, and will continue to train with Ashley via video stream.
"I am now back home in Canada and just finished our mandatory two week quarantine upon returning from florida," she explained. "All my horses have made it home and are currently getting a well-deserved break. I will train over pixio with Ashley and continue to work towards our goal of Tokyo, which is now in 2021. Hopefully things will start getting better again globally in the next few months but we will take things day by day and with all necessary precautions."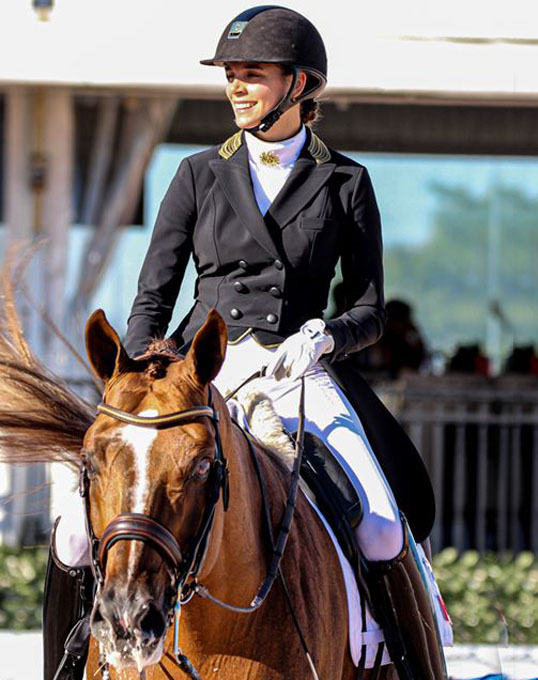 Naima's Olympic goals remain unwavering.
"Statesman and I were sitting in a very good spot this year for team contention so our goal is to continue to build and improve even further on our capabilities this year and bring it forward to the 2021 season," she said. "Of course competing in the World Cup finals would be another goal of mine. However for this coming year of 2021 I have my sights set on Tokyo."
With the uncertain conditions for a restart of competitions, Naima stays grounded at home.
"It is early to start planning far ahead at the moment, especially given the current situation with the Pandemic," she added. " my priority is to keep both horses in top form and enjoying the work they do."
Photos © Astrid Appels - Cealy Tetley - Sue Stickle - Anne Leueen
Related Links
It's Team Gold and a Tokyo ticket for Canada at 2019 Pan American Games
Naima Moreira Laliberté Awarded 2019 Orion Cup
Pan Am Team Mates Go Head-to-Head in Battle of the Disciplines at 2019 Royal Horse Show Toronto
NAJYRC Gold Medal Winner Naima Moreira-Laliberte Partnered with New Stallion, Sancerre
Davis and Moreira Laliberte Win Kur Gold at 2015 North American Junior/Young Riders Championships
Region 7 and Quebec Win Team Gold at 2013 North American Junior and Young Riders Championships
Canadian Junior Riders Shine in Their Division at 2013 CDI-W Wellington
Quebec and Region 5 Win Team Gold at 2012 North American Junior/Young Riders Championships