F.O.C.U.S.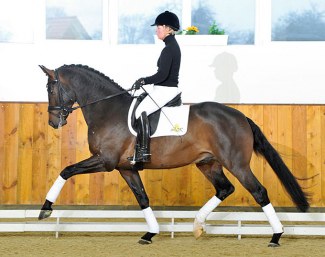 At the 2011 OIdenburg stallion licensing, a highly talented Swedish warmblood colt sold for a record price of 800,000 euro. The bay was the talk of the town as the best mover of the lot. Everybody wondered who this mystery American was that paid such a stellar amount for the star of the licensing. The colt was named Tomahawk and only briefly stood up for stud. He was never competed. So where is he now?
Tight Junction, What's in a Name?!
Tomahawk is a 2009 born colt by by Temptation out of Sigma (by Sandro Hit x Master x Maraton).
He is bred by the famous Swedish vet Lena Nystrom and was originally named "Tight Junction".
With her veterinarian background, Nystrom has this traditional going to chose names for her foals based on medical terminology. For those who want to know, tight junctions are responsible for the maintenance of the endothelial permeability barrier, regulating the passage of ions and solutes between cells via the paracellular pathway.
"My horses born here are all named after medical terms," Nystrom told Eurodressage back in 2011.  Some of her horses are Scapula, Synovia and Toxin. "Tight Junction is a very close communication channel between two cells and a beautiful name as well, at least in my opinion!"
Tomahawk's one year younger full sister Stigma is Danish warmblood registered and was named the Danish Champion Mare in the 2-year old class in 2012 and in the 3-year old class in 2013! 
Swedish bred, Oldenburg Licensed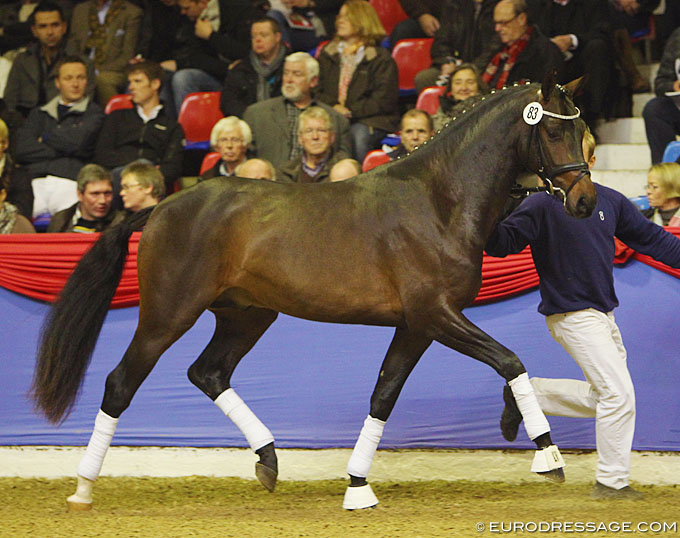 Nystrom presented the bay colt at the 2011 Oldenburg Stallion Licensing and he was the favourite of the crowd. Because of his Swedish brand, the colt was not accepted into the premium ring, in which For Romance was named champion of the licensing.
However at the auction following, Tight Junction became the price highlight selling for 800,000 euro to a mystery American dressed in black. 
Tight Junction's new owner was American former model Jamie White, whose ex-husband Tom Welling is known for his lead role as Superman in the teenage sci-fi drama Smallville. 
Jamie won the bidding duel against Urs Schweizer of Dressage Performance Centre Lodbergen, who ended up buying For Romance. 
Brief Stud Career
Straight away Jamie renamed the stallion to Tomahawk and together with her partner, German Grand Prix rider and trainer Markus Gribbe, they decided to stand the colt at Bockmann's in 2012. 
Tomahawk only stood at stud for two months after some disagreement about the management of the stallions.  White relocated her horse to another yard in Menslage (GER), but Tomahawk sustained a severe hoof injury there, when he got his feet caught between the metal beam support and the front of the stall. Fortunately he recovered from this life threatening injury due to the swift intervention and careful treatment at Dr. Genn's in Mühlen. Tomahawk produced 33 foals in that short period of breeding.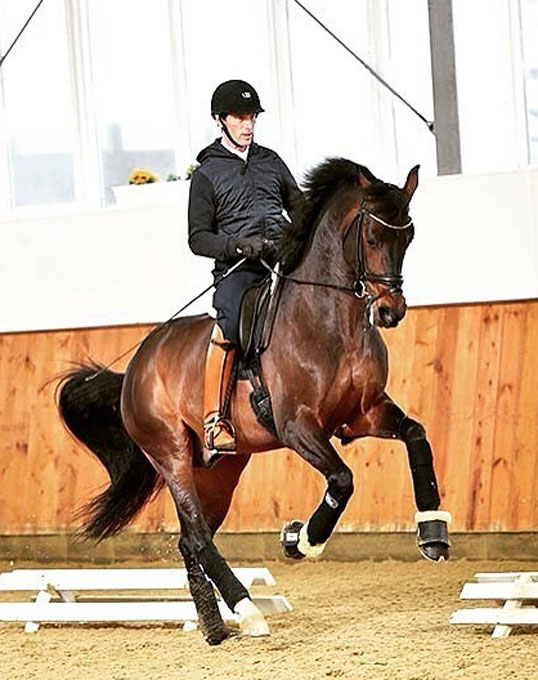 The stallion healed quickly and in November that year he did his 70-day stallion perfromance testing in Schlieckau, where he scored 9 for walk, trot and canter, 8 for rideability, 8.5 for character and willingness to work, and 6.5 for show jumping. His overall total was 7.9 with an 8.58 score for dressage (second highest dressage score) and 7.08 for show jumping.
At the end of 2012 White had moved Tomahawk to stallion station Kathmann in Vechta and announced that he would be standing at stud again for the 2013 breeding season. In December 2012 he was presented for approval with the Hanoverian society but became unlevel at the presentation. One month later in January 2013, however, he passed the approval in Verden ridden by Kira Wulderding. 
Tomahawk bred for half a year in 2013 after which Jamie decided to focus him on sport without the pressures of breeders' demand.
At the 2013 Oldenburg stallion licensing in Vechta in November, Tomahawk was invited for the Main premium title. He was presented in hand and finished second, behind For Romance. He did not show under saddle in the Althengst Parade later that afternoon.
Kira Wulferding returned with Tomahawk under saddle at the Kathmann stallion show in Vechta followed by a home stallion show in Vechta in the spring of  2014. 
Where is He Now?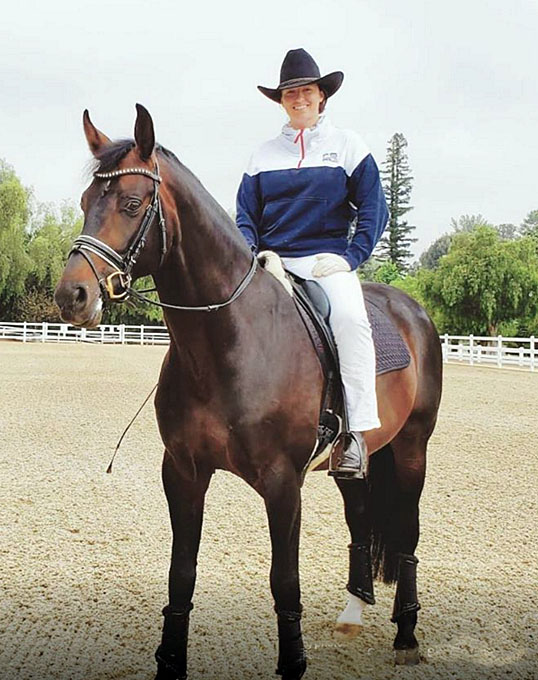 Tomahawk has been in training with Markus Gribbe since then at Kathmann's. As of 2016 Gribbe trained White's horses with Ullrich Kasselmann in Hagen, which sparked rumours that the stallion might be for sale, but those are not true.
Two years ago Jamie and Markus moved to Jamie's home town, Los Angeles in the U.S.A. with four of their horses. They are currently based at a private yard in the outskirts of LA, where White rides Tomahawk herself once in a while and enjoys her stallion. 
"Tomahawk is happy and healthy with me in California and in full work," Jamie told Eurodressage. "He is doing all the Grand Prix movements with super technique. Tomahawk is a beloved family member and has never and will never be for sale. He is totally happy and healthy. The happiness of our horses comes first ! Our motto is Horses First.  He has produced some really super offspring that have very good minds and movement."
Although Tomahawk only very briefly stood up for stud, his very small crop of foals has achieved stunning results ! The German Equestrian Federation has 51 offspring registered for sport, 18 broodmares and 3 licensed sons.
The Danish bred Texas Tokio, which Jamie had purchased with her friend Christy Reich as a foal (then named T-Hawk Axe) for 29,550 euro at the 2014 Danish Warmblood Elite Auction, became the 2017 Oldenburg saddle licensing champion held in Vechta. Texas Tokio sold for 100,000 euro to Wilfried Bechtolsheimer at the auction. The licensed Tallahassee (by Tomahawk x Samarant) sold for 82,000 euro to Tina von Briel at the 2017 South German Stallion Licensing auction. The third licensed son is a still nameless Oldenburg registered Tomahawk x Dr. Doolittle, bred by Kirstin Fibbe. He was approved at the 2015 Mecklenburg Stallion Licensing in Redefin.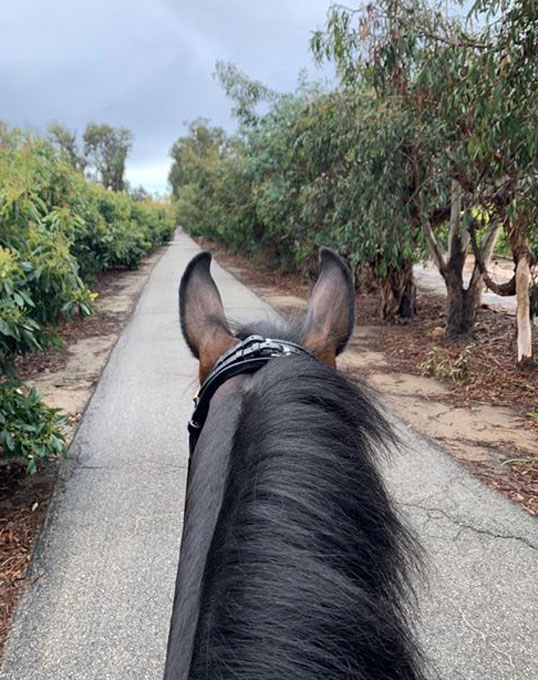 Maike Krause's Tara (by Tomahawk x Hotline) finished 10th in the Brilliant Ring at the 2018 Oldenburg Elite Mare Show. Tara ended up selling to Switzerland for 110,000 euro at the 2018 Oldenburg Autumn Elite Auction.  Ruditoma (by Tomahawk x Sandro Hit) was selected for to the 2016 Oldenburg Elite Mare Show and sold for 70,000 euro at auction to Sweden.
On the 2019 Bundeschampionate circuit offspring such as Tom's Diamond (Kira Wulferding), Tomahawk's Girl (Lisa Maria Koch), Tiffany (Tanja Lammers) and Tatonka (Eva Marie Siemer) were successfully shown. In France international young horse rider Julien Vincent is training Toogood Tobetrue (by Tomahawk) up the levels.
Photos © Kiki Beelitz - Astrid Appels - private
Related Links
Eurodressage Photo Database: Tomahawk
For Romance 2011 Oldenburg Licensing Champion, Tight Junction Steals the Show
Tight Junction Renamed Tomahawk
Tomahawk Pulled from Stud Duty for 2012 Breeding Season
Dancing World Aces 2012 Schlieckau Autumn 70-day Stallion Performance Testing
Tomahawk to Stand at Kathmann's
Fourteen Stallions Accepted at 2013 Hanoverian Stallion Approval
Young Stars Shine at the 2013 Oldenburg Althengst Parade
Texas Tokio, Champion of the 2017 Oldenburg Saddle Licensing