France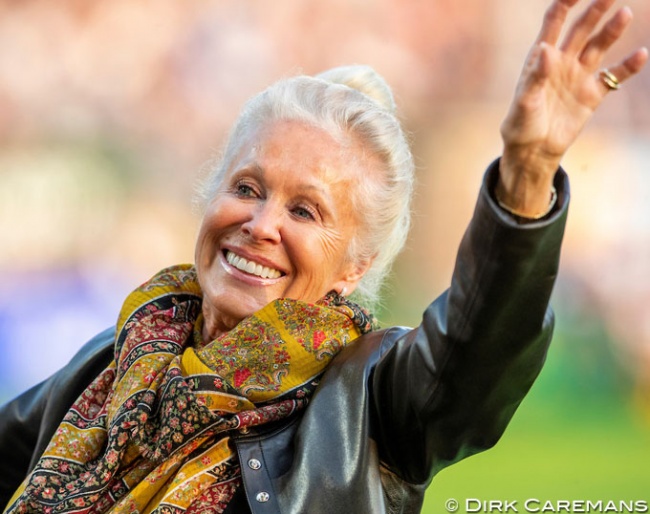 French Olympian Margit Otto-Crepin has passed away on Sunday morning 19 April 2020 at her home in Hamburg, Germany, after a short, serious illness.  She was 75 years old. 
She bravely fought and lost a battle against cancer. She was briefly hospitalized before dying, but passed quietly in her home.
Born in Saarbrücken, Germany on 9 February 1945. In 1962 she went to Michigan, U.S.A. where got her high school diploma. She returned to study languages at the Sorbonne Univeristy in Paris. 
Initially she wanted to become an interpreter for UNESCO, but Margit married Frenchman Daniel Crepin, an amateur show jumper who had two eventing lovings sons from a previous marriage. Margit worked two days a week as book keeper in her husband's clothing company in Paris. 
Caprici
In 1971 Margit declared for France and was first trained by Colonel de Ladoucette. Her first competition horse was Parliament.
To push her riding career to the next level, she sought out training with Fritz Tempelmann and relocated her horses to Dusseldorf, Germany, where she also got acquainted with the then 22-year old eventing rider Norbert van Laak. he became her trainer later on. In her career she also ended up working with Patrick Le Rolland, Dr. Uwe Schulten-Baumer,  Herbert Rehbein, and Udo Lange.
Her first championship horse was the elegant Selle Francais gelding Caprici, a former 3-day-eventer, with whom Margit Otto-Crepin became French Dressage Champion in 1980 and 1981.
The pair represented France at the 1981 European Championships in Laxenburg, the 1982 World Championships in Lausanne and the 1984 Olympic Games in Los Angeles.
Corlandus
However, Corlandus became her career making horse and one of dressage's greatest. The 180 cm standing Holsteiner gelding was by Cor de la Bryere out of Gustia (by Landgraf x Consul). Ridden at the time by Peter Mohr, Corlandus sold to Otto-Crepin right before Christmas 1983.
Otto-Crepin and Corlandus won gold at the 1987 European Championships in Goodwood, silver at the 1988 Olympic Games in Seoul, silver at the 1989 European Championships in Mondorf les Bains, the title at the 1989 World Cup Finals in Gothenburg. They won the 1988 and 1989 French Grand Prix Championships, bringing her tally to four French titles in total.
The dynamic duo went on to become fourth at the 1990 World Equestrian Games in Stockholm, and got bronze at the 1991 European Championships in Donaueschingen. Their biggest rivals at the time were Nicole Uphoff and Rembrandt.  At the 1992 Olympic Games in Barcelona, Corlandus failed the vet inspection and did not get to compete. Corlandus passed away in 2001 after a long retirement to the field. 
Maritim
Maritim took over the torch from Corlandus at the 1992 Olympic Games. Maritim travelled to Barcelona as a team reserve and after Corlandus failed the vet check, Maritim was allowed to compete in the Games as alternate. She finished 9th with the team and 19th individually. 
Margit and Maritim went on to compete for France at the 1994 World Equestrian Games in The Hague. The pair ranked 20th in the Grand Prix and placed 11th in the Grand Prix Special.
Maritim was a Hanoverian by Matrose, which Margit had purchased for 170,000 DM (85,000 euro) as the price highlight of the 1981 Hanoverian Auction in Verden. 
Lucky Lord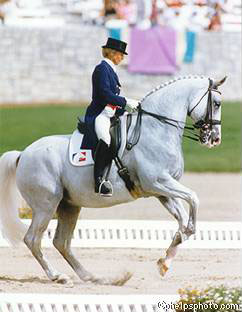 Otto-Crepin's show career reached a new height with Lucky Lord, a Zweibrucken gelding by Lord, owned by the Forst family.
Margit rode the grey for five years and the pair won team bronze at the 1995 European Championships in Mondorf-Les-Bains, they were second in the 1996 World Cup Finals and finished fourth with the team at the 1996 Olympic Games in Atlanta. They were 10th at the 1997 European Championships in Verden and 14th at the 1998 World Equestrian Games in Rome. 
Loutano and Tornado
Margit's fourth international Grand Prix horse was the Holsteiner stallion Loutano (Landgraf I x Calypso I). She took the ride on him in 1995 and but showed just one year at international Grand Prix level. They appeared at the CDI's in Frankfurt, Neumunster, 's Hertogenbosch, and Dortmund. 
Margit's fifth and last international star was Tornado, a Hanoverian gelding by Trapper x Gotz. 
The chestnut gelding took Margit to the 2001 European Championships in Verden, Germany, where they were 32nd. It was Margit's last Championship. Her last CDI was in 2003 on Corlino.
Dressage Influencer
In the 2000s Otto-Crepin continued to ride, but she had moved away from Van Laak in Dusseldorf to Holger Munstermann in Werl, Germany.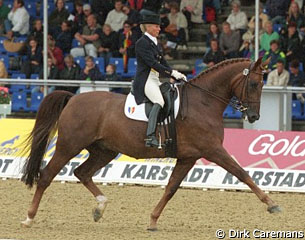 In 2005 however, Margit relocated to Hamburg, Germany. She based her horses at Thomas von Samson's yard and went to live in Elbchaussee. At the time she still owned Corlino, Tornado, Whitney and Calimero. 
After her active competition career, Otto-Crepin served on several committees. She was Chief Manager for Dressage in France, she was a member of the FEI Dressage Committee from 2009 till 2011. 
Margit served as president of the International Dressage Riders' Club from 1998, taking over from Christine Stuckelberger, until her resignation in 2010. At that time, IDRC secretary-general Wayne Channon wanted to increase the influence of the IDRC within the FEI and pushed for changes. Vice president Kyra Kyrklund became IDRC president. 
The Cadre Noir in Saumur, France, proclaimed Margit "Écuyer d'Honneur" as most successful French dressage rider in history, even to this date.
Colonel Christian Carde, who competed against her, but who was also her team mate as well as chef d'equipe,  praised Otto-Crepin for "her elegance, her talent, her dedication to perfect herself and to work with her horses, her team spirit and spirit of camaraderie."
Life with Horses
Horses continued to dictate Margit's life until the very end. She always said they were here "dada" like to the art expression.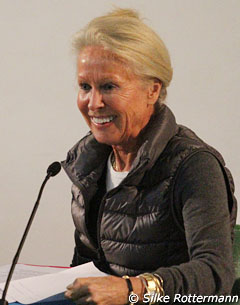 She regularly attended dressage shows and often returned to the CHIO Aachen. In 2014 she was quoted saying, "when I look at the horses here I think 'wow'," and with that she referred to Valegro and Damon Hill. "I don't think the riders are aware of how much luck they have that our dear god has given them so much quality. I've never seen such functionally built horses."
She was the owner of the 9-year old Selle Français Balthazar de Fougnard (by Diamant de Semilly x Quidam de revel), an international show jumper competed by Portuguese Luciana Diniz. Balthazar's birthday is 18 April, the same as Corlandus and Loutano.  
Margit's dressage horses will stay in the care of her groom Nathalie Kock, who has worked for her for 38 years. She had no children. 
Due to the corona lockdown it is not yet clear when and where the funeral will be. 
Article © Eurodressage - No Reproduction Allowed
Photos © Stefan Lafrentz - Dirk Caremans - Mary Phelps - Silke Rottermann
Related Links
Eurodressage Photo Database: Margit Otto-Crepin
Greatest Oldie: Corlandus, Majestic Power
Lucky Lord Retires with Lucky Times to Come
Margit Otto-Crepin Resigns as IDRC President
Loutano Passed Away
FEI Threatens to Expel IDRC as FEI Associate Member Representing Riders
History of French Equitation - Part III: Tradition Does Not Exclude Love for Progress