Germany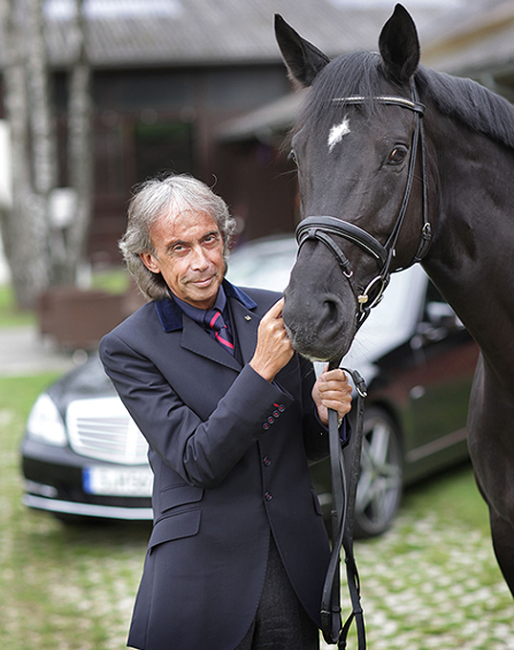 Frank Henning, a German dressage horse owner and the founder of the educational seminars Reiter Forum and Die Alten Meister, died unexpectedly in the night of 11 April 2020. 
The Wuppertal based Henning struggled with health issues for years, but always bravely fought against them and kept a positive outlook on life.
Reiter Forum and Die Alten Meister
Henning became best known as the initiator and founder of the educational seminars Reiter Forum and Die Alten Meister, in which he wanted dressage lovers to get access to expertise from the world's best trainers. His seminars featured athletes such as Klaus Balkenhol, Monica Theodorescu, Ingrid Klimke, Isabell Werth, Dorothee Schneider, Hubertus Schmidt,  as well as jumping riders Ludger Beerbaum and Toni Hassmann. 
Often his sessions also included expertise from saddle and bitt fitters as well as seat experts. 
The seminars were often staged at Mercedes-Benz' dealerships so that also people with no knowledge of the sport would get familiarized with horse training and management. These sessions were moderated with passion by Henning. 
From Car Dealer to Dressage Fanatic
In his professional life Henning, who studied Business Management as a young adult, managed a group of car dealerships in his home town Wuppertal. He sold the company in 1992 and began Henning Marketing.
Henning also invested in horses, often sourced at Hof Kasselmann. Some of his discoveries were Syriana, who is now an international Grand Prix horse under Australian Mary Hanna, and Charming Boy (by Casaretto x Ehrentusch), competed internationally by Sofie Lexner. 
His wife Christina Henning competed internationally in the 2000s with horses Louisiana S (by Lacapo x Montevideo), Dark Surprise (by D-Day x Furioso), and Harmonie (by Hohenstein x Werther). 
In 2009 Frank Henning was decorated with the P.S.I. Supporter of the Equestrian Sport Award at the PSI Charity Ball.
Related Links
2016 Die Alten Meister Forum in Gossau - Wanted: Judges with Competence and Backbone
Diamonit, Price Highlight of the 2009 PSI Auction
Seven Awardees at the 36th Performance Sales International
Balkenhol Returns to the U.S.A. for Clinic on the Successful Development of Young Dressage Horses
Monica Theodorescu, Keynote Speaker at 2017 Old Masters Clinic in the U.S.A.
Jean Bemelmans, Key Note Speaker at 2016 Old Masters Clinic in the U.S.A.
Swiss Dressage Forum "Ride, Judge, Regulate: How to keep Measure?" on 23 April 2016
Winter-Schulze and Hess, Recipients of the 2007 Reiter-Forum Award
Syriana, New Grand Prix Horse for Mary Hanna