Oldenburg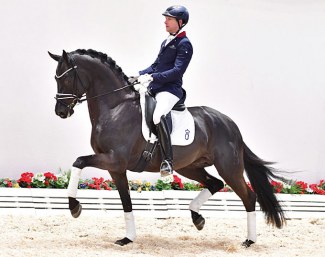 Buying a horse with a mouse click: bidders around the world were able to do this at the first Oldenburg Online Elite Auction. Due to the corona pandemic the 92nd Spring Elite Auction became an online auction and customers bought their chosen Oldenburg horse conveniently, safely and easily from home.
"The young talents of this premiere delighted customers from all over the world and sparked exciting bidding duels to the last second," said Oldenburg press officer Tobias Hemken
The 4-year old licensed Movie Star (by Morricone I x  Bentley x Rubinstein I, bred by Ines Lohmann, Extertal, and owned by Friedbert Schaul) became the price highlight, selling for 250,000 euro to Great Britain.
The second most expensive dressage horse was the 5-year old Flor Dressage Royal (by Finest x Dressage Royal x Sandro Hit, bred by Paul Rode and owned by IVM Horse). The mare started her career as winner of of the 2015 German Foal Championships in Lienen and she competed at the Oldenburg Elite Broodmare Show in Rastede. She sold for 112,000 euro to Portugal.
For 111,500 euro, the 6-year old French riding horse champion Danseuse Royale (by Don Juan de Hus - Rubin-Royal - In Extenso, bred by Xavier Marie, and owned by Star Horses, from France) sold to a young dressage rider from Hessen/Germany.
The top price for the show jumpers was five-year-old Zarzuela (by Diarado - Concetto - Castro, bred and exhibited by Gestüt Woldsee). The charming mare moved to a renowned jumping stable in Austria for 111,000 euro.
Force Majeure (by For Romance x Stedinger) stays in Germany for 71,000 euro, Fiction Factory (by Furst Jaz x San Amour) for 61,500 euro, and Faustino (by Fahrenheit x Sandro hit) for 56,000 euro. The bidding for the chestnut Lavita (by Vivaldi x San Amour) went until 46,000 euro.
Finnish customers secured the black stallion Vittorio (by Vitalis x San Amour x Alabaster) for 64,000 euro.
Swiss clients purchased Free Spirit (by Furstenball x Laurentio) for 45,000 euro
Oldenburg's breeders, friends and customers celebrated this online auction firework on the screens all around the world. All expectations of the auction team were exceeded. Elite quality of the Oldenburg riding horses and great trust of the customers in excellent advice and service prevail even under adverse conditions.
16 from 42 auction candidates have been bought by customers from outside Germany. Customers from Austria (3), Switzerland (2), Belgium (1), Denmark (1), Finland (1), Ireland (1), Great Britain (1), Italy (1), Netherlands (1), Portugal (1), Sweden (1), Spain (1), and the United States (1) will be taking home talented Oldenburgs to ride in the future.
The average price for a horse at this online auction was 41,440 euro. 
Related Links
Your Chance: Vechta's Dancing Stars in the 2020 Oldenburg Spring ONLINE Auction
Impressive Dancers in 2020 Oldenburg Spring Elite Auction in Vechta, Moved ONLINE Auction due to Corona