Interview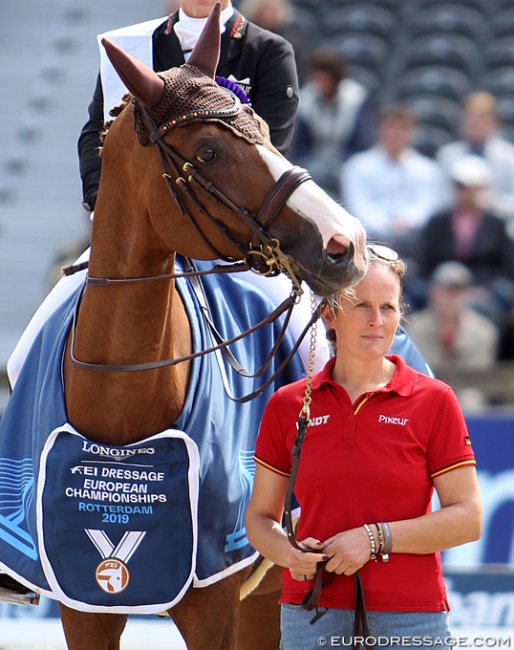 Steffi Wiegard is the senior show groom at Isabell Werth's yard in Rheinberg, Germany, and the travel companion of all her top horses. Last year she was nominated for the FEI Groom of the Year award. 
Wiegard has been working for Werth since August 2012. Before that she started as a young adult at Klimke's stable, first working for Reiner, and then with Michael Klimke. She also rode there, but "my passion is the grooming of horses, riding others can do better."
Going to shows with them sparked her interest to become a show groom because she loves the atmosphere at competitions. She slowly developed from a stable hand into a show groom and eight years ago arrived at Werth's yard.
Wiegard leads a double life as she works in the office of a  DIY construction store in Munster from Monday till Wednesday. Then she drives to Rheinberg to help out at Werth's yard the rest of the week, from Thursday till Sunday.
German equestrian magazine ST.GEORG posted a 45-minute (!!) podcast with Steffi Wiegard in which she reveals all about her life as Isabell Werth's show groom. Eurodressage summarized what we found the most interesting parts of the interview
Apple Juice: In Rotterdam Bella also got apple juice to make her drink better. "The water probably didn't taste well there,"
Carrots: "I'm feeding carrots non stop because then the horses eat much better," said Steffi, who also gives apples and bananas to the horses.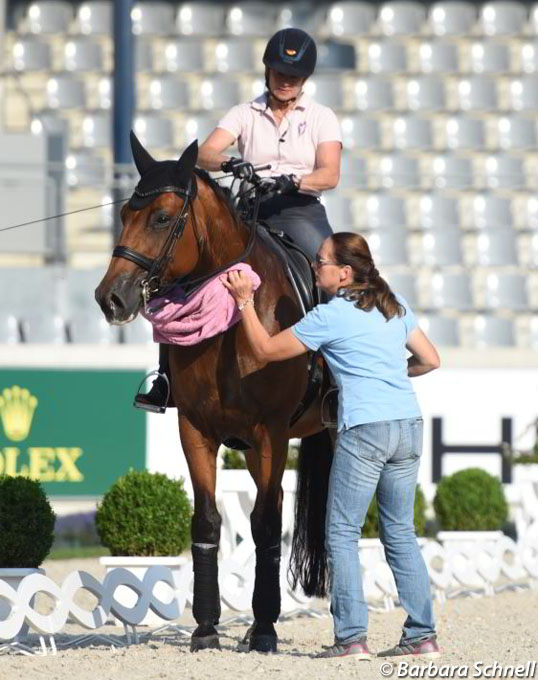 Sleep Time:  At show Jumpers and dressage horses are often stabled together but jumper classes last very long, almost to midnight and then discussions take place amongst the grooms when light goes off so the horses can have a good night's rest. 
Long hours: She says grooms work long hours. At competitions, she starts at 5 AM in the morning, but "you can survive it with coffee, coffee, and coffee," she joked.  Usually at shows the horses are worked in the morning and in the afternoon the horses get groomed, hand walked and some wellness with the magnetic blanket and physiotherapy.  
Braiding:  For Wiegard the braiding techniques depend on the length of the neck, she said.. she also braids jumpers once in a while. 'I'm classical and antique," she said when it comes to braiding techniques. "It's not my world to make thick braids and then add glitter to them."
Grooming tips: cloths, water, sponge are essential to bring with you. Fly spring in summer. And at shows she also uses spray for the horse's tail. Isabell cleans her boots herself. "It's a ritual before the test for her," said Steffi. 
Prize givings:  All of Isabell's horses are super nice in the prize giving. "It is rare that I have to go into the arena to hold the horse for such a stress situation," said Steffi. 
Favourite shows: Fritzens is her absolute favourite, "the mountains in the background. For the horses, the grooms," she said. She also named Aachen, Den Bosch, Cappeln, Lyon as favourite shows. "The World cup shows are always well organized and the atmosphere around is fun."
Power Shopping: Stockholm is nice too, according to Steffi:  "there is a big shopping mall next to the show and I can do some 'power' shopping there as there is not much time."
Don Johnson: "Don Johnson is my heart horse," said Steffi. The Hanoverian won no less than 650,000 euro in prize money in his 11 year at top level.  "He always sticks his tongue out to his neighbours and at one point one of them bit in his tongue and there was quite a bite through his tongue," she reminisced. "You can't really hand walk him in the afternoon. He always bucks and frolics around," she said.  
El Santo in Central Park: Steffi flew with El Santo twice to New York City for a show in Central Park. She was asked to keep Ernie fit until Isabell had flown in so she had to lightly school him amongst the other top riders. "That was pressure," she admitted. 
The Financial Cost: When asked how it feels to handle horses worth millions, Wiegard says she is very well aware of it, especially when she's driving the lorry and other drivers show reckless behaviour on the road. 
OCD:  Steffi admits she has mild OCD behaviour when it comes to keeping bandages clean. Isabell allows her horses to rub their mouth on the bandages and Steffi gets annoyed because they will get very dirty or ripped. "It's true, I like to keep the bandages clean," she admits, "but that's why Isabell only lets her horses rub them from Monday to Wednesday, when I'm not there," Steffi laughed.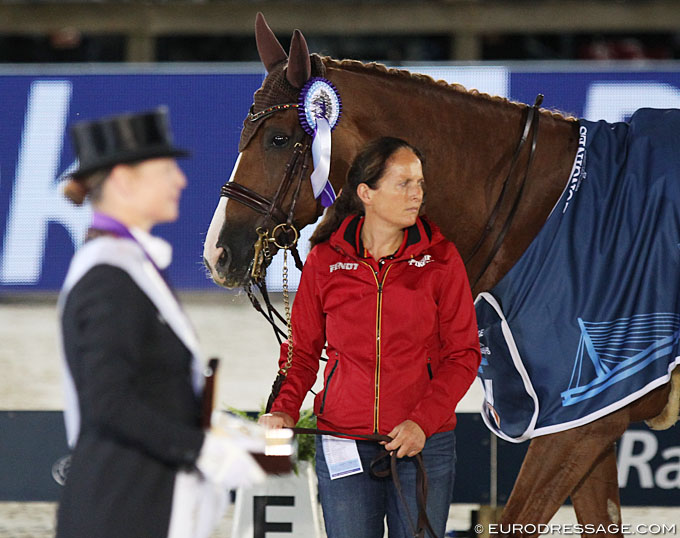 Social Media: Schweini Schwein is Steffi's social media account where she and the team of grooms post fun stuff happening at Isabell's barn. Wiegard does look on Facebook, even though Werth stays far away from it.  "The unfair and unfriendly comments I take to heart and I shouldn't," she admitted.
Madeleine Winter-Schulze: Isabell Werth's longtime sponsor. Steffi describes her as "nice, warm, heartfelt person. it's insane. She's unbelievable. She's the bomb."
Food: "we eat quite unhealthy at shows because there is no time," said Steffi. "Chocolate also." When asked if she likes sushi (thinking of Tokyo), Steffi replied that she tried at in Den Bosch and that it was very tasty, but eating with chop sticks wasn't a success.
Dressing up for FEI Awards: "Thank god I was only nominated and didn't have to go," she said. "Pumps are no go, and me in a dress with heels, that would be a nightmare."
Listen to the entire interview on St-Georg.de as Steffi reveals more about her life as a show groom.
Photos © Astrid Appels - Barbara Schnell
Related Links
Isabell Werth, Alan Davies, Steffi Wiegard, Hannah Erbe Nominated for 2017 FEI Awards Announced
Isabell Werth Wins U.S. Open Dressage Freestyle at 2015 Central Park Horse Show
Werth and El Santo Win 2014 Central Park Dressage Challenge
Isabell Werth Goes Independent