Hit & Run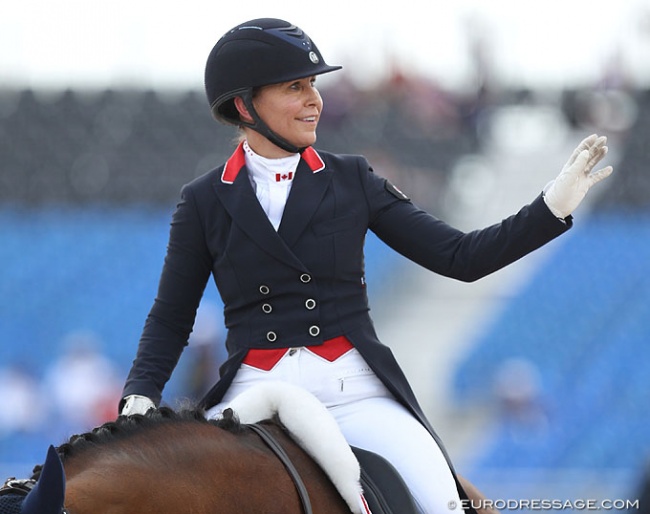 In corona times we are all ordered to stay at home, self quarantine, and do social distancing. With more time on your hands to spend online, Eurodressage launches a "Hit & Run" interview series so that you get to know the world's most famous dressage riders and personalities more closely. 
Jill Irving is a Canadian Grand Prix team rider, having represented her country at the 2018 World Equestrian Games in Tryon and help secure team gold at the 2019 Pan American Games. In 2016 she launched the Jill Irving Youth Equine Mentor Program, a grassroots initiative to provide young Canadian dressage and jumper riders the invaluable opportunity to observe professional competition first hand and learn directly from experienced riders and coaches.
Hit & Run - Jill Irving
What is your earliest memory? 
Trying on our party dresses with my sister early in the morning in our bedroom prob. 5 am! We were around 3 yrs old! I still love dresses and fashion!
Which person alive do you admire the most and why?
Ashley Holzer my dear friend and coach for 34 years, almost a marriage! She has been with me for all the highlights in my life and in the horse world! She will not put up with my sass and in the end I always take her amazing advice in life and in the ring. She understands me, flaws and all.
When were you the happiest?
Each time I gave birth to my four children. 
What is your biggest fear?
To loose loved ones
What was your first thought today?
How lucky I am in such trying times; also arranging to get Degas and Arthur from Florida back to Canada
What is your most annoying character trait?
I talk too much
Which trait do you dislike the most in other people?
I dislike people that are not honest
What is your dearest possession?
Our family cottage, it was built in 1948 by my grandparents.  
If you look into the future, what do you see?
I see the future as a world that must come together for the good of our planet and the people. Not easy!
What makes you unhappy?
when my husband and children are sad
What is the love of your life?
My husband Robert Irving. We've been married for 32 years
What was the best choice you ever took in life?
To marry Robert Irving. He has supported all of my dreams and has been the best person to share them with. We are a team!
What's your guilty pleasure?
Potato chips and chocolate almonds
What do you owe your parents?
I could write a book on what I owe my parents! They raised us to believe we could do anything as long as we understood we would have to work for it. We always did things as a family. Still to this day my family are my biggest fans 
Who can sit next to you at your dream dinner table?
I would invite Queen Elizabeth and Angela Merkel to dinner. I'd even cook for them!
What was the worst job you ever did?
Clean my father's office building. It taught me to appreciate what it takes to do this type of work, but it paid well and supported my horses!
What was your biggest disappointment in life?
The impact of the covid virus, on people we love, the economy and the Tokyo Olympics.
What would you change if you can go back into the past?
If I could go back in the past I would be more patient
Name one thing that would improve your quality of life?
I am blessed with a great quality of life. However if I was more present and in the moment I would learn and appreciate more. 
What is your biggest achievement?
My children, representing Canada at WEG and Pan Am and improving my over-all riding. However I think the youth equine Mentorship is my biggest accomplishment. It was listed as one of the to 50 influencers in the Horse Sport a Canadian magazine. We had 6 dressage kids and 6 jumper kids come to experience Wellington this year. We were fortunate that I was well before the covid 19 out break!
What is the most important life lesson you have learnt?
Stop and smell the roses! Enjoy each moment. Stick to the plan!
What's your favourite scent?
evergreen at Christmas
Which character would you dress up in for Halloween?
I have dressed up for Halloween as Cruella Deville from the "101 Dalmatians" movie
To whom would you like to say sorry?
To everyone who sometimes had to put up with my bad temper days 
What does love feel like for you?
Love feels like sunshine and hugs
When are you most relaxed?
I am most relaxed at my cottage. 
What super power would you like to have?
To go back in time
When did you last cry, and why?
I cried at my daughter's wedding last September when she and her husband said the vows they wrote
When were you closest to death?
I'm fortunate that I have not been close to death.
How do you want to be remembered?
kind and compassionate to all
Related Links
Irving Makes it Two in First Show Week at 2020 Global Dressage Festival
Irving and Peters Win Grand Prix Classes on First Day of 2020 Global Dressage Festival
Jill Irving Sweeps 2019 CDI Ottawa, But Fancy That Draws Attention with Long Awaited Come Back
Arthur, New Grand Prix Hopeful for Jill Irving
Robert Irving Awarded 2017 Dressage Canada Owner of the Year