Hit & Run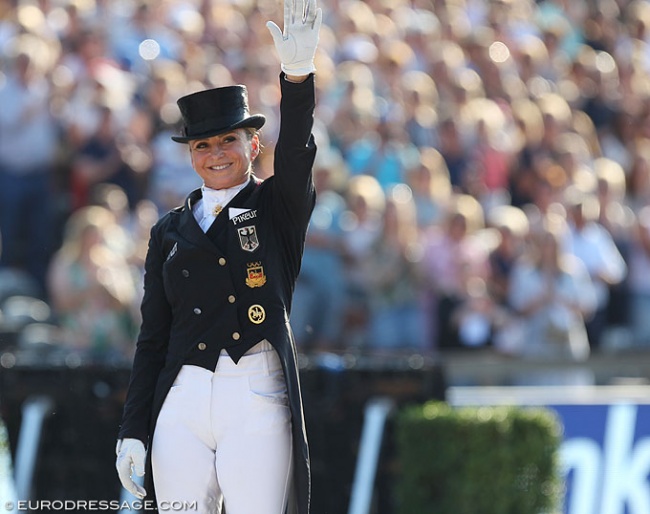 In corona times we are all ordered to stay at home, self quarantine, and do social distancing. With more time on your hands to spend online, Eurodressage launches a "Hit & Run" interview series so that you get to know the world's most famous dressage riders and personalities more closely. 
German Dorothee Schneider is a professional dressage rider who represented Germany at the 2012 and 2016 Olympic Games. She competed at the 2018 World Equestrian Games and at the 2017 and 2019 European Dressage Championships and at the latter event she claimed double individual silver. Schneider is one of few German top Grand Prix athletes who does not deliberately shy away from competing on the young horse circuit. She represented her country at numerous World Championships for Young Dressage Horses and won triple gold with Sezuan.
Hit & Run - Dorothee Schneider
What is your earliest memory? 
My dream of Olympia when Dr. Josef Neckermann competed at the CDI in Wiesbaden more than 40 years ago  
Which person alive do you admire the most and why?
My mom. She did such an amazing job for my brother and me in our youth and today. 
When were you the happiest?
When I first met my husband
What is your biggest fear?
Losing my husband, my parents or one of my immediate relatives.
What was your first thought today?
That all my next of kin and my team stay clear from Corona 
What is your most annoying character trait?
It's difficult for me to feel satisfied with my riding.  I always look for improvement. 
Which trait do you dislike the most in other people?
Dishonesty 
What is your dearest possession?
My family
If you look into the future, what do you see?
Lots of fun and satisfaction in my private life and sport, but also the necessity to change things to save the environment for next generations. 
What makes you unhappy?
When the horses are not fit
What is the love of your life?
My husband
What was the best choice you ever took in life?
When I saw Showtime as a 3-year old and I promised that he would have Grand Prix perspective
What's your guilty pleasure?
'Kinderschokolade' and Haribo
What do you owe your parents?
My education. They gave me the basics for my entire live and taught me the important values 
Who can sit next to you at your dream dinner table?
My husband, my best friend from my first kids' days  Bianca, her husband Erhard, my parents, and singer Herbert Grönemeyer.
What was the worst job you ever did?
Helping my father in the stable when I was really young. He always tried to convince me that good riding comes from sweeping the barn.
What was your biggest disappointment in life?
I try to avoid these moments 
What would you change if you can go back into the past?
Nothing. I'm proud of my life. 
Name one thing that would improve your quality of life?
No temperatures below freezing point 
What is your biggest achievement?
Running my own business very successfully
What is the most important life lesson you have learnt?
Be humble and honest 
Where would you like to be right now? 
Where I am. At home with family,  team and horses. 
What's your favourite scent?
The aftershave of my husband 
Which character would you dress up in for Halloween?
Masquerades, Halloween or carnival are not my favorite 
To whom would you like to say sorry?
I don't know yet.  
What does love feel like for you?
A pounding heartbeat, desire, happiness, security  and luck
When are you most relaxed?
After a good test. 
What super power would you like to have?
Never-ending health 
When did you last cry, and why?
In Rotterdam after the second individual medal
When were you closest to death?
When a stallion reared and fell on his back and I was under the horse 
How do you want to be remembered?
As an honest and fair person representing real horsemanship 
Related Links
Photo Report: Schneider and Faustus Top the Board at 2020 CDN Munster Indoor
Dorothee Schneider to Develop Filarmonie and Dancielle de Malleret
Schneider Makes it three-in-a-row for Germany with cheeky Sammy Davis Jr at 2019 CDI-W Madrid
Werth Proves Battle Leadership and Wins Grand Prix Special Gold at 2019 European Dressage Championships
Werth and Bella Rose Win 2019 CDIO Aachen Grand Prix, Showtime Steals the Show