Germany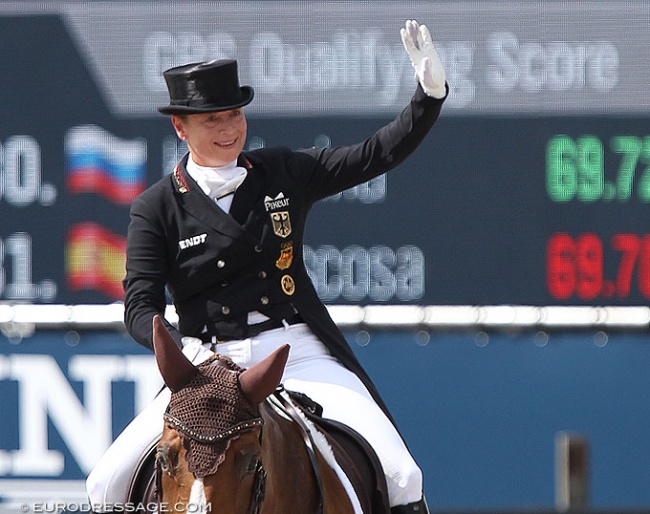 In an interview with Dressursport Deutschland, Isabell Werth opened up about her views on the current corona crisis and how this global emergency situation might instill a new way of thinking for mankind in the future. 
Dressursport Deutschland is the website which is unofficially used as the communication platform for German A-squad dressage riders. The website is owned by Christoph Geibel-Böhn, but the content is provided by Kim Kreling, who also works as commentator for Clip My Horse.
Werth believes that the corona crisis provides a moment for reflection. 
"I have almost the impression that someone wanted to stop the world to show us, how we are doing when we are reduced to the essential," said Werth. "Less travel, less flights and traffic, the air and water get time to recover and are clearly improving. Maybe we need to be ordered to reflect a bit more, so that it becomes clear that this stand-still will also contribute to a regeneration."
For the economy, also the equine industry, the corona crisis is a disaster. 
"Because of the cancellation of the shows, an economic mainstay is no longer available for the professional riders, but other shows will make up for that," Werth opined. "The show world will catch up and riding sport as well, but it is really difficult at the moment for riding schools. A friend of mine has a livery yard with a pony riding school and she's loses a lot of money every month. Those are existential problems."
For Werth it was clear that the postponement of the 2020 Olympics in Tokyo were a no-brainer. 
"We, horse riders, can continue training our horses at home and keep them fit without competitions and without show routine, but we can make that up in a very short period of time," she said. "Other athletes hardly have the chance to train accordingly. Think of the simmers, the swimming pools are closed. And what about team players who can't train together. For them the Olympics at the planned date in July would be unfair."
With the postponement of the Olympics to - most likely - the summer of 2021, the new dates will most likely conflict with the 2021 European Dressage Championships in Budapest. 
"We have to wait for the exact dates of the Olympic Games," Werth explained. "Till now it's not clear when they will take place next year, maybe in spring, maybe in the early or late summer. All is still open. It is only clear that it should have happened by the summer. And only then can it be determined whether the European Championships are still possible afterwards."
When asked what surprises her the most in this corona crisis, Werth replied that, "the achievements of all who work in the medical field: nurses, doctors, carers. I take my hat off for them. It is huge what these people do for society right now. Chapeau."
The full interview can be read here (in German).
Related Links
Isabell Werth on the Tokyo Olympics: Incomprehensible Delay Tactic of IOC and Japanese"
Cancelled CDI's due to Corona Virus Clampdown