The Netherlands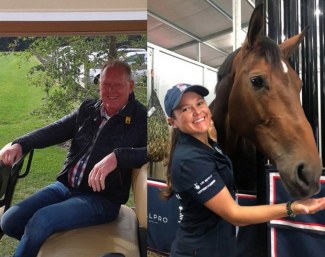 The 67-year old Dutch horse feed specialist Willy van Doornik succumbed to the corona virus infection. He is the first victim COVID-19 in the European horse world.
Van Doornik was a horse feed specialist and helped found the brand Horsefood, a division of Van Gorp Animal Feed. 
Horses.nl reported the passing of Van Doornik, whose company Horsefood sponsors an annual Dutch Young Horse Talent Competition.
In the last 48 hours, 60 people in The Netherlands died from COVID-19. The Netherlands counts 3,640 infected people and 136 have died from it.
Mount St. John's Emma Blundell Infected
The corona virus is coming closer and closer, as almost all Western European individuals are starting to know people in their close circle that are infected.
Emma Blundell, owner of the renowned British dressage breeding farm Mount St. John, has gone public that she got infected with Covid-19 a private skiing trip to France two weeks ago
Emma developed the first symptoms last week. She, her sister, father and mother all caught the virus and have developed the typical flu-like symptoms of dry cough, muscle aches and general fatigue. They have been isolated at home and are doing fine, considering the circumstances.
Today Blundell gave an update on her health on day four of her recovery. 
"I'm feeling a lot of better. I had two days where I couldn't do very much at all," she said. "Now I'm actually doing a bit of my breeding and choosing stallions," said Blundell in a video message. "I still have this feeling on my chest. I still have quite a tickley cough. I avoid coughing when I can, but it doesn't really clear. It's not your throat really. I started with a dry throat but it's lower than that now. I hope it will pass soon. There is not much motivation to do any exercise. With the feeling on the lungs you don't want to get out of breath, or challenge that. I'm trying to really rest and get some work on the computer done. and taking care of everybody else."
Emma added: "For anybody else that is in the same sort of situation, hope you'll be through it soon."
Corona Epicentre Now in Europe
The epicenter for Corona is in Italy, where 47,021 people have tested positive. In Spain, 25,374 people are positive, followed by Germany with 21,828 positive cases. The numbers are still growing exponentially. 
On 20 March France counts 10,995 people that have tested positive to the virus. In Great Britain 3,983 people have tested positive. The U.K. has tested 62,993 people so far. In one day time 700 new cases have been reported. 
Most Western European countries have stopped testing people who go to the doctor with mild corona symptoms. They are told to sick it out at home in isolation and are only referred to hospitals in case their condition worsens. Only the severe cases get tested and are, therefore, included in the statistics.
Eastern European countries seem to have considerably lower infections, but those statistics are not accurate as they test far less. The actual number of cases is estimated to be much higher.
A map of the Corona Pandemic can he found here. 
Related Links
Cancelled CDI's due to Corona Virus Clampdown
2020 CDIO Compiègne, Important Olympic Selection Trial, Cancelled
Message from FEI President Ingmar de Vos in Corona Times