France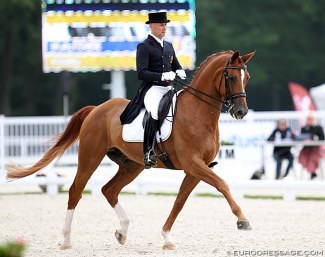 The 2020 CDIO Compiègne has been cancelled due to the corona virus. The event was scheduled to take place 14 - 17 May 2020.
"Deeply Saddened by this Decision"
Following the evolution of the situation concerning the Covid-19 epidemic, the organising committee of the Compiègne's Internationaux de dressage decided to cancel the event. This difficult decision, taken in consultation with the City of Compiègne and the French Equestrian Federation, is part of the desire to preserve the health of all in this period of health emergency. 
"We are of course deeply saddened by this decision, says Monique Marini, president of the Compiègne Equestrian Association, which is organising the event. But as the days went by it became inevitable. First of all, we would like to express all our sympathy and solidarity to all the people affected by this cancellation and even more so by this epidemic. Disappointment is all the greater as this 2020 edition promised to be particularly festive on the occasion of the 10th anniversary of the Internationaux de Dressage with, in particular, the Republican Guard on the programme. But we will come back with even more determination in 2021, and always the same desire and the same will to share our passion."
Olympic Selection Event
Compiègne was the second leg of the 2020 FEI Nations Cup and served as an Olympic observation and selection trial for several countries.
The US Equestrian Federation had planned on sending its Olympic short listed pairs to this show as a team selection trial. Also France had marked Compiègne as their team selection trial. 
The entire ground jury that will officiate at the 2020 Olympic Games, would also be judging at the 2020 CDIO Compiégne. Katrina Wust (GER), Andrew Gardner (GBR), Francis Verbeek (NED), Hans-Christian Matthiesen (DEN), Janet Foy (USA), Susie Hoevenaars (AUS), and Magnus Ringmark (SWE). 
Related Links
2020 CDIO Compiègne, an Olympic Rehearsal for the World's Best Dressage Riders
Cancelled CDI's due to Corona Virus Clampdown