Japan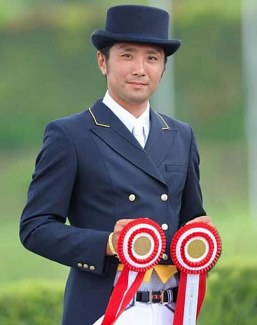 Japanese Grand Prix rider Akihiro Shimoda has passed away unexpectedly on 14 March. He was 43 years old. 
Shimoda was member of the Japanese team that finished fourth at the 2010 Asian Games in Guangzhou, China. He rode the Bavarian gelding Loriot (by Rubinstein x Absinth). 
Between 2012 and 2013 Shimoda competed at international small tour level in Japan with horses Roselle (by Kroonjuweel x Contang), Trisha (by Rubiquil x Kwadruto) and Loriot. 
After a five year break from CDI's, he returned to the arena in October 2019, making his Grand Prix debut on the 18-year old Polish bred Otello (by Alfaro x Seul) at the CDI Gotemba.
Akihiro is son of Tsunehiro Shimoda, a Japanese businessman who is a major investor in Japanese dressage sport. Aside from his son, Tsunehiro actively sponsors Japanese Grand Prix rider Shingo Hayashi on his horses Ramses der II and 2018 Japan WEG team horse Clearwater
In September 2019, Shimoda Sr. purchased the 15-year old Hanoverian gelding Scolari (by Sandro Hit x Brentano II) as a Tokyo Olympic hopeful for his son Akihiro, but Hayashi ended up taking over the ride.
Hayashi is also riding the Grand Prix horse Fernando for Shimoda as an Olympic hopeful. Shingo has been further sponsored on horses such as Haddington KHR, Bela Pharm's Landkaiser, Roselle, and Tetinger.
A farewell ceremony for Akihiro was held at the Equestrian School in Gotemba on 18 March 2020 where a cask was placed
Shimoda is the fourth international dressage rider since New Year that has passed away suddenly at a young age. The apparent cause of death is a heart attack.
Photo © Ryosuke Kaji
Related Links
Scores: 2010 Asian Games
Grand Prix Horse Scolari Sold to Japan
Jurgen Koschel Masterclass in Gotemba to Ready Japanese FEI Riders for 2020
Japan's Long List with 2018 Asian Games Team Candidates
Clearwater Retired from Competition, Sent Back Home to Holland
Clearwater Sold to Japan
New Comer Toshiya Kawabata Wins 2017 Japanese Grand Prix Championship
Mental Health Articles
American Dressage Rider Teresa Butta-Stanton Passed Away
Holger Münstermann Passed Away
Adriane Alvord: "The Pain that Lives Behind the Barn Door"
Angelia Bean: "The Horse Business is Tough, But Those Words Don't Even Touch the Surface"