Spain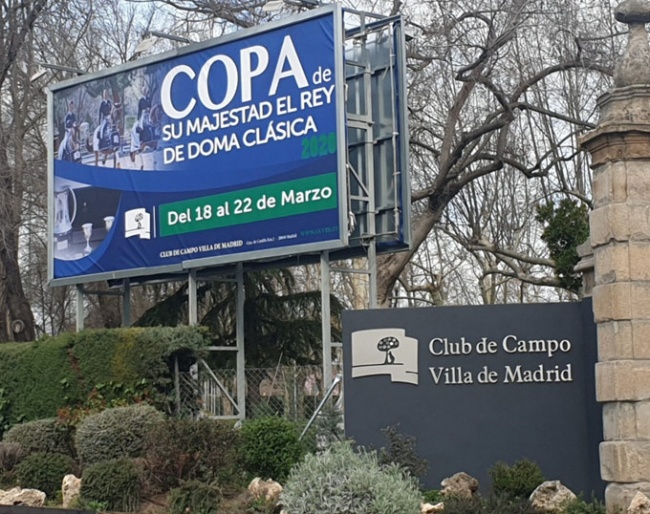 In order to contain the spreading of the Corona virus, countries all over Europe are cancelling sport events as they  bring more than 1,000 people together in a confined space. Today the CDI's in Madrid, Mannheim and Ornago were cancelled. 
CDI Madrid Cancelled 
The 2020 CDI 4* Madrid "Copa el Rey", to be held at the Club de Campa at Villa de Madrid on 20 - 22 March, has been cancelled
Javier Cotarelo, Madrid show director, communicated this to the riders who were entered for the show. An official statement on their website or social media has not been made. 
The Spanish Equestrian Federation posted a message that at the moment to contain Covid-19 equestrian events in Spain - national and international - can only be run of they are closed to spectators and with security staff in place to prevent any access to people who are not accredited. 
On Thursday morning, Eurodressage received message from the organizer of the CDI Madrid: "This event is truly important for us, so it has not been canceled, but postponed," said Javier García Cotarelo. "This means that at Club de Campo Villa de Madrid, we are looking to a future date to run our CDI in this year, once the COVID-19 crisis will be hopefully over."
Italy in Lockdown, CDI Ornago Cancelled
Italy currently has the highest number of coronavirus cases in Europe and the country has gone in lockdown. Italian Prime Minister Giuseppe Conte ordered lockdown, imposed to fight the coronavirus, after figures showed Italy posting the highest daily increase in deaths of any country since the outbreak began.
The lockdown has led to the the suspension of sport events, including the CDI Ornago, which was scheduled to take place at the Scuderia della Malaspina on 19 - 22 March 2020.
CDI Mannheim Cancelled
Also the CDI Mannheim (1 - 5 May 2020) has been cancelled, even though event will take place in seven weeks ! The CDI Mannheim is part of the "Mannheim Maimarkt" which also includes a big consumer fair, one of the largest in Europe. 
Reiter Journal posted the following statement provided by Peter Hofmann, president of the equestrian division of the Maimarkt, on 11 March: 
"I don't have an official order yet, but I have to assume that the cancellation of the Maimarkt fair will also affect the tournament," said Hofmann on Wednesday morning.  Two hours later, the decision was final: the state commission officially announced the cancellation of the Maimarkt.
Mannheim had received 4* status from the FEI this year. "Everything would have been fine," said Hofmann, "the cancellation hits us brutally."
Related Links
2020 CDI-W 's Hertogenbosch and CDI Dortmund Closed to the Public - Show Goes On
CDI's Dortmund and Den Bosch Jeopardized by Corona Virus