Hanoverian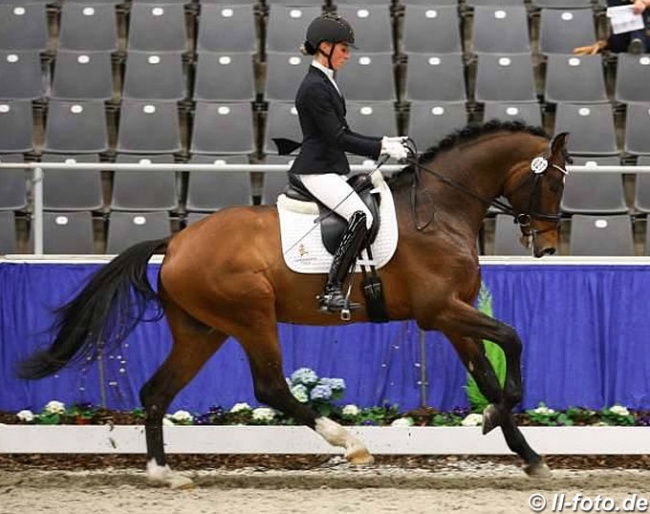 The 4-year old Fusionist and the 5-year old Escamillo became the high scoring stallions in the Stallion Sport Test that was held in Verden, Germany, on 6 - 8 March 2020. 
Philip Hess was again the test rider, who assessed the stallions rideability and gaits, after the colts were first presented by their home riders. 
Fusionist, Top Scoring 4-year old
In the 4-year old group 18 stallions participated and two dropped out (Fillou, Navarro).
The top scorer was Fusionist (by Franklin x Ehrentanz), owned by the state stud Celle in partnership with Ingo Pape. The bay scored 8.88 points in total after receiving 8.2 for walk, 9.5 for trot, 8.7 for canter, and 9 for rideability and general impression. The bay is bred by Gestut Greim and was presented by Greta Heemsoth.
Right on Fusionist's heels was Bon Vivaldi (by Benicio) with 8.84 points. He received 8.8 for walk, 9 for trot, 8.5 for canter, 9 for rideability and 8.8 for general impression. Bon Vivaldi is bred by Thomas Sieverding and owned by stallion station Ahlers.
The third ranked stallion was Laudate Dominum (by Lord Leatherdale x Furst Fugger). The dark bay is bred by  ZG Gick & Meiners and was presented by Beatrice Buchwald for the owner, her fiancé Jens Hoffrogge. The dark bay scored 8.55 points after getting 8.5 for walk and canter, 8.2 for trot, 8.8 for rideability and 8.7 for general impression. 
Stallions can no longer fail the testing as of 2020, but in the past the official minimum score to pass a sport test was 7.5. Underwhelming were Barnady (by Bernay - 6.90 points), Eckhard (by Escolar - 6.70), Fandorin (by For Romance - 7.03 points), His Choice (by Millennium - 7.26 points) and Special Motion (by High Motion - 7.32).
Three 9 Scores in the 5-year old Group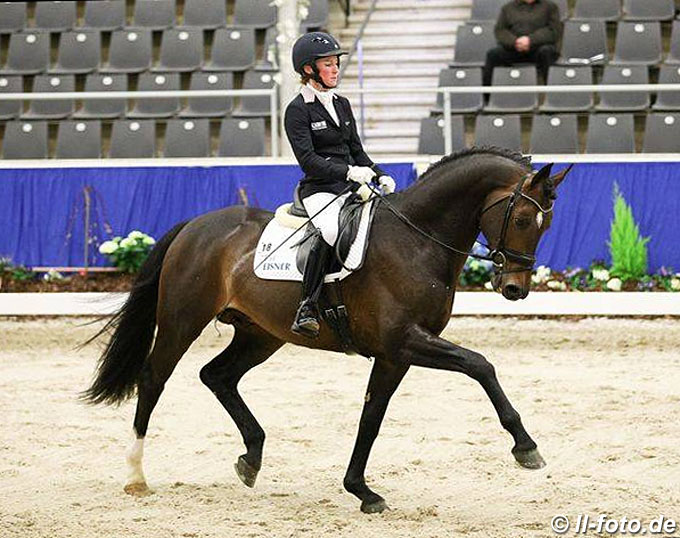 In the 5-year old group, 18 stallions participated and one dropped out (Furst Samarant)
Escamillo became the top scorer with 9.36 points in total. Bred by  Carolin Langhorst and owned by American Kimberly Davis, Escamillo was presented by his new rider Helen Langehanenberg. The bay scored 9 for walk, 9.3 for trot, 9.5 for canter and 9.5 for rideability and general impression. 
Dancier Gold (by Dancier x Weltmeyer) was the runner up with 9.24 points. He received 8.5 for walk, 9.5 for trot, 9 for canter, and 9.6 for rideability and general impression. Dancier Gold is bred by Georg Struebing and owned by Gestut Sprehe. He was presented by Australian Simone Pearce. 
The Swedish owned and KWPN bred Kane (by Dream Boy x Krack C) landed third place with 9.09 points. He got 8.2 for walk, 9.2 for trot, 8.4 for canter, 10 for rideability and 9.3 for general impression. Kane is owned by Antonia Axson Johnson, who sponsors Grand Prix rider Tinne Vilhelmson. 
The lowest score in the group, 7.46 points, was for Goldball (by Goldberg). 
Complete results here.
Photos © LL-foto
Related Links
Fürst Dior and Gaitano, High Scorers at 2020 Munster Stallion Sport Test
Escamillo Not to Stand at Stud in 2020, Moves from Werth to Langehanenberg
Breeding Department Removes Minimum Score Requirement in Stallion Performance Test