U.S.A.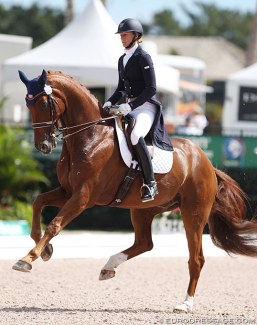 Paragon, Heather Blitz' international Grand Prix horse that was the U.S. Olympic team reserve for the 2012 London Games, has passed away on 1 March 2020. He was 17 years old. 
Paragon was an American bred Danish warmblood gelding by Don Schufro out of Pari Lord (by Loran x Astaire).
He was bred by Oak Hill Ranch in Louisiana, U.S.A. The 183 cm standing gelding was owned by Heather Blitz and Robert McKean. 
Illustrous Sport Career Under Heather Blitz
Paragon was trained and competed by Heather Blitz. She saddle broke him in the U.S.A. and then took him to Denmark, where she worked as a rider for four years. After her return to the U.S.A  in 2010 Blitz began Paragon's competition career at small tour level.
Paragon began competing at small tour level at age 7 and a year later he qualified for the U.S. team for the 2011 Pan American Games in Guadalajara, Mexico. They won team gold and individual silver.
Paragon made his transition to Grand Prix level in 2012 and became the U.S. team alternate for the 2012 Olympic Games in London. Although he did not compete at the Games, the horse won the mock competition held during U.S. training camp in England before the Games.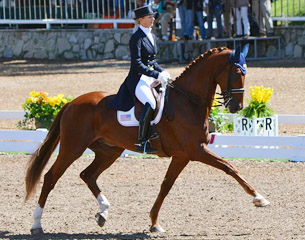 In 2013 Blitz and Paragon competed extensively on the Wellington show circuit, but Blitz declined a grant to train and compete in Europe in the summer, citing that she did not want to push her 10-year old. In 2014 the combination only did three CDI's. Two in Wellington, after which they dropped out of U.S. team contention for the 2014 World Equestrian Games, and then the 2014 CDI-W Devon.
In 2015 they competed in three CDI's in Wellington. The horse was withdrawn from the Special in the first CDI and at their last, the CDI-W Palm Beach Derby begin March, they were eliminated from the Special.  The international judging panel officiating in Wellington often struggled marking the incredibly gifted mover. Many score discrepancies appeared on the board for Paragon, which exposed weakness in the judging system.
Blitz' and Paragon's all time Grand Prix high score was 74.064% (kur score 75.350%). Their lowest mark was 62.820% in their last Grand Prix class.
Retired at Age 13
Paragon's last competition was in March 2015 in Wellington. More than a year later - in November 2016 - Blitz confirmed paragon's retirement from competition sport. He was 13 at the time. 
"He was in retirement in Folsom, Louisiana, very near where he was bred and foaled," Blitz told Eurodressage.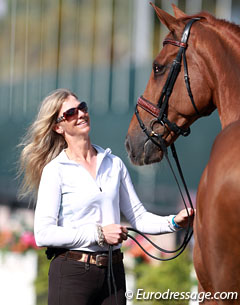 On 1 March 2020, Paragon suffered from uncontrollable abdominal pain and it was decided in the best interest of the horse to put him to sleep. 
"I opted not to do surgery," said a saddened Blitz. "It was not typical intestinal colic. He had had colic surgery in 2013 and I didn't want to put him through that again."
Career Making Horse
For Blitz, Paragon was the dressage horse that made her career as a professional dressage rider. He became the standard to measure success by.
"I had bought him as a sales prospect. I didn't know he would turn out to be the biggest part of my life/career of all," said Blitz. "His talent and special qualities were recognized world wide and were unmatched and unprecedented. He put me into all new territory and inspired so many people both with his performance and his heartwarming personality."
Blitz continued: "The road with him to the Pan Am Games and the olympics the following year were the pinnacle of my career and now I measure everything compared to that. He's a hard act to follow."
Photos © Astrid Appels - Rick Mitchell
Related Links
Eurodressage Photo Database: Paragon
Heather Blitz Pulls Paragon from Competition Sport
Blitz and Paragon Withdraw from 2014 World Equestrian Games Team Selection
A Paragon for the Giant Athlete
Heather Blitz and Paragon Named 2012 U.S. Olympic Team Alternates
U.S. Dressage Sweeps Individual Medals at 2011 Pan American Games
Heather Blitz and Paragon Score Double Victory at 2011 Gold Coast Opener CDI-W
Heather Blitz and Paragon Top Scorers in 2011 Palm Beach Derby Small Tour