2020 CDI Palm Beach Derby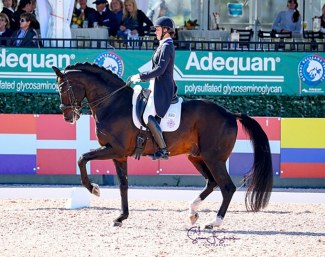 It was a full day of grand prix level action on the second day of week eight of the 2020 Global Dressage Festival (AGDF) in Wellington, Florida. There were four classes at the level, two three-star classes, and two four-star. This week's CDI competition is called the Palm Beach Dressage Derby.
All eyes were on the USA's Adrienne Lyle in the the Grand Prix CDI4*, who brought out her top horse, Salvino, for the first time this season, marking the start of their bid for a Tokyo Olympics place. They did not disappoint and led the class with a commanding 76.87%, their equal second highest-ever score in this test. Another Olympic hopeful, Olivia LaGoy-Weltz (USA) finished second with 72.935% on Lonoir and Lindsay Kellock (CAN) slotted into third on Sebastien with 69.826%.
Lyle's test on Betsy Juliano's 13-year-old stallion by Sandro Hit was a masterclass in harmony, and it was rewarded with clutches of nines, particularly for the light-footed passage and piaffe. The pair — who have not competed since Aachen in July 2019 — garnered a high score of 79.239% from the judge at C, Germany's Henning Lehrmann.
"I'm thrilled with him; that's one of the best feelings I've had in there," said Lyle, who is ranked 20th in the world with Salvino. "He feels so happy and super excited to be here. Ever since he came on the grounds he's been puffed up and ready to go and I was really happy with how focused he was despite all of his energy; it's a great combination to be able to ride. It's the balance that we're always trying to find: to have that hotness and that fire and still have him be really rideable, with no mistakes, a clean test and focused was just wonderful."
Of her decision not to compete in the previous week's five-star CDI, she said: "In a year like this, you have to come out strong, especially when we did have a bit of a break. I really wanted to make sure everyone knows that he's been fit and great and he really does feel good. We're just trying to think of the big picture and always make the best decisions for him, so for fitness reasons we decided that the best plan would be to give him one more week of building up his fitness."
After Aachen, Salvino travelled to Kylee Lourie's farm in Denver, Colorado, for some down time. The pair arrived in Wellington on November 1 and have been training with Debbie McDonald, preparing for this 2020 season debut. Salvino's schedule consists of lessons two or three times a week, as well as sessions on the Aquatread and conditioning work in the jumping field at Kylee Lourie's TyL Farm, just down the road from AGDF.
"It's all about keeping his body and his mind happy," added Lyle. "Our big goal is to qualify to go with the US riders to Europe in the hopes of trying to qualify for Tokyo. There's a lot of stars that have to align for that, but mapping out our big goal, that's what we'd love to shoot for."
Japanese On a Roll
Kiichi Harada is on a roll. The Japanese rider only clocked his first ever win outside his home country a week ago, but has since then landed two more winners' coolers aboard his long-time partner, Egistar. Today the pair stood supreme in the Grand Prix CDI4*, presented by Havensafe Farm. Egistar is a 17-year-old KWPN gelding by Cabochon who is owned by Hanuka Taguchi.
Harada scored 68.065%, edging out the USA's Jessica Jo Tate on Faberge, who claimed second with 67.739%. Her compatriot Jessica Kozel rode Jeevraj Grewal's 17-year-old De Niro gelding Denzello to 67.413% and third place.
Creech Wins 3* Grand Prix
Thirteen starters contested the Grand Prix 3*. It was Canada's Diane Creech, who came out on top of the class, which served as the qualifier for Saturday's FEI Grand Prix Special CDI3*, partnering Louise Leatherdale's 12-year-old Chrevis Christo, by Lavallo.
Creech recorded a score of 67.935%, but second-placed Sarah Lockman wasn't far behind on 67.348%. Lockman was riding First Apple, Summit Farm's 10-year-old stallion by Vivaldi in their first CDI since their unbeaten run of three small tour tests to take individual gold at the Pan American Games in Lima, Peru in July 2019. This was the pair's first international show at grand prix level. Lockman's compatriot Nora Batchelder finished third with 66.522% riding Sally Seaver's 17-year-old American-bred mare W Gangster Girl, by Sieger.
Kuroki Scores First Win on Zuidenwind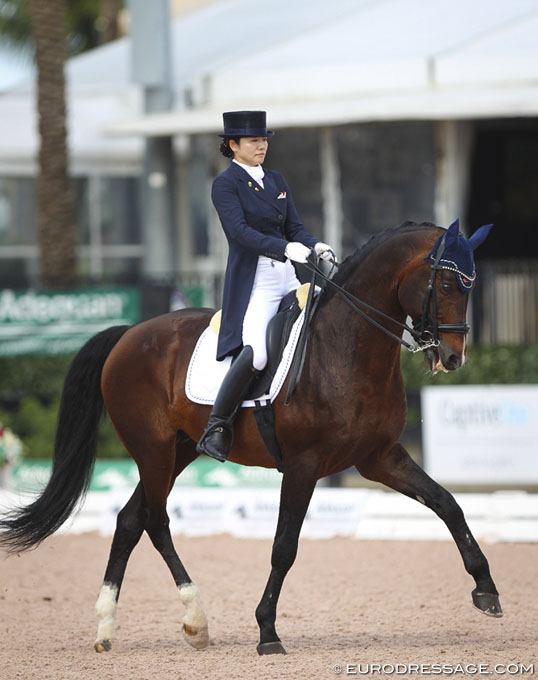 Japanese riders dominated the Grand Prix 3*, with 2016 Olympian Akane Kuroki taking top honors. She rode Zuidenwind 1187, her own 16-year-old stallion, to 68.739%. She took over the ride from Sweden's Rose Mathisen at the end of 2019. This was just Kuroki's third CDI test on the son of OO-Seven and their best mark at the level to date.
The team of Japan's top dressage riders are at AGDF ahead of selection for the Tokyo Olympics, and Kuroki's in-form compatriot Kiichi Harada was breathing down her neck. He finished second with Noa Co Ltd's 16-year-old Reve D'Or gelding Fairytale S (64.239%). Nora Batchelder finished third once again, this time on Faro SQF, Andrea Whitcomb's 12-year-old gelding by Fidertanz, with 64.174%.
Parra Also wins on GK Don Cesar
Just three days after scoring a double victory on Mr Bumblebee at small tour level, the USA's Cesar Parra seamlessly continued his winning streak from week seven, leading the class on board his own GK Don Cesar, by Desperados, in Wednesday's Prix St. Georges CDI3*. The pair recorded their first international victory since contesting the seven-year-old young horse classes at AGDF in 2017.
Related Link
Scores: 2020 CDI Wellington