Russia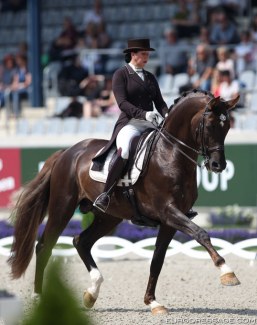 Russian Grand Prix team rider Inessa Merkulova got severely injured in a riding accident on 28 January 2020 in Germany. 
Merkulova fell off a horse and was urgently transported to the hospital, where she received the most prompt and professional care to save her life. 
Inessa is currently in an artificial coma at the Bremerhaven University hospital, where she is fighting for her life. 
The 55-year old Merkulova is a long-time Russian team stronghold. She competed at the 2016 Olympic Games on Mister X. She also represented Russia at  five World Equestrian Games (1998, 2002, 2006, 2014 and 2018), three European Dressage Championships (1999, 2001 and 2015) and five World Cup Finals (in 2002, 2006, 2014, 2015 and 2016). Inessa most recently competed horses Borz and Arums at the 2019 CDI-W Minsk in October 2019. 
The Merkulov family requests privacy as they fight and pray for Inessa's recovery during this difficult time. 
Photo © Astrid Appels
Related Links
Merkulov Buys Ann Kathrin Ehlen's Yard
Merkulova and Karasiova Qualify for 2018 World Cup Finals
Merkulova in the Lead on 2015-2016 Olympic Ranking List
Photo Report: Merkulova and Tomlinson Sweep 2016 CDI Oldenburg
Merkulova and Mister X Impress the Judges and Crowds at the 2014 World Cup Qualifier in Tallinn