2020 Paralympic Games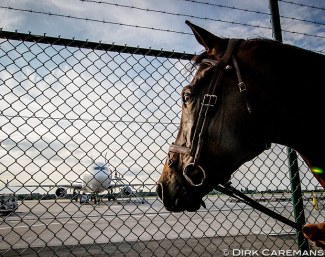 (This article is a continuation of Looking East to the Land of the Rising Sun - Less than 200 Days to Go Until Tokyo)
Let's look at a number of the logistical challenges and wider implications of the new Olympic and Paralympic 2020 format over the next few weeks, starting with Pre Export Quarantine.
Pre Export Quarantine has not been implemented for any major championship or Games since 2008 for the Beijing Games.
Whilst all of the horses traveling to a Games will already have a high health status and, their movements monitored for a minimum of 60 days before travel there are several nations within the world where they consider the risk of imported disease to be significant. Usually, this is due to their own high status of equine health and relatively low import numbers in terms of equines ( although the import/export of racehorses is increasing)coming to reside or compete in the country.
The Pre Export Quarantine for the Tokyo Games will be for seven days ahead of the horses traveling between the 17th and 20th August on one of four scheduled flights going to Haneda from Liege and Narita from the USA and Australia from where the horses will travel on the Baji Koen Paralympic Equestrian venue.
Pre Export Quarantine has the objective of keeping a selected group of horses (all the horses on the nominated list are likely to go into Pre Export Quarantine in case there needs to be a substitution ahead of flying) in biosecure conditions where their health status is monitored by the relevant ministry vet for an independent confirmation of health ahead of travel.
For the Tokyo Games, there are two options for Pre Export Quarantine .one being in Aachen at the venue of the CHIO which will be run by the Official Shippers to the Games, Peden Bloodstock who are renowned for their Global Equine Logistics Services, or a National Federation can set up a private Pre Export Quarantine in conjunction with their and the Japanese own Agricultural Ministry. Each private Pre Export Quarantine will be responsible for and need to conform to stringent ministry regulation and inspections whilst those nations going to Aachen will have the regulatory side of things overseen by Peden Bloodstock. Whichever route National Federations decide to take, Pre Export Quarantine is a complex logistical operation that requires careful planning to ensure it meets and, can sustain the biosecure environment and importantly provides the right "environment" for the team to undertake their last days of training ahead of travel.
The former point of biosecurity can be challenging with limited access into a venue, potentially reduced training facilities with restricted hacking and possibly no turnout or hand grazing opportunities. For athletes it will put a different slant on their final training days as they may be away from home and not necessarily working to their usual routines. Those heading to Aachen for their Pre Export Quarantine challenges will be almost the same but, for some the proximity to other nations in those last days of training could be impactful.
Whether Nations do their Pre Export Quarantine in Aachen or privately, they will be subject to rigorous disinfecting routines including stables, kit, foot baths, frequent hand washing and a change of clothes every time anyone enters or exits the Pre Export Quarantine zone. The horses are likely to be subject to a minimum of twice daily "Obs"; temperature, pulse and respiration, and many nations will weigh their horses daily and monitor how much they are drinking, all of this data is critical to the Vet Team in ensuring no horses health is compromised and they establish a good health picture for each horse potentially traveling to Japan. Without a doubt, those National Federations who deliver a well-planned, well-executed Pre Export Quarantine with proper attention paid to the "athlete and team staff " environment during this phase will for sure be on the front foot ahead of their travel. Getting Pre Export Quarantine right is likely to support good performance delivery within the whiteboards.
- by Sarah Armstrong for Eurodressage - Photo © Dirk Caremans
Related Links
The Paralympic Ticket Race Comes to an End: Selected Teams and Individuals
2020 Paralympic Qualification Race Coming to a Close in Genemuiden
The Race for Paralympic Places Continues, Half-way Through a Frantic January 2020
The 2020 Paralympic Format - What to Expect in Tokyo