Barbara Minecci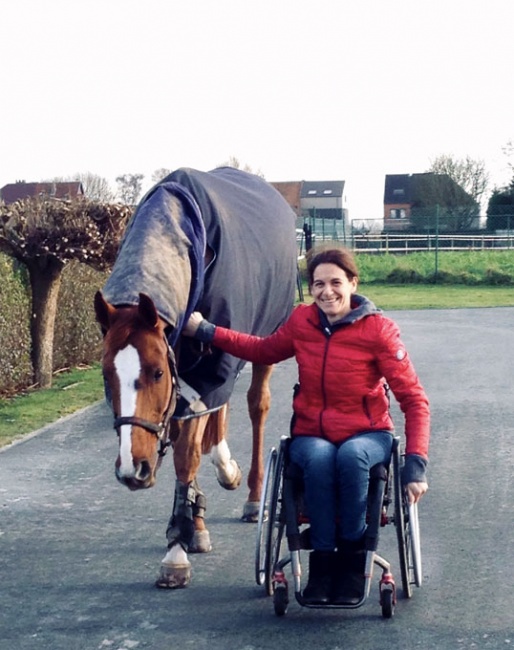 Now that I am on the plane back home to Brussels from the CPEDI in Macon-Chantrain, I feel a great tiredness creeping in. It is probably a coming together of physical exhaustion and mental relief. While shows are great fun and it is the moment I can put my horse's and my progress to the test, this one in France confronted us with a special challenge: To put my country Belgium in a good position for the chase that is dominating para riders all over the world at this very beginning of the year 2020.
Training for Tokyo
Unlike at the able bodied dressage, we will only know at the end of January who will qualify a team to go to Japan in the summer to ride at the Paralympic Games in Tokyo and this puts all under a lot of pressure, to have the horses and ourselves in peak condition so early.
Stuart, my chestnut friend on four legs, has had no show since the European Championships in Rotterdam, but we of course continued training with our regular trainer Chris Haazen and we also had the opportunity to absorb the wisdom of Christian Carde from Saumur and German national coach Monica Theodorescu during these months, when they welcomed us to their clinics in Belgium. Still you do not really know where you stand after such a long break, until you are back in front of the judges' eyes.
Welcome at Macon
Us riders were lucky we could hop on a plane to Lyon and continue our journey by rental car, but for our horses it meant a 9-hour road trip. However, there was no choice if we wanted to stay in the race for Tokyo than going to Macon-Chantrain and try our best there. The facility "Centre Équestre de Macon" was beautiful, the arenas great, the people welcoming, and the whole accommodation very wheelchair-friendly, but our horses had to stay in a stable-tent outside which was quite windy, at least for me. Having a para competition in winter is a bit tricky for some of us para riders, even though we compete indoors. Cold and humidity have a negative effect on some handicaps, over all of muscular origin. So we all crossed our fingers that the forecast works in our favour.
Before the competition started, the horses got the opportunity to familiarize with the arena and Stuart was pretty fresh after his long break from competitions. One corner scared him a bit, but he trusts me and passed it bravely, focusing on me. My main goal was to relax my horse during this first training as it will help him when it counts later on.
In the afternoon the vet inspection took place and as I am not suitable to do this myself, my groom Antoine Guillaume did this important job and Stuart passed with flying colours. Antoine is a super groom who usually works for the ENE in Saumur and all our shows require him taking holiday days off his usual job and long travels to join us. We couldn't do without him anymore as he knows Stuart and his needs very well and I am grateful to Antoine to regularly join us.
On the chase for Tokyo here in cold Macon, the team test needed to be mastered first. As horses are horses, no matter if an able bodied or a handicapped rider is on board, a warm-up needs to start with some loosen up. As I cannot do posting trot, Stuart is usually lunged the first ten minutes before I mount him. At home I do the lunging myself, but at a show Antoine is taking over doing this job. The warm-up felt easy, Stui was relaxed and very focused and he continued like that in the class itself. He felt so easy to ride as he was relaxed and active and even though I did some small mistakes, we earned 72.8% and won the class. It is always nice to win, but I am also happy with feeling my horse gave me and that we could contribute to a hopefully strong team result which is so decisive regarding Paralympic qualification. But no need to cease with the focus as also the points of the next class ahead, the individual test, counted for this big goal our Belgian team had here at this show.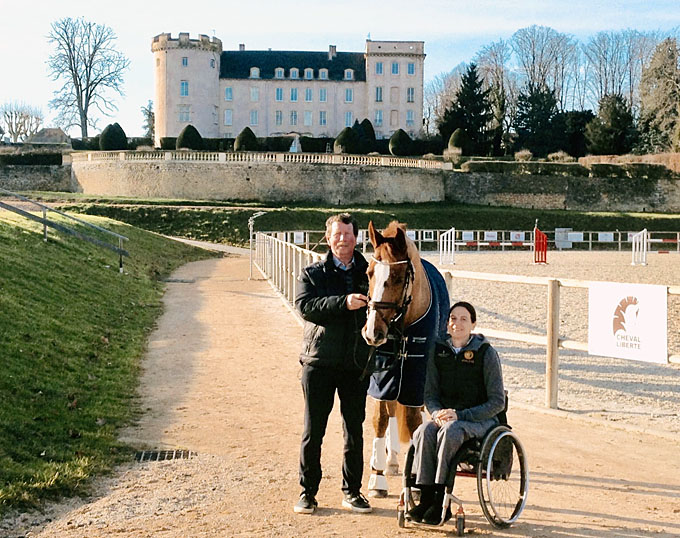 As expected, my body gave me some issues the next day with the weather being wintery here and I was forced to shorten the warm-up due to it. Stuart also felt a bit more tense than the day before, but when it counted he was completely there for me and showed the best marked medium trot of our career. I was over the moon with him, because now he has the experience to be an adult of a horse and show his best, even when the warm-up might not haven been perfect.
My trainer Chris Haazen and I have been working on an improvement of Stuart's extended trot over the winter. Stui isn't the biggest trotter by nature, but hard and good work already paid off at home and now also when it counted. That and 74% made me feel very proud of what my horse has achieved. It gives me an extra good feeling to know that our score is an important contribution to Belgium's team-score which put my country now second in ranking.
Important Goals to Achieve
If you are on a team with such an important goal to achieve, you are really under pressure to perform well and also help the others achieving our common big dream.
With that pressure gone after the first two classes, the freestyle on the last day became the icing on the cake of what had been an intense, but great show.
With my body protesting, I had to shorten the warm-up down to just 15 minutes of forwards-downwards riding and 5 minutes of riding transitions. Even though this happened out of necessity, it was a good decision because Stui was very easy to ride, attentive to me all the time and he felt so fluid when it was our turn and another personal best of almost 77% secured another win.
The gratefulness and awe I have towards my horse is beyond words. It is nice to see all that work pay at home pay dividends in results and percents. This is also a compensation for the team around me, my groom and trainer who dedicate so much time. But what does ribbons count compared to the feeling you get from a horse that is completely with you, who listens to you at a show like in trusted surroundings at home and who gives you such a great feeling as a rider?
Now Stuart has returned home safe and sound and enjoys some leisurely time in the green field at home in Belgium. He has earned some rest while I need it to recover a bit from what was hopefully Belgium's entrance show to Tokyo later the year. We will restart training soon and prepare our next start which will not hold any weather troubles for the rider as it will be at Al Shaqab in Doha. Stuart and me had the great pleasure enjoying some sunshine and the out of the world facility there already last year.
See you in the sunshine soon!
Barbara & Stuart