Denmark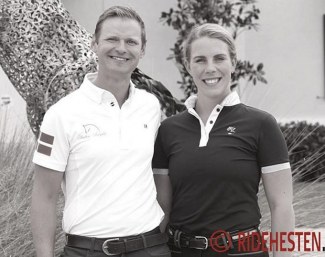 Danish professional dressage riders Kenneth Damgaard and Anne-Marie Hosbond have decided to leave Helgstrand Dressage and start their own, independent business together in Randers, Denmark. 
Damgaard (31) and Hosbond (29) were both trained by Niels Henrik Christensen at the Viborg Riding Club and became a couple there eight years ago.
Anne-Marie moved to Helgstrand Dressage almost five years ago to complete her training as a professional rider under Thomas Sigtenbjerggaard.
Damgaard went to Blue Hors stud but then joined her at Helgstrand four years ago. 
Their show career highlights so far include starts at in Ermelo: Damgaard competed at the 2017 and 2018 World Young Horse Championships with Hojgaardens Santos and Stenagers Wyatt Earp. Hosbond competed at the 2017 World Young Horse Championships with Straight Horse Don Tamino.
"Kenneth and I have always talked a lot about starting our own company, but the time had to be right for it and I should finish my education," Hosbond told Ridehesten. "We feel the time is right now."
The pair will leave Helgstrand Dressage after the 2020 Danish Warmblood licensing in Herning at the beginning of March. 
The couple bought the livery yard Stald Fredenshøj which has 17 stalls and will start HosDam Dressage there.
Related Links
Helgstrand Dressage Celebrates Golden Glory at 2018 World Young Horse Championships
Danish Horses Selected for 2017 World Young Horse Championships
Tailormade Lancelot Sold to British Young Rider Ellen McCarthy