2020 CDN Wellington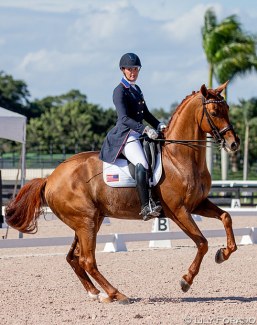 Sarah Lockman and First Apple, the winners of the individual gold medal at the 2019 Pan American Games, have ridden their first Intermediaire II at the first national show held at the 2020 Global Dressage Festival in Wellington, Florida.
Lockman and her 10-year old Dutch warmblood stallion First Apple (by Vivaldi x Partout) rode the Intermediaire II on Saturday 4 January 2020 and received 76.324% from etired FEI 5* judge Lilo Fore.
The tall powerful chestnut appeared still green in the Grand Prix work, lacking regularity in passage and stalling in both piaffes; but the trot and canter work were strong.
"Another item checked off my bucket list," said an ecstatic Lockman. "First time down the centerline at Global in Wellington. I am so lucky to ride this incredible boy!! First Apple won his first ever Intermediare 2 with a 76.3%. Just wish Gerry could have been here to see it, but I know he was watching."
The California based Lockman, who is coached by Scott Hassler,  is in Wellington for the season to prepare First Apple for his Grand Prix debut later this month.
The stallion  is owned by the late Gerry Ibanez. However Lockman's sponsor died unexpectedly in November, but the family has pledged to continue to support 31-year old Lockman through the 2024 Olympic Games in Paris.  
First Apple was originally bought in October 2018 as a Tokyo hopeful, but the 2020 Games might come a bit too early for the pair. Furthermore the top American pairs and Tokyo team candidates are already quite cemented (Graves, Perry, Lyle, Peters).
Injury or force majeure of course can still come into play and surprise combinations might move to the foreground, making it difficult for the U.S. selectors. The season of Olympic chasing has only just started. 
Photos © Lily Forado
Related Links
Sarah Lockman Wins Individual Gold at 2019 Pan American Games
Sarah Lockman's Sponsor Gerry Ibanez Died Unexpectedly
President's First Apple, Tokyo Olympic Hopeful for American Sarah Lockman