Germany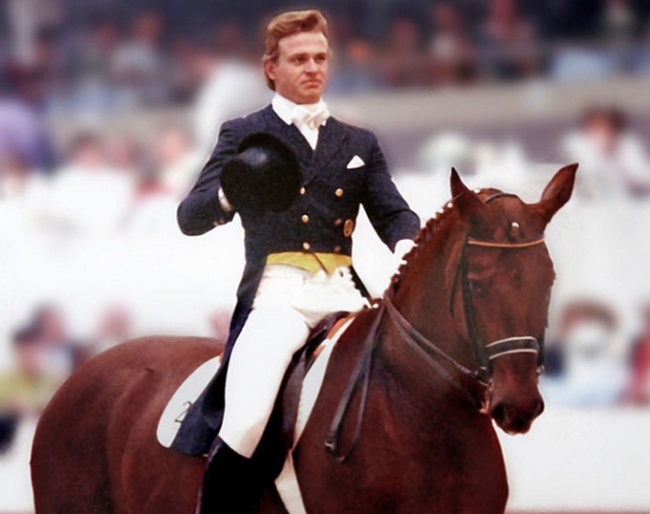 German dressage trainer and Grand Prix rider Holger Münstermann has passed away on 28 December 2019. He was 55 years old.
Holger had been struggling with HIV-related health issues for many years, but his death was sudden and unexpected.
Münstermann came from a horsey family was his mother Elisabeth Münstermann being a well known breeder.  He was a young, upcoming Grand Prix rider in the 1980s and 1990s. 
He was first trained as a 15-year old by Franz Josef Dahlmann. In the 1980s he worked with Siegfried Peilike, Harry Boldt, Willi Schultheis and Gabriella Grillo. 
He was the youngest finalist of the Hamburg Dressage derby in 1986. He was a second-time finalist in 1990. His horses (Flair and Monticello) twice turned out to be the highest scoring horses under the three finalist riders. He won bronze at the 1992 German Dressage Championship for male riders on Ferano, behind Klaus Balkenhol and Sven Rothenberger.
Münstermann made his name on Flair (by Frühlingstraum x Amigo x Janitschar), Monticello, and Ferano. With Flair he rode at the 1989 World Cup Finals in Gothenberg and finished 10th. In the 1990's Holger worked with  Dr. Reiner Klimke and Dr. Uwe Schulten-Baumer. 
In the 2000s he competed Etienne, Fantaghiro and Winston internationally. After the sale of top horses Wall Street and  Way of Life, Munstermann's competition career slowly ground to a halt. 
For more than 25 years he was based at Weidenhof in Werl-Holtum, east of Dortmund.
Münstermann was a sought after trainer and worked with international Grand Prix riders such as Canadians Tina and Jaimey Irwin, British Nicky Barrett, French Margit Otto-Crepin, British Annie McDonald-Hall, Japanese Yoshinaga Sakurai (on Matador), and Swiss Anna Mengia Aerne-Caliezi. 
"He taught me so much and opened my eyes to read the situation better which is something I use to much better effect as a trainer than I did when I was riding," Barrett reminisced. "Holger had struggled in recent years with his health, which took its toll on him. I hope he is at peace now."
Tina Irwin said, "he was the most precise, correct, dedicated, talented and inspiring teacher that Jaimey had ever seen. Holger took so much time and interest in teaching me and was so committed and passionate about me learning! It was an amazing experience, and he was extremely generous with his time and knowledge."
Photos © private archive
Related Links
Jacqueline Brooks and Jaimey Irwin, North American League Representatives at the 2013 World Cup Finals
Jazzmate, Price Highlight of 2013 Oldenburg Spring Elite Auction
Linda Hoad, Shooting Star at Sunshine Tour
Lyndal Oatley Wins World Cup Qualifier at 2012 CDI-W Kaposvar