KWPN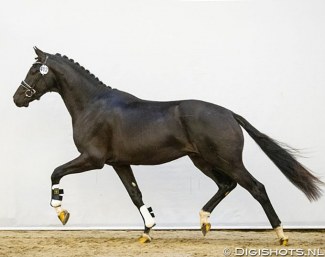 On the fourth day of dressage pre-selection on 6 December 2019, the KWPN licensing committee accepted twenty colts to move to the second phase of the 2020 KWPN Stallion Licensing in February. 
Fifty colts were presented on day four and twenty received a positive verdict. The Danish owned Franklin had 13 sons entered for selection and six made the cut. 
"Compared to the first three days, today there were significantly more stallions who were tense, which makes the assessment more difficult. That is why we recommend that the stallions are allowed to move a bit before they are presented, maybe on the lunge line. It is better for everyone," said Marian Dorresteijn, the chair of the licensing committee. "Because of this tension the quality was much lower, but fortunately there were a few eye catchers. Of the stallions with a lot of offspring today, like Indian Rock and Franklin, we selected the most complete ones for the second phase and we also gave colts with an interesting dam line a chance."
About the Franklin's, Dorrsteijn added, "we tried to select the most complete, long-lined Franklins. We noticed that some of his offspring was very tense in the arena, which made it hard to judge them. We try to think positive. It would be a shame to reject a colt because he's not showing himself optimally because of the circumstances."
Dorresteijn stressed the importance of more variation of blood in KWPN breeding. "It is positive that we were able to select colts for the second phase with sires that have few offspring or with a low affiliation with the KWPN population," said Marian. 
Selected for the second phase on day four are:
More Legends (by Four Legends KS x Fürstenball)
Mon Ami (by Franklin x Charmeur)
Mr. Jones (by Franklin x Everdale)
Monthy B (by George Clooney x Riverman)
Midnight Rock (by  Indian Rock x Rousseau)
Master (by Franklin x United)
Mandela (by Franklin x Easy Game)
Mesmerize Me (by  Fürst Romancier x Sandro Hit )
NN (by For Dance x Sir Donnerhall)
Most Wanted (by Franklin x Jazz)
Mozart M (by Franklin x Sandro Hit)
Magic Boy (by  Fürstenball x Damsey)
Maestro (by Grappa x Scandic)
Manhattan (by Indian Rock x Fürst Heinrich)
Mats van de Diekboer (by Glamourdale x Johnson)
Monty H (by Indian Rock x Bretton Woods)
My Game (by Easy Game x De Niro)
Mon Espoir DSD (by Giovanni x Rousseau)
Moulijn (by Glamourdale x Son de Niro)
Maverick (by Grand Galaxy Win x Connaisseur)
Photo © Digishots
Related Links
Sixteen Colts Picked on Day Three of 2020 KWPN Stallion Licensing Pre-Selection
Twenty-two Colts Picked on Day Two of 2020 KWPN Stallion Licensing Pre-Selection
Nineteen Colts Picked on Day One of 2020 KWPN Stallion Licensing Pre-Selection