KWPN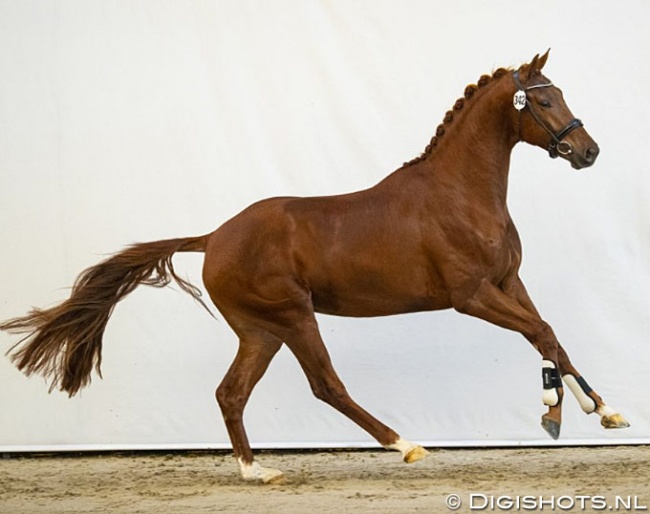 Twenty-two colts received a pass to move on to the second phase of the 2020 KWPN Stallion Licensing on the she second day of pre-selection for dressage bred colts in Ermelo, The Netherlands, 4 December 2019. 
Bert Rutten, chair of the KWPN licensing committee, had to be replaced by Arie Hamoen as Rutten developed a fever overnight after fracturing some ribs on Sunday. 
Fifty-one colts were presented today and 22 were accepted for the second phase, amongst them five sons out of 14 presented by Daily Diamond. Grand Prix stallion Desperado had three accepted
"We tried to maintain the same trend from yesterday and are very content about the stallions we selected," said Marian Dorresteijn, who took over the role of chair on the licensing committee. "We were able to invite unique, modern stallions for the second phase; stallions which are long-lined, built uphill and move in the correct way. In addition we selected a few stallions with rarer genes for the KWPN population for the next round."
German sired colts by Belissimo M, Bonds and Blue Hors Farrell were, for instance, accepted.  The full brother of popular stallion Vitalis, named Mi Amore Taonga (by Vivaldi x D-Day), was not accepted. He is co-owned by breeder Willeke Bos in partnership with Andreas Helgstrand.
Accepted for the second phase are:
Mauritius Taonga (by Blue Hors Farrell x Westpoint)
Magnificient (by Summer Dark Pleasure x Ampère)
Martog J T (by Hometown x Scandic)
Mister Diamond van de Molenkouter (by Sir Donnerhall x First Final)
Merlot (by Bordeaux x Johnson)
Magic vd Anjershof (by Daily Diamond x Negro)
Mumbai (by Westpoint x Sandro Hit)
Maximus PP (by Ferdinand x Burggraaf)
Maddox Mart (by Hennessy x Bordeaux)
Maldini D (by Vivaldi x Donnerhall)
Maigret vd Watermolen (by Daily Diamond x Johnson)
Macchiato V (by Daily Diamond x Apache)
Mowgli V.O.D. (by Desperado x Jazz)
Victorio (by Vitalis x Bon Bravour)
NN (by Vivaldi x Sandro Hit)
Merlot (by Bordeaux x Florencio)
Majoor (by Daily Diamond x Special D)
Mooiman (by Desperado x Wynton)
Maraschino (by Belissimo M x Chippendale)
Mandela (by Bonds x Dream Boy)
Marosi (by Daily Diamond x Dream Boy)
Maroon W (by Desperado x Rousseau)
Photos © Digishots
Related Links
Nineteen Colts Picked on Day One of 2020 KWPN Stallion Licensing Pre-Selection
Toto Jr Best Represented Sire at Pre-Selection Days 2020 KWPN Stallion Licensing