KWPN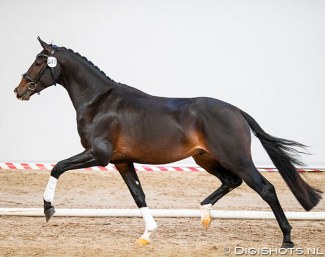 Nineteen colts were picked on the first pre-selection day for dressage colts for the 2020 KWPN Stallion Licensing in February. 
The pre-selection for 2020 started last week with the show jumpers, and today 3 December 2019 the first pre-selection for dressage colts took place at the KWPN headquarters in Ermelo. There will be five consecutive days of pre-selection. 
Today mainly colts sired by Totilas and his sons were presented: Both Totilas and Total U.S. had seven sons entered, while Zonik (by Zack) has no less than 12 entered for today.
Bert Rutten, chair of the KWPN licensing commitee, was pleased with the quality of the colts.
"We selected 19 nice, large framed colts. Amongst them there are a few that deserve a podium place in Den Bosch," said Rutten. "In the first phase we look at conformation, in the second phase pedigree matters. Stallions who are a bit weaker in their conformation, but compensate this by moving exceptionally well or with an interesting dam line, we'll give the benefit of the doubt more easily this year. We like to give them the chance to show themselves in a positive way in Den Bosch."
Licensing committee member Marian Dorresteijn rung in: "The first day is a bit touch and go. The committee is new so we have to decide where we draw the line, but we found it. 
The colts accepted to move on to the second phase of the 2020 KWPN licensing are:
Monty (by Apache x Jazz )
Magic Black (by Morricone x Wynton)
Mega Time (by Total US x Vivaldi)
Mauro van de Watermolen (by Zonik x Negro)
Mistral (by Total US x Doolittle)
Mobil Sollenburg (by Total US x Jazz)

Montgomery C (by Johnson x Ferro)

Mansion (by Totilas x Krack C)
Monte Cristo T (by Totilas x Metall)
NN (by Totilas x De Niro)
Montgomery C (by Johnson x Ferro)
Matisse W (by Schwarzgold x Santano)
Max (by Sezuan x Johnson)
Mc Roy (by Zonik x Havidoff)
Mapache (by Apache x Desperado)
Main Stream UTV (by Total US x Vivaldi)
Maxson (by Johnson x Negro)
Mephistopheles DC (by Zonik x Don Schufro)
McQiedo (by Aqiedo x United)
Mel Rico (by Trafalgar x Wynton)
Photos © Digishots
Related Link
Toto Jr Best Represented Sire at Pre-Selection Days 2020 KWPN Stallion Licensing