2019 CDI Stockholm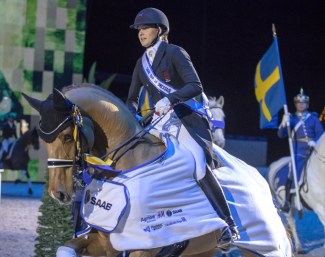 Danish duo Catherine Dufour and Atterupgaards Cassidy beat the Queen of Dressage, Isabell Werth on the world number 2 ranked Weihegold in the 2019 CDI Stockholm Kur to Music on Sunday 1 December 2019. This was only the 5th time out of 37 that Werth and Weihegold were defeated!
Dufour and the 16-year old Danish bred Cassidy (by Caprimond x Donnerhall), a partnership formed 10 years ago, scored a personal best of 89.445% in the Kur to Music. Alongside the trophy, winner's sash, the prestige and honour, Dufour also raked in 68,000 euro in prize money. 
Dufour beat Werth by a hair, 0.1 percent. 
"I thought; is this really happening? The numbers were coming in and the results were flipping between me and Isabell in the top," said Dufour. "This is of course huge for me and I'm so happy with my little chestnut pony. He's 16 and people ask me if I will retire him, but he loves to compete and I think he really showed that today - nope, this is not the day."
Werth and Christine Arns-Krogman's 14-year old Oldenburg mare Weihegold (by Don Schufro x Sandro Hit) won the Grand Prix in Stockholm on Friday, but finished second in the freestyle with 89.310%
Werth and Weihegold have only been beaten five times: twice by Laura Graves and Verdades (2017 Aachen GP Special & 2018 World Cup Final Grand Prix), once by Sönke Rothenberger and Cosmo (2019 CDI Donaueschingen GP Specia)) and once by Jessica von Bredow-Werndl and Dalera (2019 CDI-W Stuttgart Kur).  
Werth showed herself a good sportsman and appeared unbothered by the second place and 47,000 euro prize money. 
"I'm super happy with "Weihe" today," said Isabell. "She didn't make any mistakes, but this time it wasn't my luck with the numbers. I think this is really good sport. When we are this close it gets really exciting."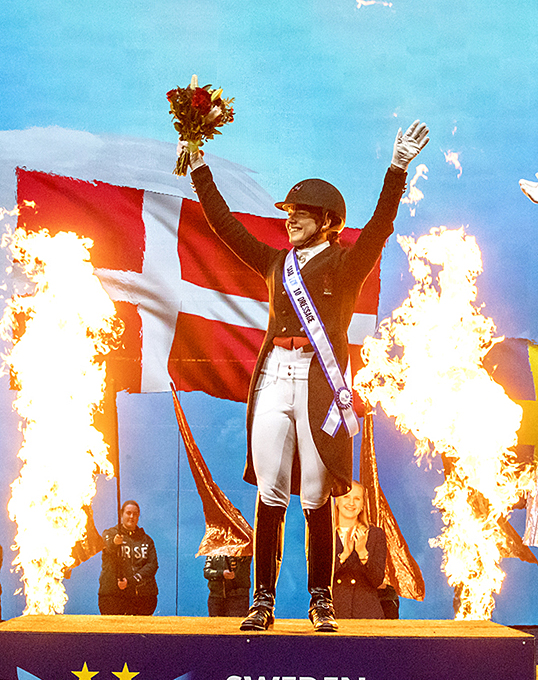 German Jessica von Bredow-Werndl and her Dutch mare Zaire E (by Son de Niro) edged out home side hero and organizer of the 2019 CDI Stockholm, Patrik Kittel, in the Grand Prix. However in the freestyle Kittel and the Swiss bred and owned mare Well Done de la Roche (by Furstenreich) landed third place with 86.115%. This was not only a personal best, but also a Swedish record score. 
"I'm so happy, not only for me, but for this whole competition and what we have built together with Saab," said Kittel. "Six riders produced personal bests here today. And everybody who goes into the arena wants to win. This is top sport and how dressage should be; the public leaving the arena wanting to see more."
Photos © Ronald Thunholm
Related Links
Scores: 2019 CDI Stockholm
Don Auriello to be Retired from Competition Sport at 2019 CDI Stockholm