2019 Oldenburg Stallion Licensing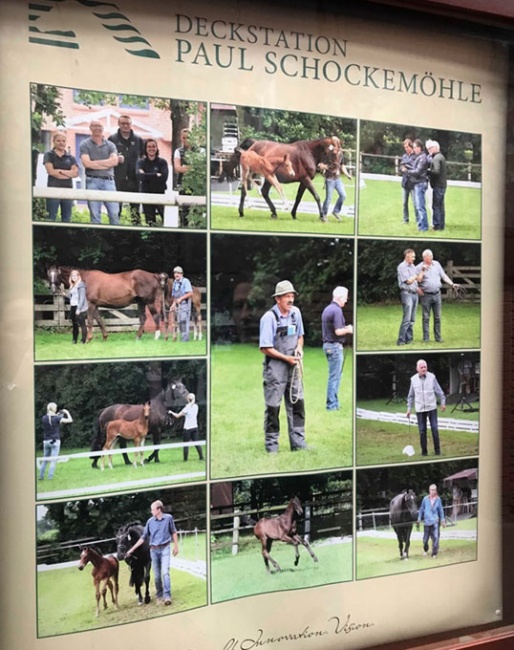 The second day of the 2019 OIdenburg Stallion Licensing in Vechta began with a slow start in the morning. The second phase with the dressage horses moving in freedom was scheduled for the afternoon, which meant that we had a whole morning off for fun and relaxation.
The 8.30 am wake up call felt too early, especially after a rather short and chilly night missing blanket weight for a good night's sleep. The whole group of us, fifteen something Danes, one American and one Belgian, had breakfast together before deciding that we needed a brisk walk to get blood flowing through our system ahead of another whole afternoon sitting on our bums eating sugar and watching stallions float by. 
Tack, Colts, and Cookies in Mühlen
We decided on making our traditional stop at the Schockemöhle tack shop in Mühlen to discover beautiful horse equipment I don't need and never use, as well as catch up on the latest trends and styles in equestrian fashion. It is interesting to see the ludicrous equipment they make nowadays as well as the crazy as well amazing colour combinations that are now on offer while in the 1990s there were only four colours in tack on the market: black, white, red and blue!
Thomas, Dorte, Stig and I cruised around the shop before taking a seat at the coffee bar and drink a trough of tasty cappuccino, gorging on delicious but unnecessary calories of chocolate cookies on offer. I recently read this inspirational quote on someone's Facebook page: 'Food is fuel, not therapy". That line rung through my head for......a millisecond.... before I decided to take my fifth cookie out of the jar.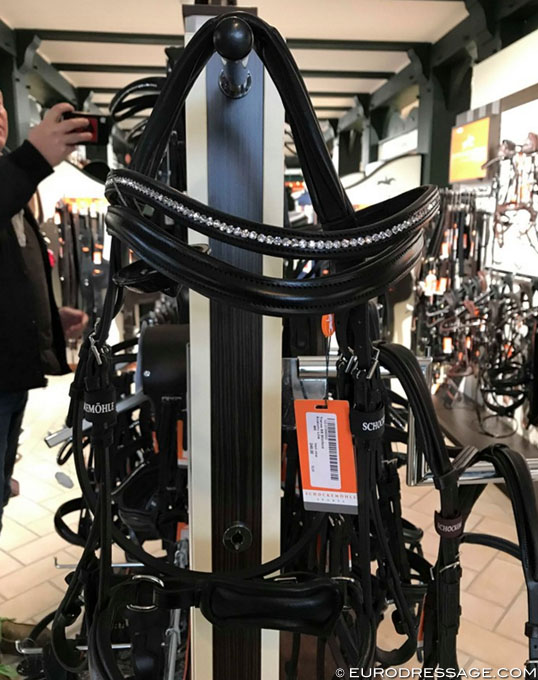 In a futile attempt to burn off 50 kcalories of the 380 I had eaten because of the cookies, we walked the 1.4 kilometer distance from the tack shop to the Schockemöhle stallion station, where we wanted to get up close and personal with the famous dressage sires. Although the station houses some of the world's most respected and frequented dressage sires, visiting the stud is always opens a mixed bag of emotions. The staff is friendly, the stallions stand in clean stalls, but several of them look bored, expressionless and one incredibly pained on his feet. Vitalis was the star of the day with his sweet personality, offering his head and neck for incessant cuddles and scratches. 
On the way back we had lovely conversations about life, animal welfare, good house keeping, German architecture and beekeeping and insect houses. We drove back to the Vechta show grounds for a quick lunch (mushroom soup with white bread and three small pieces of the sugar-overdose fruitcake (yes yes, this is going to be one of those food days from hell). 
Stallions in Freedom
I went back to the indoor arena a bit early to find myself and my friends a good seat in the reserved press seats and ended up sitting in front of French Olympian Jessica Michel-Botton and Alex Lafflea of Haras de Malleret. It was nice to establish the French Connection and share opinions and impressions of the colts that paraded by in front our noses.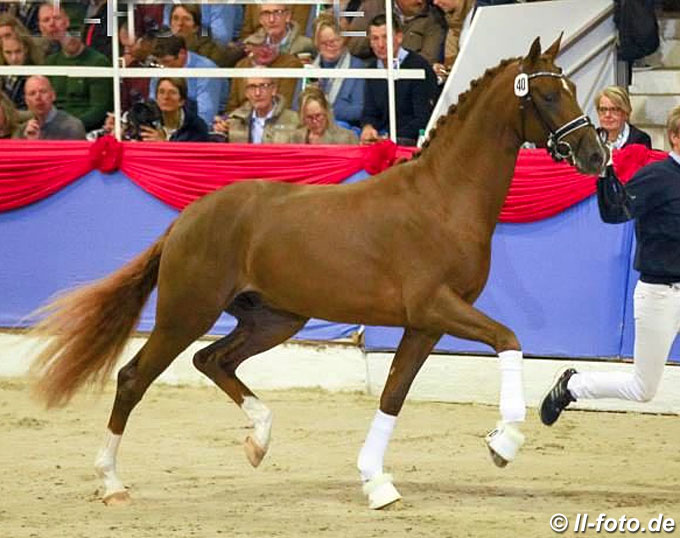 The movement in freedom is always the key day of the licensing. Some colts that appeared good on the lunge fell apart in freedom, and others that still struggled with the side reins and balance on the lunge line, moved with power and expression in freedom. 
Although I hadn't mentioned him in yesterday's blog, Heinrich Giesselmann's Bon Coeur x De Niro x Langata Son x Pik Bube I (bred by Sigrid Schmidt) had given an excellent impression on the lunge line. As he is catalog number 40 and the first stallion to go on the lunge yesterday, you sort of say to yourself: "yes he's nice, but let's see how he compares to the rest." Today this chestnut star was in exactly the same position: first to go in freedom and boy did he look good! He might be a little sickle hocked but his trot was with rhythm, good engagement from behind and wonderful uphill self carriage. The walk was good with a clear 4-beat rhythm.. At the end of the day, I think he has become my favourite of the crop...
There were more stallions that confirmed or improved the impression I had of them. Heike Albert's Dico Magic (by Desperado x Don Romantic x Rohdiamant), for instance, was one of those. Slightly ponyesque on the lunge line, this liver chestnut colt was much nicer in freedom with a quicker hindleg and a good walk, although overall he could come up more in front.  
Another good improver in freedom was the For Romance I x Diamond Hit x Landadel, bred by Rolf Peter Schulze and owned by Austrian Red Bull billionaire Dietrich Mateschitz of Gut Admontbichl in Austria. This big horse trotted with much ground cover and cadence, although he could use his back in a better way and be more uphill oriented. The walk had much overtrack.
I am an avid believer in good behaviour and manners. Stallions that show themselves as jerks, even if the environments is difficult to cope with and high pressure, would get in line for an immediate "snip snip" treatment if it were up to me. The Oldenburg licensing committee was not bothered by the fact that the KWPN stallion by Dream Boy x Furst Heinrich x Gribaldi was difficult in the mouth  on the lunge line, crossing its jaws and flashing tongue, as well as being so frolicky he ended up crashing on the ground and getting back up. In freedom he first reared twice in hand, then threatened to bite his handler. Yes this black was a good mover, has a very pretty front and a quick hindleg but he was naughty and annoying. he truly seemed like a kid in the terrible two's and I doubt that he'll grow out of it!
Blue Hors stud's For Romance II x Desperados x Wolken-Hit x Manstein was my favourite on the lunge line, but in freedom he was a bit more tense and shy in his movements. He did not flow as much through the body and only at the end of his round he started to express suspension and cadence. The canter was uphill but wild. Still one to watch for the future and amongst the best of this year's lot!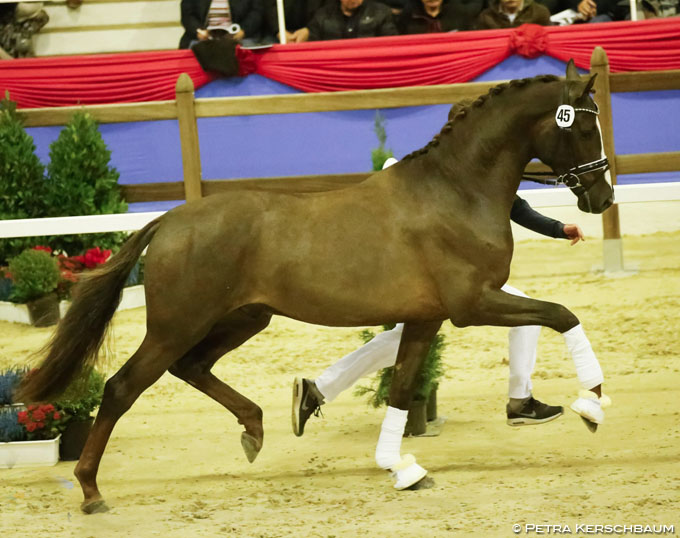 Helgstrand's Foundation x San Amour x Caprimond was nice on the lunge, but appeared very heavy and old fashioned in freedom. He carried his tail like a broomstick and paddled with the right front. He was not approved. Paul Schockemöhle's very weird moving Grey Flanell out of Sondra (the dam of Pavo Cup winner Total U.S.) fortunately got rejected. The horse had a lovely front, but moved in entirely two pieces and had a sloping croup. It was not his time.
The British bred Franklin x Dolany x Linaro was drop dead gorgeous in type, but his hectic gaits could not convince me. Also the walk was poor and it was a total riddle to me why he got licensed. Same goes for the heavy Ibiza x Fidertanz x De Niro which certainly was much better today in freedom with much more self carriage and spring, but he failed to show a proper walk: approved!?
Helgstrand's Revolution x Belstaff had a good walk and in the extended trot he really impressed. He had good self carriage despite easily going wide. He is a nice, interesting stallion and was accepted. Helgstrand's Sezuan x Sir Donnerhall I x Rohdiamant is much of the same recipe: big wielding hind legs that propel the horse forward with much power. He had much self carriage and showed much flexion in the hocks but his hindlegs were long. The walk had good overtrack but got quick in the rhythm. 
The Toto Jr x Johnson was a cute bay with a bigger body and tiny refined legs underneath. For me he was not strong enough behind, but the expressive front, sporty look and a walk with much overtrack but unclear rhythm were good enough for a green light from the licensing committee.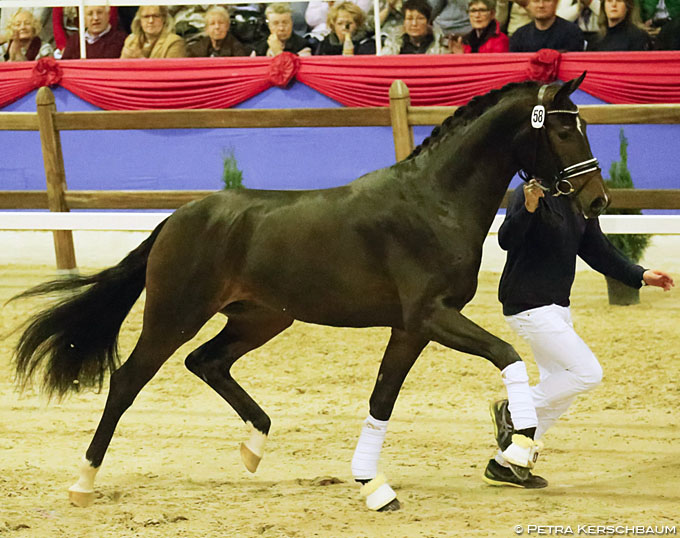 The Vincent Maranello x Destano x Silvio (now named Zuperman), bred and owned by Stefan Tietje, showed much cadence in trot, but the horse always made himself long over the topline, stretching down and he appeared quite cold in his demeanor and reaction to the surrounding stimuli. In walk he could have marched more out of the shoulder. 
Finally as last to go was the Danish bred HP Valentino (by Vitalis out of A La Fasine (by Ampere x Furst Romancier), bred by Lone Boegh Henriksen and owned by Andreas Helgstrand. The black has an elegant, lightfooted trot in freedom but could be stronger in the topline. In walk he has much overtrack, but there should be more V-moment in the rhythm. He was licensed. 
Are we Getting Old?
The evening ended with a fat German meal of meat and potatoes in our cosy hotel with the entire group gathered around a big long table. The conversation was never ending with each of us sharing impressions and opinions of the horses, as well as moving beyond today's affairs and sharing life matters amongst friends. 
Usually we end our Vechta nights with the group meeting in one of the hotel rooms for drinks, fun, banter and laughter to continue over champagne, Irish coffee and After Eights, but this year all of us felt too tired and just went to bed. We are getting old. Yikes!
by Astrid Appels 
Photos © Astrid Appels - LL-foto - Petra Kerschbaum
Related Links
Viva Vechta: Meeting Friends, Watching Talent at 2019 Oldenburg Stallion Licensing
Top stallions in Vechta for 2019 Oldenburg Saddle Licensing and Auction
Forty-Five Colts Selected for the 2019 Oldenburg Stallion Licensing