2019 Oldenburg Stallion Licensing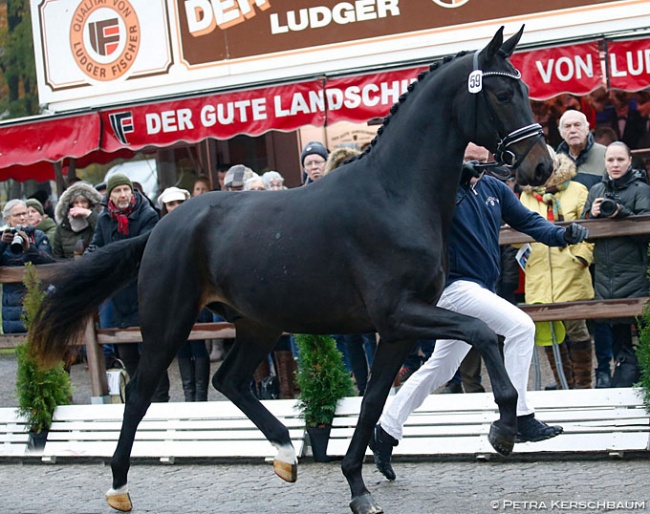 The Oldenburg Stallion Licensing holds a special place in my heart. It was the first stallion licensing in Germany that I attended in my career as a budding equestrian journalist, back in 2003 and since then it has become the annual meeting ground of my best and dearest horse friends. 
Breeding horses, loving dressage, and actively watching top level competition sport not only fills your heart with profound pleasure, but it also gives you the opportunity to meet unbelievable people. The internet is an amazing thing and one connection leads you to another and opens door to get introduced to a world of phenomenal people. 
Reminiscing on Vechta
Three people have been essential to my introduction into the breeding world: Danish breeder and journalist Thomas Bach Jensen, who at the time lived in Brussels, Belgian dressage rider Angelique Hostyn who physically transported me to my first Vechta event, and American Oldenburg aficionado Holly Simensen, who I had already met in Florida working dressage shows back in 1999. 
Over the years Thomas and I carpooled to Germany to attend dressage and breeding shows, while our friendship become more tightly knit through non-stop conversation in the front seats of his car. Thomas introduced me to his Danish breeder friends, on trips to Rastede and Herning. I met people who are genuinely pure to the heart; passionate horse people with different walks in life, who always felt united in their love for dressage horses meeting twice a year at horse shows. 
Fast forward 16 years later and I still meet the exact same group of people in Vechta for the annual Oldenburg Stallion Licensing. New people get introduced and more connections are made. Penelope's tapestry gets bigger each year and there is no end to weaving it.  The more, the merrier. But the essence of our gathering is kept: we individually watch the horses, then merge at the same hotel, where we share dinner and conversation.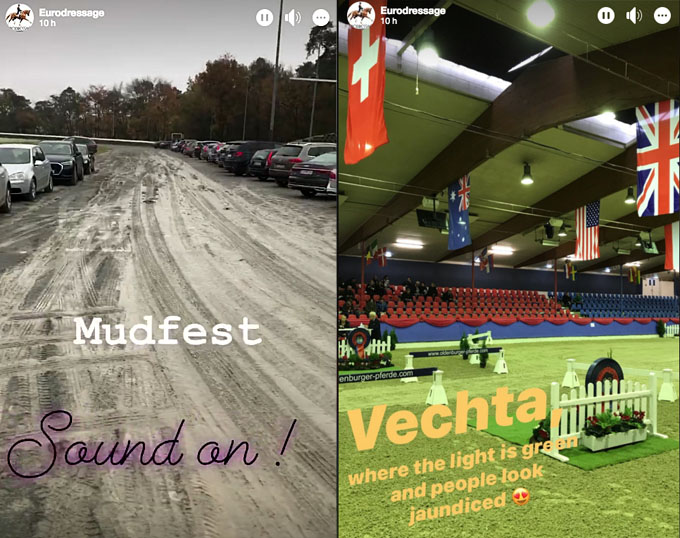 And this year it's no different. I know the road to Vechta on the back of my hand and don't need GPS to guide me there; Only the occasional road works interrupt my smooth drive and this year I'll end up with a speeding ticket for the first time on this route as I cruised a bit too smoothly into the beginnings of perpetual road work on the A1 near Lengerich. 
I arrived in Vechta perfectly on time to park my car in the outdoor stadium which rain had turned into Woodstock '69: a mud fest. It gives a whole new dimension to VIP parking. In fact I wonder where the VIP parking section is at the licensing because I have never parked elsewhere than there. I don't mind the walk, except this time my camel coloured boots were fifty shades of grey. 
I arrived at 14h00 sharp, ready for the lunging. I'm getting a bit too old to freeze my feet off watching the in-hand presentation on hard surface in the icy cold early in the morning. Also, the 3.5 hour drive is enough. 16 years ago you could do it during rush hour and lose 10 minutes, now it adds an hour to your traveling time, so no thanks. 
I got installed in the indoor ready for the lunging to begin. I kissed, hugged and greeted the besties who were bouncing equally enthusiastic in their press seats, only to find out that the lunging begun with 40 jumpers. No thank you. We picked up our stuff and walked over to the catering tent to sit down and have some super conversation about life, horses and breeding projects over cappuccino and water.
Impressions of the Colts on the Lunge Line
Thirty-nine dressage colts were presented for approval at the 2019 Oldenburg Licensing and after three hours of lunging I can provisionally conclude that I have not seen a super star, but a handful of really interesting young colts.
So far my number one is Blue Hors stud's For Romance II x Desperados x Wolken Hit x Manstein, bred by Jens Damm. The dark bay colt moved in a light footed and elegant way in trot with a quick hindleg. He could engage the hindlegs maybe a tiny bit more under the body. This still youthful looking colt was nicely uphill in canter, maybe not yet with the best balance, but the potential is there. In walk the rhythm was ok but the ground cover fairly limited.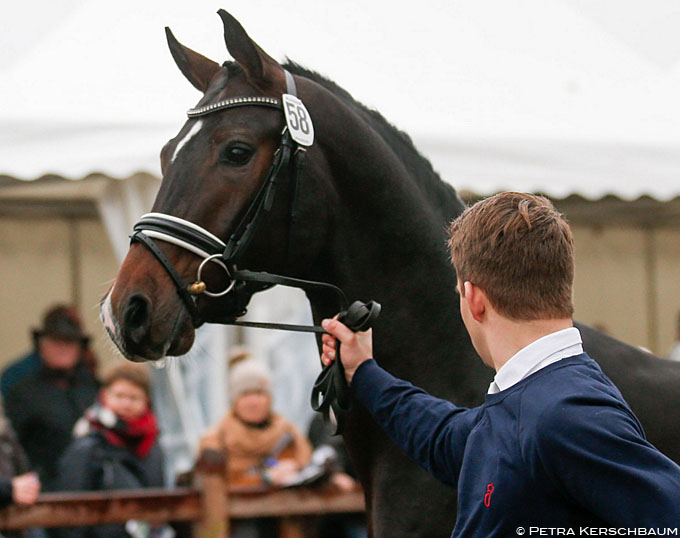 Another one I thoroughly enjoyed was Andreas Helgstrand's Foundation x San Amour x Caprimond x Etong, bred by Marin Schönfeld. The dark bay colt moved with much power in trot with a superb frontleg and much suspension. Although he's fairly heavy modeled  and stays a bit straight in the hindleg in canter, he has a very nice walk with a good V-moment as testimony to his clear 4-beat rhythm. 
Helgstrand's Revolution x Belstaff x Londonderry x Gardez, bred by Sally Hjort Schultz, is super spectacular in trot. The dark bay is extremely floaty and cadenced, but gets a bit slow behind. He preferred to show trot to canter and often cross cantered. The walk was very nice, but overall this big ground covering mover showed little ability to collect or shorten his gaits. 
Another one I liked but may not be the commercial future breeding stallion is the For Romance I x Kaiserkult x A Jungle Prince x Gloster, bred by Carsten Haack. This chestnut stallion has a very active, well engaged hindleg with good articulation in the joints. Although he could be more uphill overall and stays quite round in his frontleg, he gives an appealing picture in trot and canter. The walk is mediocre.
There were many more nice stallions in the lot; most of them had a highlight in one gait, but the complete package was not really seen. Some stallions were very interesting, but you saw straight away that they needed a rider to develop in a positive way. This year Ibiza ruled the roost with four offspring presented. The nicest one of them was the Danish bred Ibiza x Hotline x Alabaster x Pik Bube I, who took the least after Ibiza. This American owned colt was nicely uphill in front with a good moment of suspension in trot. The walk was clear but could have had more overtrack. The other Ibizas all looked cheeky in the eye and they did not show the best mouths in the side reins. The Ibiza x Belissimo M had the better back and used his top line more but was crossing the jaws. 
These were just first impressions. Tomorrow it's the presentation in freedom and it often gives a very different picture of the stallions. Let's see what happens then..
Now off to bed!
by Astrid Appels - Photos © Astrid Appels - Petra Kerschbaum
Related Links
Top stallions in Vechta for 2019 Oldenburg Saddle Licensing and Auction
Forty-Five Colts Selected for the 2019 Oldenburg Stallion Licensing