FEI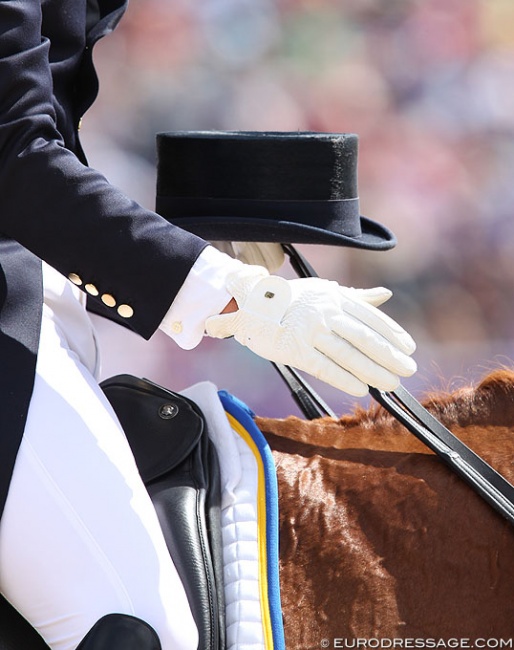 Dressage riders must wear protective headgear at all times, in the show ring and out, at FEI events as of January 1, 2021.
Delegates from national federations voted favorably today for the general rule change affecting all ridden disciplines, during the annual General Assembly of the Fédération Equestre Internationale (FEI), held this year in Moscow, Russia.
The revised rule strips individual disciplines of their current governing power to choose their own head protection rules  for competition purposes. It makes it mandatory for all riders to wear approved protective gear on their heads any time they are mounted on FEI show grounds, including in the dressage arena.
"Tradition is important in our sport, but it's difficult to not follow the medical community's advice," said Frank Kemperman, Chair of the FEI Dressage Committee. "There's no really strong argument against the use of protective headgear in dressage, except that it's a tradition."
Approved unanimously, the new rule still allows individual disciplines to decide whether riders may remove their headgear during awards ceremonies and the playing of the national anthem.
The decision came amidst criticism from certain federations representing countries with a strong dressage culture. In particular, the fact that driving and especially vaulting were not concerned by the rule was "strange," according to Dutch delegate Maarten van der Heijden, High Performance Director and Secretary General of the Dutch Equestrian Federation (KNHS).
"This applies to ridden disciplines only, and to the marathon phase of driving," said Kemperman. "As for vaulting, based on studies, and especially considering that these are often children on these horses, we know that with protective headgear, the balance might be thrown off because of the weight, and so their use could be counterproductive. So like in gymnastics, (the vaulters) are trained to fall."
Originally proposed as a rule effective as of January 1, 2020, the Netherlands requested a one-year delay "to really create a good preparation for this rule," according to van der Heijden.
The newly approved decision was heralded by the New Zealand federation, which already has the rule in place for its national events. "This is a good way forward," said Vicki Glynn, secretary general of Equestrian Sports New Zealand. The 13-month delay is justified, she added, because it would give suppliers time to prepare for the demand. "In our experience, our commercial friends in equestrian trade were concerned about the time frame to prepare their stocks," she said. "So the delay to help them prepare would be helpful."
Top hats designed to work as protective head gear could be a reasonable solution to satisfy both safety requirements and the desire to maintain tradition in dressage, Van der Heijden said. However, their availability appears to be currently extremely limited.
"As far as I know there's only a single manufacturer, and demand will be high," he told Eurodressage.com. "If we have until 2021 this will open the door for more production and thereby give the athletes the option of having top hats that meet this new requirement."
Related Links
Hold on to Your Safety Hat, Helmet Rule in Place 1 January 2013
USEF Helmet Rule Update: Executive Committee to Consider Changes Defining Application to Breed Competitions
Isabell Werth Shows Off Golden Helmet in Frankfurt and Makes a Statement
All Canadian Dressage Riders to Wear a Helmet in Competition as of 2012
Steffen Peters Retires Top Hat; Will Wear Helmet in FEI Competitions
KEP Italia's Style Consultant Silvia Rizzo Supports 2017 International Helmet Awareness Day
FEI Launches Global Safety Helmet Campaign