Colombia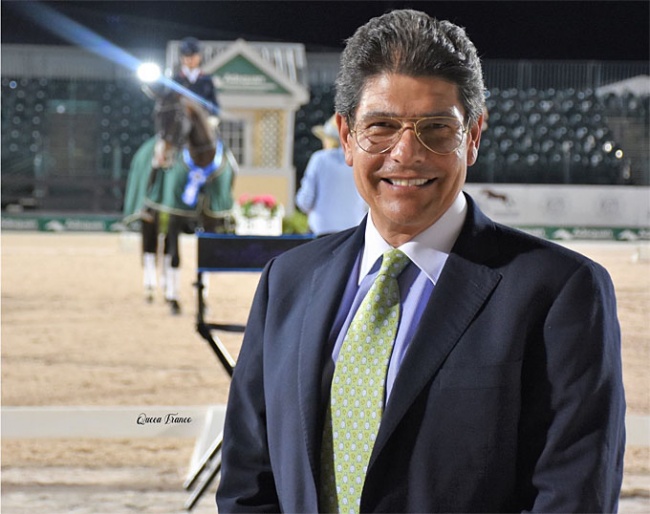 Since 1992 the best Olympic sport horse prospects in the world have been presented for the appraisal and regard of judges at the World Breeding Championships and this August 5-9, in Verden, Germany, FEI 4* and USEF 'S' dressage judge Cesar Torrente will join that venerable panel as the newest selection to the Ground Jury of the 2020 FEI/WBFSH Young Horse Championships.
"This is a great honor," Torrente said shortly after receiving the news, "Being appointed to judge the World Championships by the International Equestrian Federation (FEI) is a great recognition from the sport's top body and the sport in general. Together with the Olympics and World Equestrian Games, the World Championships are the top of our sport, where the best young horses get judged by top judges in our sport and now, the FEI has invited me. It is  going to make 2020 very exciting, on top of judging in Wellington, Portugal, Germany and Austria, and at national shows across North, Central, and South America", Torrente added.
Torrente, who was born in Bogota, Colombia is an internationally acclaimed dressage judge with a unique international fan partly base due to his blog and Facebook posts sharing advice for dressage riders at all levels.
His busy schedule judging the most prestigious shows around the world, including Wellington. Kasselmann´s Tournament, Dressage at Devon and many others reflect how well received Torrente is in the world of international dressage, where his talent, kindness, and positivity have earned him the highest compliment as a "rider's judge," and the honor of a Premier Equestrian Award during the 2019 Adequan® Global Dressage Festival. Torrente is in good company, others honored as Premier Equestrian's include world renowned Olympians Steffen Peters, Laura Graves, Debbie McDonald and fellow judge and Olympian, Charlotte Bredahl. 
The role of international judges is critical, because by awarding marks they have to decide the order of placing of horses in a multi-billion dollar industry worldwide.  Riders, trainers, organizers and judges themselves, are continuously seeking judges that award the appropriate marks per movement impartially and objectively 
and that enforce and implement the FEI rules appropriately, in the interest of fairness to the Athlete, expectations of media and spectators and finally for the development of the sport while guaranteeing the welfare of the horse. 
Torrente built a professional career as a corporate and arbitration lawyer while riding to two Central American Games team gold medals and multiple Bolivarian, Central American, and Caribbean Games gold, silver and bronze medals. He was also the first judge promoted through the new FEI educational system to 4* level. In June 2019, he was approved by the US Equestrian Federation to "S," its highest rank for judges and qualifying him to judge all national shows within the country. Two years ago, Torrente also accepted a position on the FEI Tribunal, an international panel which decides all disputes worldwide at the FEI level for all equestrian disciplines. His experience as a judge, competitor, and lawyer make him uniquely qualified for this important role which has a profound influence on all horse sport worldwide. 
"I come from South America, where we don't always have trainers or judges to share advice or changes in training methods, so I started my blog and what has happened is, every show I go to in America and even Europe, people run up and say, 'You don't know me but I'm your Facebook friend and read your blogs, please keep doing them!"
Follow international dressage, Cesar Torrente and his view from the judge's chair at DressageJudge.com. 
Text by Johnny Robb.
Related Links
Cesar Torrente Receives S-Judge Status and Plans Move to the U.S.A.
Cesar Torrente Elected a Member of the FEI Tribunal
Cesar Torrente Resigns as Chef d'Equipe for Colombia and Ecuador
Continued Success for Cesar Torrente's Dressage Webinars for Latin American Countries
Cesar Torrente Conducts First Judges Web-Based Seminar for Latin American Countries