Oldenburg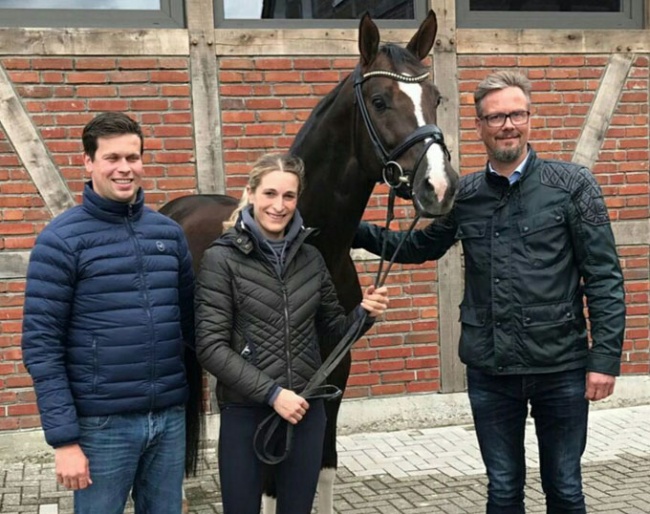 The 2015 Oldenburg Licensing Champion Bonds has been sold to stallion keeper Jens Hoffrogge and investment partner Thomas Püttmann. 
Bonds is a 6-year old Oldenburg stallion by Benicio x Sir Donnerhall x Rubinstein). He is bred by Katharina Pschertz. 
At the auction following the licensing, he sold for the top price of 500,000 euro to Belgian Anemone Samyn of HC Stables. At the time it was announced that it was a syndicate, including HC Stables, investors, and the German Gestut Famos, that had purchased the horse, but over the years Samyn came forward as the sole owner who has decided the path of the horse. 
Bonds was initially trained by Anna Sophie Fiebelkorn until April 2016. He then moved to Helgstrand and to Belgium briefly before returning back into the spotlight in 2017 when Buchwald had been allocated the ride. 
The stallion was the high scorer at the 2017 and 2018 Stallion Sport testings. He competed in a few local Bundeschampionate qualifiers, but never showed up in Warendorf. In 2017 he only briefly stood at stud as he  injured a ligament in the pelvic area and needed rest.
Bonds' foals have been highly coveted at auctions and achieved good selling prices. The 2017 German Filly Foal Champion Be my Beauty Queen (by Bonds) sold for a new record price of 160,000 euro at the 2017 Hanoverian Elite Foal Auction to Danish Lone Boegh Henriksen.
Samyn has now decided to sell her stallion to Hoffrogge and Püttmann with Beatrice retaining the ride.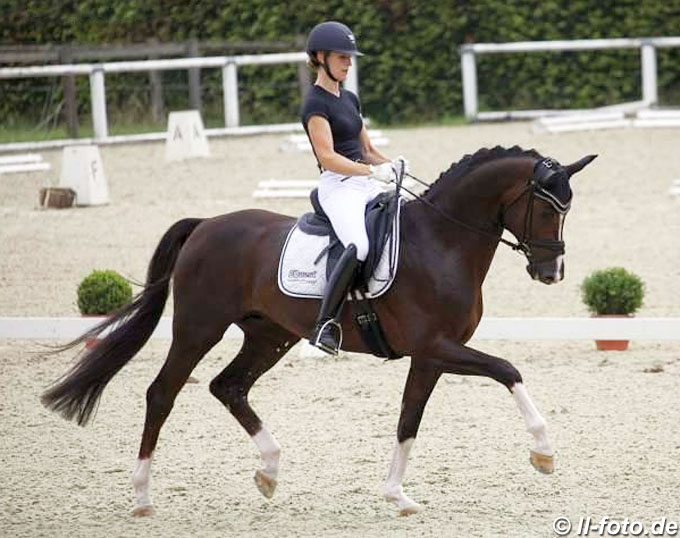 "We decided to reorganize our activities; that's the main reason we had to sell Bonds," Samyn told Eurodressage. "We offered Beatrice the opportunity and the priority to buy him because these both are such a great couple."
Although Bonds was a popular breeding stallion, the investment was not paying off in Samyn's perspective.
"When you do not have your own stallion station, it's quite not worth it, financially speaking," Samyn explained. Although a passionate dressage rider herself, Anemone did not want to keep the liver chestnut as a ride for herself. "I really think he deserves the best, speaking of the whole package: rider's level, competition opportunities, rider's reputation."
Samyn still owns Furst William HC. "He was gelded. The breeders were not interested in him at all. He will be an amazing sport horse," she added.
Photos © private - LL-foto
Related Links
Beatrice Buchwald Gets Ride on Belgian Owned Stallions Bonds and Veneno
Be My Beauty Queen Sets Record at 2017 Hanoverian Elite Foal Auction
HC Stables Relocates Stallions to Andreas Helgstrand, Collaboration with Fiebelkorn Continues
Dante Quando and Bonds, High Scorers at 2018 Stallion Sport Test in Munster
Bonds, High Scorer at 2017 German Stallion Sport Testing in Munster
Bonds, Champion of the 2015 Oldenburg Stallion Licensing