Germany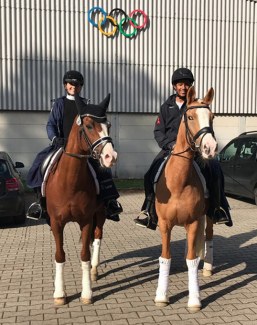 The German Equestrian Federation has announced the finalists for the 2019 German Developing Pony Rider Championship, which will take place in Verden, Germany on 15 - 17 November 2019.
The regional equestrian federations were allowed to selected their most talented pony riders up to the age of 14 based on a quotum for a 3-day training seminar and selection trial with Cornelia Endres and Oliver Oelrich at the DOKR headquarters in Warendorf. 
Twenty pairs have been selected to compete in this Championship in Verden.
The German Developing Pony Rider Championship was created to promote the transition of young pony riders to FEI pony level and to scout for talented pony riders with a potential to make it on a German pony team. It is sponsored by the Liselott Rheinberger Foundation, which supports the development of youth dressage riders in Germany.
The finalists for the 2019 Championships are:
Janika Baatz - Double O Seven B
Marlene Breuer - Cosmo de Luxe WE
Jette Katharina Brünjes - Nanchos Naseweis
Lilly Marie Collin (- Jumanji or Orchid´s Syria
Hanna De la Fontaine - Higgens
Joschua Dietze -  Monte
Katharina Dülffer- Prince Dumas
Philine Feldmann - Zazouela
Mya Leni Finke-  Moelview Charm
Fabienne Göthling -  Nelson King
Ariane Gröning - Wilky May FH
Emilia Gutsche- Reitland´s Don Totilas
Anna Klotz -  Night Magic
Nele Sophie Lindhorst - Grenzhoehes Olivier K WE
Lina Meyer - Flic-Flac
Charlotte Rebien - Holsteins Colonell
Trudy Rochel -  Schierensees Midnight Blue
Emily Rother - GWH Oktay
Julie Sofie Schmitz-Heinen - Carlos WE (reserve pony Design du Jade)
Emma Wagner - Top Christiano.
Related Links
Alegra Schmitz-Morkramer Wins 2018 German Developing Pony Rider Championship
Johanna Kullmann Wins 2017 German Developing Pony Rider Championship
Elisa Mae Deilmann-Walsh Wins 2016 German Developing Pony Rider Championships
Nele Lobbert Wins 2015 German Developing Pony Rider Championship
Jule Marie Schönfeldt Wins 2014 German Developing Pony Rider Championship