Wedding Bliss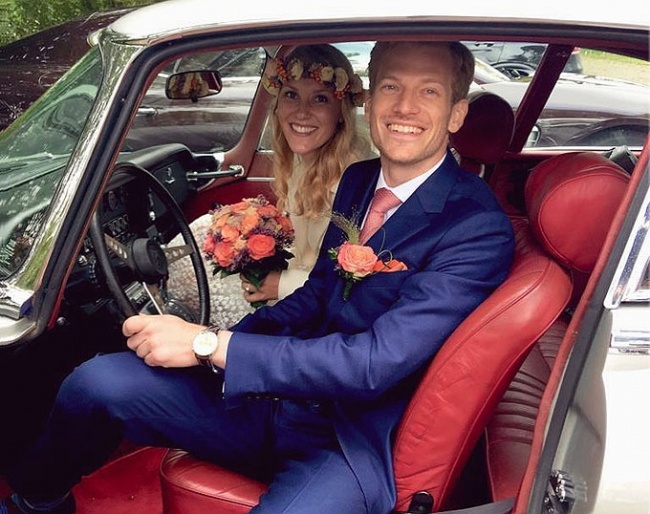 German Grand Prix rider Kathleen Keller and her partner, Nikolas Kröncke got married in a civil ceremony on 27 September 2019. 
The 29-year old Keller and the 36-year old Kröncke will have church wedding in the winter.
"On Friday I married the love of my life," Keller commented. "Cannot wait for the big wedding in December."
Kathleen Keller is daughter of the professional rider Dolf Dietram Keller. She currently competes two Grand Prix horses, Standsfield and San Royal, at international shows.
Kröncke was the 1997 European Pony Champion in Hartpury on Konrad (who went on to Patricia Hohn and then became the schoolmaster for the Rothenberger kids). In 1999 Nikolas began competing the Holsteiner stallion Larso at junior level and scored individual silver at the 1999 European Junior Riders Championships in Achleiten and 2000 European Junior Rider Championships in Lipica. In 2001 the pair moved to small tour level. Kröncke rode Larso in the blue uniform of the German army sport school in Warendorf. 2003 was the last year he competed Larso as well as Cherokee. He scored team gold at the 2003 European Young Riders Championships on Cherokee, while Larso became the ride of younger sister Kira. At national level Nikolas also showed Kres that year.  
He went on to study Economics in the U.S.A. and that was the end of his career as a high performance dressage rider.
Related Links
Scores: 2000 European Junior Riders Championships
Scores: 1999 European Junior Riders Championships
Meet the 1999 German Junior Riders
Kroncke, Kroncke and Maiwurm Win 1999 Preis der Besten
Scores: 1997 European Pony Championships
Photo Report: Belgian Team at the 1997 European Pony Championships