The Netherlands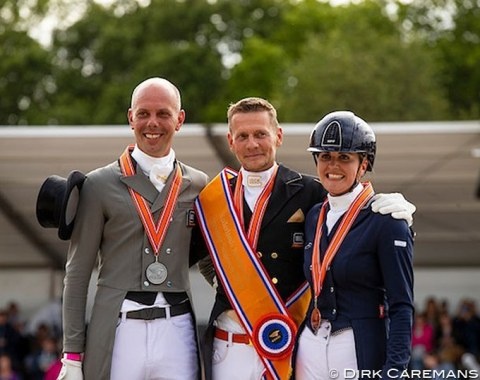 The Dutch Equestrian Federation (KNHS) has announced that the 2020 Dutch Dressage Championships will take place on 29 - 31 May 2020. 
The Nationals will be hosted at the KNHS headquarters in Ermelo, The Netherlands. 
The event will be the first observation trial for Dutch senior Grand Prix riders for 2020 Olympic Games selection
The Nationals are not only for seniors, but also the children, junior, young rider and Under 25 divisions will be hosted. The event will be an observation trial for the 2020 European Championships later that summer. 
Photo © Dirk Caremans
Related Links
Van Nek, Luiten, Rockx, Van Silfhout, Nieuwenhuis, Gal Win 2019 Dutch Dressage Championships
Buijs, Van Peperstraten, Rockx, Nieuwenhuis, Gal Win 2018 Dutch Dressage Championships
Van Peperstraten, Donkers, Maas, Meulendijks, Gal Win 2017 Dutch Dressage Championships
Oudhof, Nieuwenhuis, Gal, Meulendijks, Van Silfhout Crowned 2016 Dutch Champions 
Scores: 2015 Dutch Dressage Championships
Scores: 2014 Dutch Dressage Championships
Scores: 2013 Dutch Dressage Championships
Edward Gal and Undercover Win 2012 Dutch Dressage Championships
Minderhoud, Witte-Vrees, Krooswijk and Te Riele Proclaimed 2011 Dutch Dressage Champions
Gal Prolongs Grand Prix Champion's Title at 2010 Dutch Championships
Edward Gal and Totilas Conquer 2009 Dutch Championships
Adelinde Cornelissen, 2008 Dutch Dressage Champion
2005 Dutch Championships: Van Grunsven Star of Holland for 12th Time