The Netherlands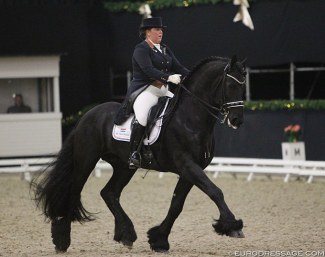 The Friesian Grand Prix dressage stallion Wilke C van de Wijdewormer has passed away. He was 20 years old. 
Wilke C van de Wijdewormer was by Fabe out of Silana (by Tjimmie). He was bred by Ed Constant and owned by Melanie Mouthaan. 
Melanie discovered Wilke during a training week at Bartels Academy in 2007. The then 8-year old Wilke was co-owned by the Bartels family. At the time Tineke Bartels had fractured her neck and she was unsure if she could continue training Wilke. Melanie tried him out and it was love at first sight. 
It took more than six years for the combination to gel as Wilke was known to anticipate the movements in the arena and would think ahead of his rider in the tests. When the horse turned 14 he truly started to work with Mouthaan.
The pair made its international show debut at the CDI Roosendaal Indoor in December 2013 at Under 25 Grand Prix level. In 2014 they competed at CDI's in Roosendaal, Deauville and Babenhausen. Their busiest year in the show ring was in 2015 when they traveled to Nieuw en St. Joosland, Roosendaal, Treffen, Prangins, Odense, and Salzburg. 
In her last year at Under 25 level in 2016, the then 25-year old Mouthaan and her Friesian competed in Nieuw en St. Joosland, Roosendaal and Falsterbo.
The black stallion was retired from sport at age 20 in a special ceremony hosted at the 2019 Dutch Friesian Championship in Ermelo, The Netherlands, on 21 September 2019.  She rode to a Kur to Music of which the lyrics were sung by herself. 
Three weeks later, Wilke C was euthanized as he was suffering from old age symptoms. 
"You did it your own way," Mouthaan wrote on Facebook. "At age 8 you were already written off for two worn out front knees and after that you threw a very impressive sport career in the mix, which you continued until age 20. Twelve years I intensely enjoyed you. The most beautiful moments of my life I shared with you. You were there the moments that I needed you the most. You waited for me until I could officially and also emotionally put it to a close on 21 September. You dug deep for it, no idea where you got that from, but you did it, probably more for me than yourself. Now you indicated, again in your own way, that it was enough. Now it was up to me not to think about myself but of you. When there is future with a decreasing quality of life, you have to take this decision, no matter how difficult. I can't describe how much I'll miss."
Photo © Astrid Appels
Related Links
Eurodressage Photo Database: Wilke C van de Wijdewormer
Kooijman and Van Baalen Win 2016 Dutch Indoor Dressage Championships
Diana Porsche Sweeps the Board at 2015 CDI Prangins