Oldenburg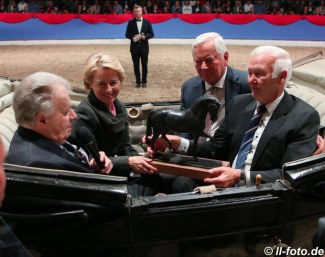 Uwe Heckmann became the recipient of the Gustav Rau Medal for his life time achievements at the Oldenburg Gala Evening on Friday 4 October 2019 in Vechta, Germany. 
Heckmann has been closely connected to the Oldenburg Breeding and Auction centre in Vechta for 40 years now and this anniversary was celebrated with two special accolades. 
A living legend in equestrian sport and for the Oldenburg breed, Uwe Heckmann received the Gustav Rau medal, offered by the German Equestrian Federation for lifetime achievements, from EU-President Ursula von der Leyen and Oldenburg President Wilhelm Weerda.
Heckmann's childhood friend von der Leyen held an emotional speech in honor of the jubilee. Von der Leyen presented Heckmann with the Gustav-Rau-Medal and he also received the Golden Badge of Honor from the Verband der Züchter des Oldenburger Pferdes and the Springpferdezuchtverband Oldenburg-International as well as a bronze statute of Weihegold.
As a horseman, auction director and celebrated auctioneer, Uwe Heckmann enthused breeders, riders and patrons with his voice as an auctioneer and stallion licensing committee member for the Oldenburger Pferdezuchtverband. 
Photo © LL-foto
Related Links
Uwe Heckmann Resigns As Oldenburg Stallion Licensing Committee Member
Gero Busselmann: Quo Vadis, Are We Approving the Wrong Stallions?
On the Scene Experience of the 2004 Vechta Spring Elite Auction
P.S.I. Auction: Auction Team Ready for the Big Time