The Netherlands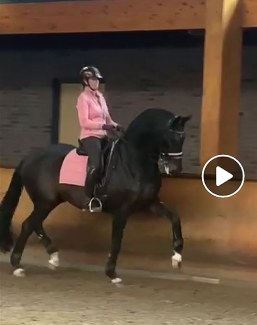 Triple Olympic champion Anky van Grunsven has returned to the spotlight in a 13-second video clip of her riding Bon Bravour, which she shared on social media. 
While Van Grunsven's biggest rival at the time - Isabell Werth - continues to rake in medals and titles at the highest eschelon in the sport, most recently renewing her European Champion's title for the seventh time in her career (her 19th European gold medal), Van Grunsven retired from international dressage competition sport in 2012.
The KWPN licensed stallion Bon Bravour (by Painted Black x Chronos) arrived in Anky's barn at the end of 2013 and was considered Salinero's big successor. However, injury kept the stallion sidelined  for a while. Anky has never competed the stallion in an official event. 
In 2016 the Dutch media made a surprise statement that Bon Bravour would be Anky's 2016 Rio Olympic hopeful. Anky immediately denied those claims and in March 2016 she told Eurodressage that Bon Bravour's was not Grand Prix ready.
In October 2015 a short video clip of Bon Bravour under Anky in a half pass was launched on the internet; the only footage of the pair so far. 
Four years later, on 3 October 2019, Anky posted a second clip of her on Bon Bravour in passage and in a pink outfit.
Related Links
Where are They Now? Bon Bravour 
Partnership Tom Franckx and Bon Bravour Has Come to an End
Van Grunsven Winding Down after the 2012 Olympic Games