2019 CDI-W Devon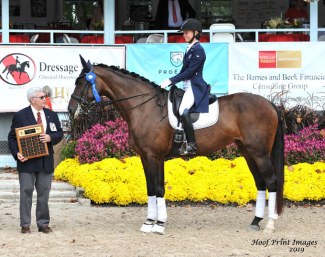 Americans Kendall Cox and Hannah Irons and Canadian Sophie Dean-Potter captured the three trophies in the young riders division at the 2019 CDI-W Devon in Pennsylvania on 26 - 29 September 2019. 
The Young Rider division began with the team championship test which was dominated by Kendall Cox aboard the 14-year old Hanoverian bred Davidor (by Davignon x Espri). The 20-year old scored a winning 69.559%. She went on to place second in the individual test (66.470%) but skipped riding the freestyle. 
Davidor was previously campaigned internationally in 2013 and 2014 by American based Dutch rider Patrick Tigchelaar for owner Catherine Haddad-Staller. Now owned by Lendon Gray's Dressage4Kids programme, Davidor serves as a schoomaster for Cox, who made her international show debut at Dressage at Devon this year. 
The Young Riders Individual test was won by Canadian Sophie Dean-Potter. The 21-year old steered Carla Bahr's 17-year old Oldenburg gelding Ribot (by Reno x Cor Noir) to a 68.529% winning score, after placing fourth in the team test with 65.735%. On Sunday they were third in the Kur with  68.715%.
She has been competing Ribot since May 2019 after the horse was shown by professional Tom Dvorak from 2013 through early spring 2019. However, Sophie's international show career began back in 2014 at junior level on schoolmaster Frisbee. She took over the ride on the Welsh bred (by Ardmpre Todmorden) from Canadian Lynne Poole. In 2015 and 2017 her number one equine partner was Helena Dean's Dutch warmblood mare Wendy Dice (by Redford x Welt Hit II), that was previously shown by country mate Leah Wilson. In 2016 Dean-Potter partnered with Wilson's Rendezvous (by Royal Prince x Tambourin). 
19-year old Hannah Irons of Queenstown, Maryland, and the 10-year old Hanoverian Scola Bella (by Scolari x World Cup I) put in an impressive performance to win the Young Riders Freestyle class with a score of 73.485, a personal best.  The pair was second in the team test with 68.333% and fourth in the individual with 65.000%. 
Hannah was a member of the Region 1 (USDF) North American Young Rider Dressage Team that claimed the championship in August. She has been riding Scola Bella, a.k.a. Bella or Queen Bella, for two years., making her CDI debut in the show ring in September 2018.
Irons is grateful for being able to lease Bella courtesy of Dressage4Kids, an organization dedicated to encouraging riders under 21 to become true horsemen. In 2018, after Bella sustained injuries and required time off, Irons learned that she had to be flexible in her goals. Instead of showing, Irons used the year to shore up their relationship and build the trust so essential to enhancing performance, especially in the show ring. "She has to trust you. You have to have a strong connection with her before you ask for more expression."
Photo © Hoof Print Images
Related Links
Scores: 2019 CDI-W Devon
Team U.S.A. Takes the Spoils in 2014 CDIO Wellington Nations' Cup
Scores: 2019 North American Youth Riders Championships
Canadian Teams Selected for 2017 North American Junior/Young Riders Championships
Hannah Irons Wins FEI Pony Division at 2015 U.S. Dressage Pony Cup
Irons, Hendricks, Matute Guimon, Molina Win 2016 Florida International Youth Dressage Championships