F.O.C.U.S.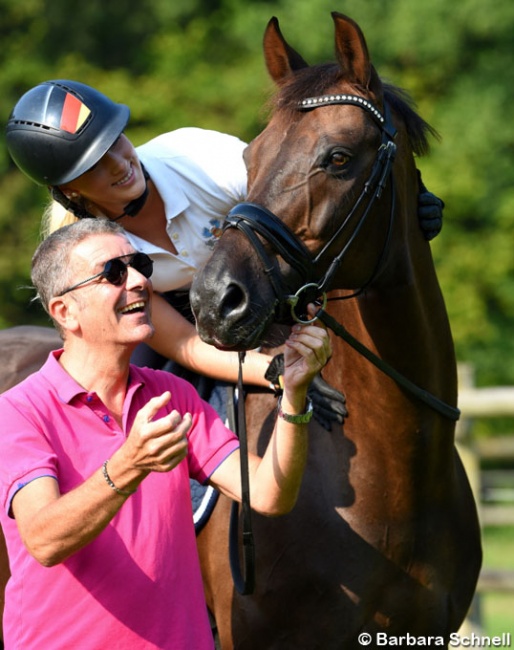 Under 25 Grand Prix rider Jessica Krieg is a seasoned young dressage athelete, having gone through the German youth system from ponies to young riders, resulting in a stack of European Championship individual and team medals. The Heinsberg based rider is now ready for the ultimate level: Grand Prix.
Jessica made the transition to Under 25 Grand prix level back in 2017. As she is serious about her ambitions to be a high performance rider with a drive to move to the senior top level ranks, she has struck a collaboration with trainer Frank Lamontagne to take her the extra mile. 
From Ponies to Grand Prix
The 22-year old Jessica is a classic product from the thorough German system that takes aspiring riders from novice level to Grand Prix, first via ponies and then in the youth divisions on horses.
Pony Danilo was instrumental for her first major successes in the show ring: team silver, individual test gold and kur bronze at the 2010 European Pony Championships in Bishop Burton. One month later she became German Pony Champion on Ghost. At the 2011 European Pony Championships in Poland she and Danilo won team gold and kur bronze.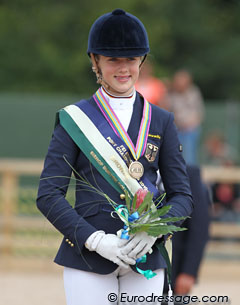 In 2012 she made the transition to junior level with Florence and Special Edition. She won team gold at the 2013 European Junior Riders Championships in Compiègne with Florence. A year later she took Special Edition to the 2014 European Junior Riders Championships in Arezzo and grabbed team gold. 
With schoolmaster Revers Side she made the transition to young riders level in 2015, with Special Edition as a second iron in the fire at small tour level.
In 2017 Jessica ventured into deep water to reach her ultimate goal, Grand Prix. She was a finalist in the 2017 Piaff Forderpreis in Stuttgart with Special Edition and in 2018 focused on gaining more experience and mileage in the Under 25 classes. 
Finding New Inspiration
Through the years Jessica Krieg has trained with some of German's elite coaches. Stephanie Meyer-Biss was her guide in her pony days and coaches Jan Bemelmans, Borja Carrascosa, and Ton de Ridder followed in her junior-young rider time. 
For the next step in her career, Jessica searched for a coach that could inspire and motivate her on the road to success. In the spring of 2019 Ton de Ridder suggested her to work with Frank Lamontagne. 
"Frank is such a win for my horses and I. The chemistry between us was there from day one," said Jessica.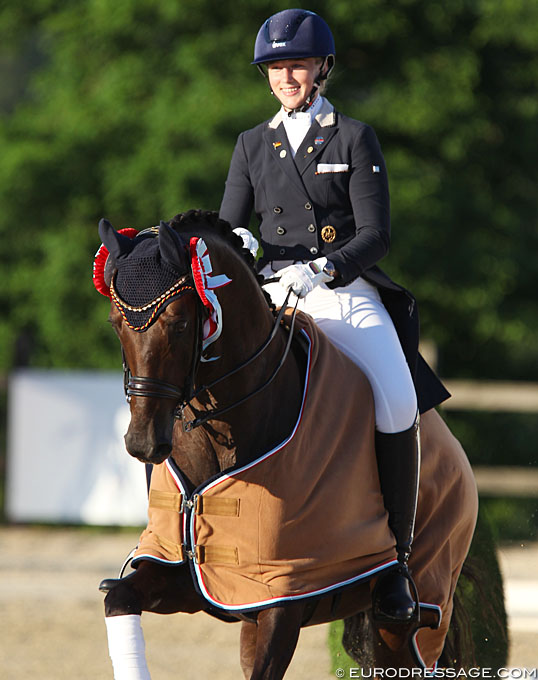 Frank added that, "Jessica and I started working together in April this year. We did some training sessions together to find out if the horses, the rider and the trainer 'match'. That was important for me at first. Jessica has gone through the system from a very young age, so she has enough experience, but now it's a huge step into Grand Prix sport, but the Under 25 system is a perfect transition."
The new collaboration has already bared its fruits. 
Jessica kicked off the 2019 show season with her two Grand Prix horses to ride; 14-year old Hanoverian gelding Special Edition (by Sir Donnerhall x Rohdiamant) and the 11-year old Hanoverian gelding Sergio Leone (by Scolari x Münchhausen).
She began her campaign at the 2019 CDI Sint-Truiden in Belgium in April, after which she headed to the CDI Leudelange in Luxembourg in July. There she won the Inter II and Short Grand Prix on Special Edition. Two months later they travelled to the CDI Ornago in Italy and confirmed their improving form with a victory in the Inter II and second place in the Short Grand Prix and Kur. 
Team Work Makes the Dream Work
Krieg is highly positive about her collaboration with new coach Lamontagne, who has previously worked with Margit Otto-Crepin and Beatriz Ferrer-Salat. 
"A new time has started for me with Frank. He inserted a plan into my training schedule and my horses respond well to it. They have fun in their work. Frank always sees the bigger picture, but he also loves details. He can really understand the horse. This is very important for me, that my horses are my partner and not a sports tool," Jessica explained.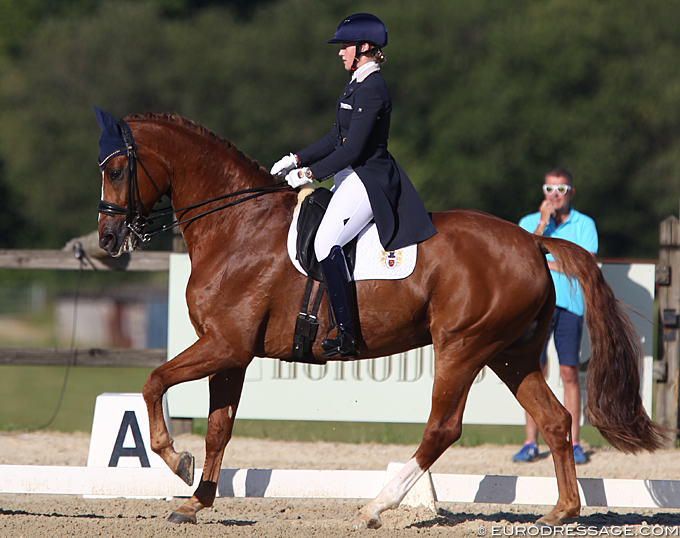 Coach and rider share the love for the horses Jessica rides. They are collaborating to make each horse better, with the weaker parts getting strengthened and the strong parts turned into shining movements that will earn extra points in the competition ring.
"Jessica is open minded and always tries to implement what I explain her to do or to try out," said Frank. "She has completely different horses and my goal in the beginning was to make this really clear for her."
Frank sees talent and potential in Special Edition and Sergio Leone.  
"Special Edition's name fits him perfectly because he is special," said Frank. "He is very self confident, has his own ideas and a huge character and he has huge potential in piaffe and passage. It was a bit difficult in the beginning but now he's getting better and better. He has great canter movements like the tempi changes, even if the ones are sometimes a bit difficult. It's only a question of time. His capability for the collected exercises like pirouettes is really fantastic. I just love this horse.
The tall, long legged Sergio Leone is a gentle giant in his own right.
"Sergio Leone is monumental. He's huge, some times a kind of a baby and in the beginning he was too submissive, with a very small heart," Frank explained. "One day, I rode him and played with him. It was the first time I felt he was coming out of himself and that was the moment I truly started believing in him. His qualities are undeniable; he just has to be taken by hand. He always tries to do his very best which I consider a huge quality."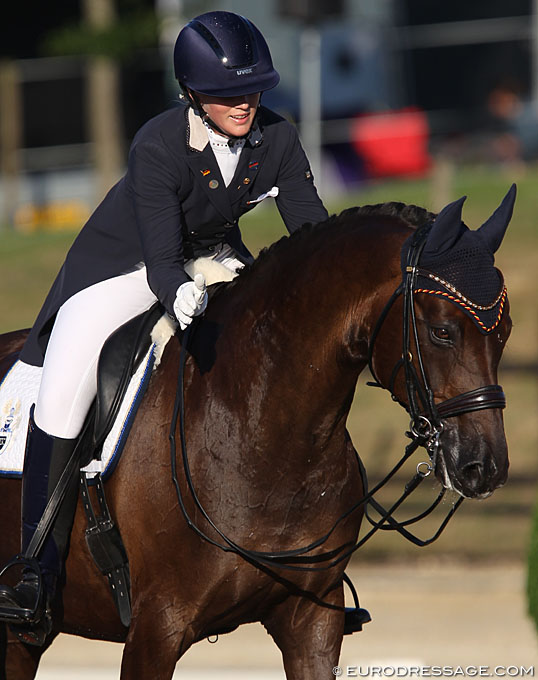 Jessica and Frank work together three times a week. On the days in between the horses do light work, like jogging, and go in the walker. Of course they are also turned out in the field or paddock to relax each day.
At home Krieg focuses on gymnasticizing the horse and working on suppleness. "Frank told me this from the start. Looking back where I come from, I feel that I now stand closer to my horses again."
Krieg relies on a very loyal support system that enables her to grow and develop as a dressage athlete. Jessica's parents Mathias and Anika are the foundation and support her in every way. "Mom Anika always travels with her to the shows and helps taking care of the horses. She drives the lorry and cooks in the evenings," Frank added.
Jessica is based at Marion Braun's riding stable Marron in Tönisvorst, Germany, which has been her forever base. With farrier Wien Blomen, physio Lasse Holstege and vet Arnold Hülsey fine-tuning the horse's needs, the team is complete and in symbiosis with one another.
A Bright Future Ahead
The improving results achieved in the summer of 2019 have boosted Jessica's confidence. 
"I felt the changes from show to show and the constant improvements are giving me trust again - in my horses and in myself," said Jessica. "It gives security to be well prepared and that is worth a lot."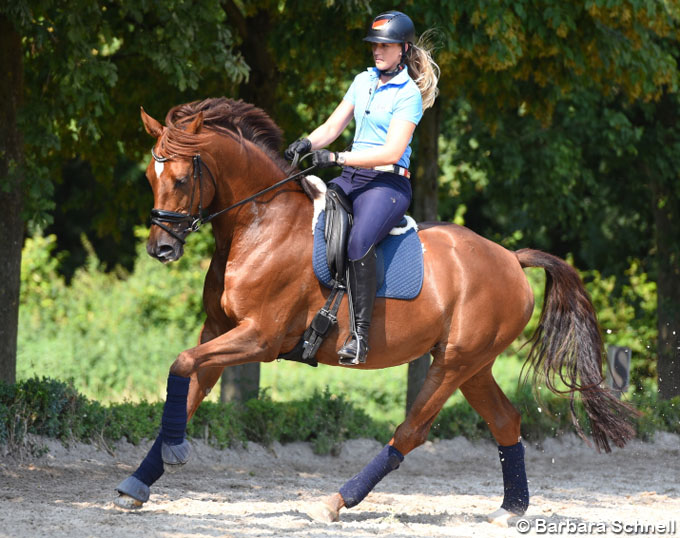 Jessica has one more competition on her schedule for 2019: the CDI Le Mans in France in October. After that they will go into a winter break from showing but focused on consolidating the training. At the same time Jessica will be able to wrap up her Bachelor's studies.
The first outing of 2020 is planned for February when the 2020 Piaff Forderpreis selection trial takes place in Warendorf. 
"At the end of February and beginning of March we'll seek the sun and go for milder climate conditions by going Portugal for two show weekends," said Frank. Jessica added, "I'll be able to ride the Under 25 there and maybe try the classic Grand Prix there as well."
Standing in the wings are two young stars: a 6-year old mare Valegra (by Vitalis) and a 3-year old gelding Zegna (by Zalando). 
"I'm so looking forward to future. Let's see what happens," Jessica concluded.
Photos © Barbara Schnell - Astrid Appels
Related Links
Jessica Krieg Puts Bar High in 2015 CDIO Vidauban Young Riders Team Test
German Junior Team Horse Florence Passed Away
Krieg and Kampmann Make Experience Count at 2013 CDIO-J Hagen
Special Edition, New Ride for Jessica Krieg
Nadine Krause to Ride Danilo
Golden Day for Jessica Krieg at 2010 European Pony Championships
Photo Report: Krieg, de Ridder and Lutkemeier 2010 Preis der Besten Champions
School and Competition Sport, a Theme that Never Gets Old