2019 Hungarian Dressage Championships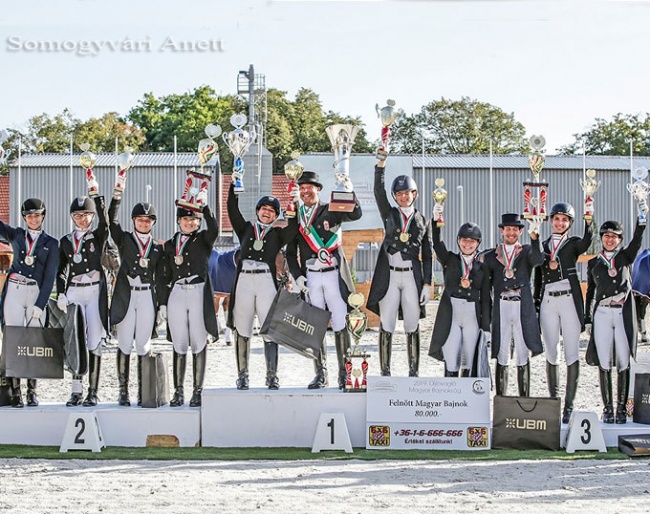 Pony rider Hanna Hoffer, children rider Lilla Felvinczi, junior rider Jazmin Yom-Tov, young rider Gabriella Erdi, and senior Grand Prix rider Robert Acs became the winners at the 2019 Hungarian Dressage Championships held at the national riding centre in Budapest, Hungary, on 12 - 15 September 2019. 
Five combinations contested the pony division and the most experienced one of the pack, Hanna Hoffer, cruised to the gold medal, although she faced some competition from silver medal winner Borbala Berczi in the freestyle. Hoffer and the 11-year old German riding pony Macciato (by The Breas My Mobility x Bogenschütze) won the team test with 69.50%, dominated the individual with 71.257% but was second in the Kur with 67.459%. Their total of 208.216% points was good for the title. Berczi and the 14-year old NRPS mare Comtesse van de Beekerheide (by Composer van de Beekerheide x Isarco) scored 68.083%, 67.257% and 69.838% to finish second on 205.178 points. Zsofia Plutzer and the 7-year old New Forest Pony Haverstein's Olympic (by Orlando x Luckington Sportaide) were good for bronze with 198.506 in total.
The Children's division is a popular category in Hungary with 11 combinations at the Nationals. Lilla Felvinczi won the title aboard the 18-year old Hanoverian mare Dayana (by Don Marcello x Weyden), scoring far ahead of her rivals. With 69.551%, 70.321% and 66.964% she cruised to gold. Lili Benko and her chestnut Dalvey (by ?) finished with the silver medal (194.963 points) after posting 64.936% in the preliminary test, 64.551% in the team test and 65.476% in the individual. Anna Viktoria Kemecsey and Fidelio (by ?) were on Benko's heels with an 194.529 end total.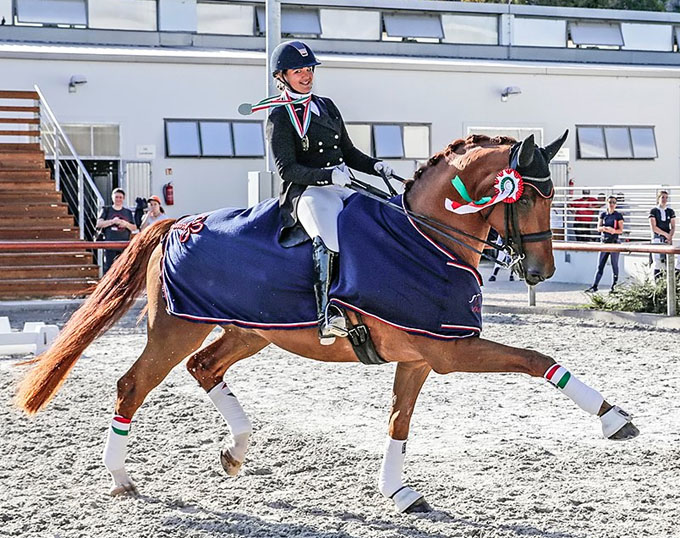 Hungary's most versatile dressage rider, 17-year old Jazmin Yom-Tov, has been sliding between divisions her entire sport career. Because of her young age she can compete in the junior division, but she also rides at Young Riders level, in the small tour, as an Under 25 rider, in the senior Grand Prix and in the young horse classes. She won the gold in the junior division aboard her father Arie's 9-year Hanoverian Dodge Ram (by Desperados x Westernhagen) after scoring 68.394% in the junior team test, 69.500% in the individual and 73.125% in the Kur. The same weekend Jazmin also won gold in the 6-year old young horse Nationals on Foy Joy and gold in the senior small tour with her rising Under 25 horse Bojengel (by Uptown).  The junior silver went to Fanni Ambach on the 11-year old Oldenburg gelding Schufro Armani (by Jimmie Choo SEQ x Rosario). She scored 68.212%, 68.029% and 71.395%. Zsofia Lazar and the 11-year old Bavarian mare Balerina Royal (by Herzensdieb x Rubin Royal) got bronze with 67.758%, 68.765% and 70.950%.
Everybody is a winner in the Young Riders' division which had just three riders, so all ended up on the podium. Gabriella Erdi produced the top scores aboard Arie Yom-Tov's 20-year old Dutch warmblood Sierappel (by Montecristo x Flemmingh). She totaled 209.436 points with a 68.382% in the team test, 69.069% in the individual and 71.985% in the Kur. Panka Makk and the 14-year old Hanoverian Balco (by Baroncelli x Davignon) finished in the silver medal spot with 199.284 points, while Virag Erdei on Harlekin (by ?) got bronze with 188.918 points.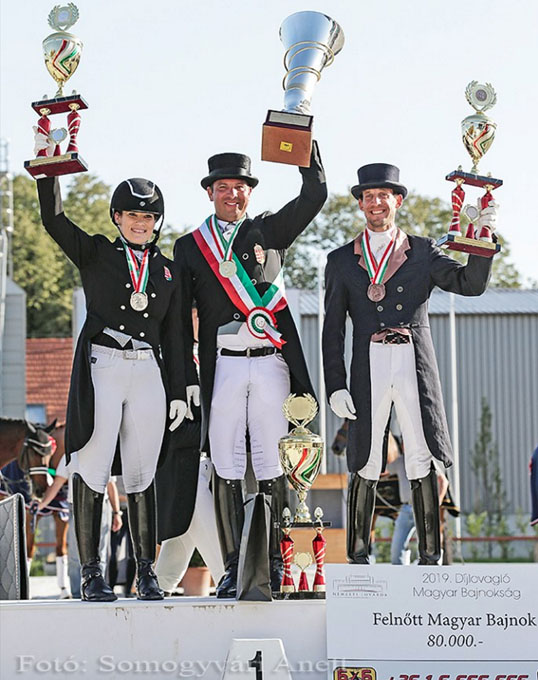 In the senior division the Austrian based Robert Acs steered Renate Horscht-Ofenloch's 12-year old Oldenburg bred Fioretto (by Fidertanz x Dormello) into the winner's circle with a total of 207.615%. For a year Acs can call himself the Hungarian Grand Prix Champion after he produced three winning rounds with 68.588% in the Grand Prix, 68.522% in the Special and 70.505% in the Kur. Anita Schmidt, Hungary's sole competitor at the 2019 European Championships in Rotterdam this summer, got silver with 206.124% points. Schmidt and her 9-year old Holsteiner Limitless (by Larimar x Conteur) posted 68.265%, 67.674% and 70.185%. Csaba Szokola and Bela Borso's 12-year old grey PRE stallion Cingaro IV (by Embrujo VI) earned bronze with 204.928 points, after scoring 67.412%, 67.261% and 70.255%. 
Photos © Anett Somogyvari
Results - 2019 Hungarian Dressage Championships - Budapest
Pony Riders
1. Hoffer Hanna  - Macciato - 69,500% - 71,257% - 67,459% --- 208,216%
2 Berczi Borbála - Comtesse van de Beekerheide - 68,083% - 67,257% - 69,838% --- 205,178%
3 Plutzer Zsófia - Haverstein's Olympic - 64,944%-  66,400% - 67,162% --- 198,506%
4 Nagy Rita Laura  - Dano's Miracle KS -  63,778% - 66,714% - 64,946% --- 195,438%
5 Bánhidy Márk Pál - Depardieu -  61,750% - 64,686% - 61,784% --- 188,220%
Children
1. Felvinczi Lilla - Dayana - 69,551% - 70,321% - 66,964% --- 206,836%
2 Benkő Lili - Dalvey  - 64,936% - 64,551% - 65,476% --- 194,963%
3 Kemecsey Anna Viktória - Fidelio - 66,154% -  64,744% -  63,631% --- 194,529%
4 Koszta Botond - Bicolor II - 65,641% - 65,385% - 61,131% --- 192,157%
5 Seres-Berczik Angéla - Caster - 66,859% -  62,513% -  62,679% --- 192,051%
6 Strbka Anna - Sharon - 63,846%  - 62,115%  - 64,405% --- 190,366%
7 Balogh Zsófi Zoé - Labanc -  67,115%  - 59,103%  - 60,833% --- 187,051%
8 Nagylaki Kitti  - Bonifatia - 62,885%  - 63,462% - 60,595% --- 186,942%
9 Gyimóthy Emma Kata - Robbie Williams -  61,679% -  60,769% -  62,619% --- 185,067%
10 Baunoch Zsófia  - Fidelia - 61,667%  - 60,833%  - 61,964% --- 184,464%
11 Vézner Ramóna  - Rodrigo VA - 57,821% - 63,026% - DNS --- 120,847%
Junior Riders
1. Yom Tov Jazmin  - Dodge Ram - 68,394%  - 69,500% - 73,125% --- 211,019%
2 Ambach Fanni  - Schufro Armani - 68,212% - 68,029%- 71,395% --- 207,636%
3 Lázár Zsófia  - Balerina Royal - 67,758% - 68,765% -  70,950% --- 207,473%
4 Borza Dominik  - Dongo -  67,439% - 67,618% -  71,280% --- 206,337%
5 Jakab Dalma  - Da Felice - 68,091% - 67,559%-  69,770% --- 205,420%
6 Csiba Anna Sára  - Lady Rowena - 66,152% - 67,676%-  67,730% --- 201,558%
7 Nagy Panka  - Guilty - 63,909%-  68,471% - 69,170% --- 201,550%
8 Rajnai Emerencia  - Shades of Grey -  65,091%-  66,147%  - 64,975% --- 196,213%
9 Dancsó Gréta  - Shasta - 62,818% - 64,676% - 65,200% --- 192,694%
10 Kiss Imre Ferenc  - Willem Alexander - 61,409% - 62,353% - 65,510% --- 189,272%
11 Novák Panna - Ivado -  62,212% - 61,265%-  64,240% --- 187,717%
12 Benák Inez - Mojito - 63,455% - 62,618% - 61,600% --- 187,673%
Young Riders
1. Érdi Gabriella - Sierappel - 68,382% - 69,069% - 71,985% --- 209,436%
2 Makk Dorka Panka - Balco - 66,176%-  65,588% - 67,520% --- 199,284%
3 Erdei Csenge Virág - Harlekin 60,735% -  62,353% - 65,830% --- 188,918%
Grand Prix Riders
1. Ács Róbert - Fioretto - 68,588% - 68,522% -  70,505% --- 207,615%
2 Schmidt Anita - Limitless - 68,265% - 67,674% - 70,185% --- 206,124%
3 Szokola Csaba - Cingaro -  67,412% - 67,261% - 70,255% --- 204,928%
4 Yom Tov Jazmin - Zodinde - 67,618%-  66,761% - 70,075% --- 204,454%
5 Szeicz Erika  - Son of Glory OLD - 67,912% - 65,978% - 69,605% --- 203,495%
6 Zengő Réka -  Ribery - 65,088%-  64,870% - 66,915% --- 196,873%
7 Nébel Viktória - Quite Right - 65,941% - 66,587% - DNS  --- 132,528%
Related Links
Hoffer, Lokos, Yom Tov, Zengo, Szalai Win 2018 Hungarian Dressage Championships
Nikolett Szalai Extends Title by Winning 2017 Hungarian Grand Prix Championships
Radnai, Ivan, Szoke Toth, Zengo Win 2017 Hungarian Youth Riders Championships
Nikolett Szalai Wins 2016 Hungarian Grand Prix Championships